GAL Fashion sets its own trend
Fearless fashionista Gesuina Legaspy has made her mark in El Paso's fashion scene by styling countless clients through her emerging career as a business owner and personal stylist.
At only 27 years old, she has owned multiple businesses including Dry Blow-Dry Bar and most recently, GAL Fashion.
Legaspy always had a passion for fashion, but never realized that she could turn it into the career of her dreams until she received a life-changing opportunity about eight years ago. Determined to learn more about the business, she knew what she had to do.
She got her start when she was 19 at Tres Mariposas, a high-end women's clothing and jewelry store and Westside institution, which recently closed its doors.
"They didn't want to hire me because I didn't have a degree or any fashion experience," Legaspy said. "But the moment I walked into the store, I knew that was me. I was in my element, my environment, so I requested an internship."
She worked as an unpaid intern for a few months, learning everything she could before being hired as a sales person. It was at that job that she learned how boutiques and specialty stores operate.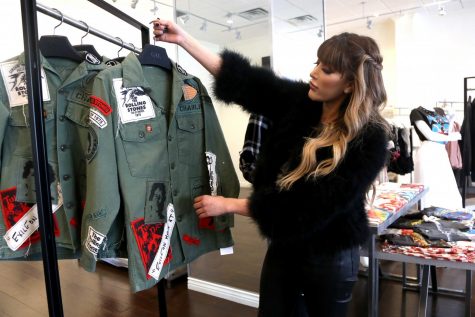 According to Legaspy, department stores and most other clothing stores will sell clothing based on reports and trends. But when it comes to boutiques, there is a buying process. When she found out that there are markets where buyers go to pick clothing to sell at their boutiques, her excitement grew.
Curious about how the process worked, she convinced her employer to allow her to accompany them to New York City to attend a fashion market and observe what they do. She even paid her own way to assure them that she was serious about the business.
"That was when my eyes opened and I was so inspired," Legaspy said. "I said to myself, this is what I want to do with my life, this is the career that I choose to take."
She continued working for Tres Mariposas for six years, transitioning her position as a sales person into a buyer. Although she began by being unpaid, she knew that her hard work would pay off eventually and it did.
Two years ago, Legaspy was finally able to open up her own high-end contemporary boutique, GAL Fashion.
GAL Fashion is a women's clothing store and is known as "The most eclectic mix of known and emerging designers in El Paso, Tx." GAL, which stands for her initials, Gesuina Arianna Legaspy, is also a play on the word "gal."
GAL features multiple name brands, including Versus by Versace, Frame, Mason by Michelle Mason and Veronica Beard, among others.
Legaspy prides her store on being different than many of the other boutiques out there. She wanted to separate her store from being in a competitive atmosphere, where commissions are important.
"We're not going to sell people things just to make sales,"Legaspy said. "We're really going to do things with integrity and style people and make them feel beautiful, because that's the ultimate satisfaction and gratification is to see your clients in pictures or out at social events looking fabulous because we helped them do that, to build their confidence."
She believes that creating a culture in her store of being team-oriented is what has made her business a success.
"I made sure everybody was like a team, no one had their own clients, we all share, we all help each other–that way it's a team effort," Legaspy said.
Paulina Seyffert, sophomore media advertising major, has been working at GAL as a photographer for seven months and loves coming to work every day.
"Honestly, the environment is super friendly, super fun and everyone is super nice. I never complain about coming to work, I love it," Seyffert said.
Seyffert has been able to learn a lot working at GAL and under the direction of Legaspy. You can see her pictures featured on GAL's Instagram and Facebook accounts.
GAL and Legaspy's craft for styling have done so well that she has even gained a list of celebrity clients.
Those clients include Shiva Hadid, cast member on the E! television show "Second Wives Club," and who is also stepmom to fashion supermodels Gigi and Bella Hadid. Meghan King Edmonds from the "Real Housewives of Orange County" has also made an appearance at the store and has become a frequent shopper at GAL.
Although Legaspy has built a solid reputation outside of El Paso, it's her clients in the city that truly matter to her.
Women aren't the only ones asking for special pieces. She says that every day she gets asked if she will ever sell clothing for men. At first, she didn't believe there was a market for men, but she has started researching and will begin to incorporate men's clothing later this year.
Legaspy strives to make sure that all her clients feel special, not only when they shop in the store. GAL offers personal styling for anyone who walks in the doors. She says that her favorite clients are those that walk in asking for styling help. The store also offers a shopping service that is delivered free of charge.
The store recently expanded and now offers an evening department, with one-of-a-kind dresses for formal occasions.
The expansion also inspired other ideas that Legaspy has turned into reality. She began the Cinderella Foundation, a non-profit organization dedicated to helping young girls find dresses for prom and other occasions, but are unable to afford them. She asks her clients to donate their gently worn formal dresses to the foundation.
Always wanting to give back, Legaspy also started a fun event called GAL brunches. 
"Each brunch has a special theme, and it's fun to see my clients dress up and mingle and enjoy themselves," Legaspy said.
Legaspy's go-getter attitude and passion for the business has really been a factor in her success and it only continues to grow with each idea.
Another goal of hers is to one day branch out and create specialty stores in larger cities, but for now she is focused on El Paso.