President Diana Natalicio reflects on the last 30 years leading UTEP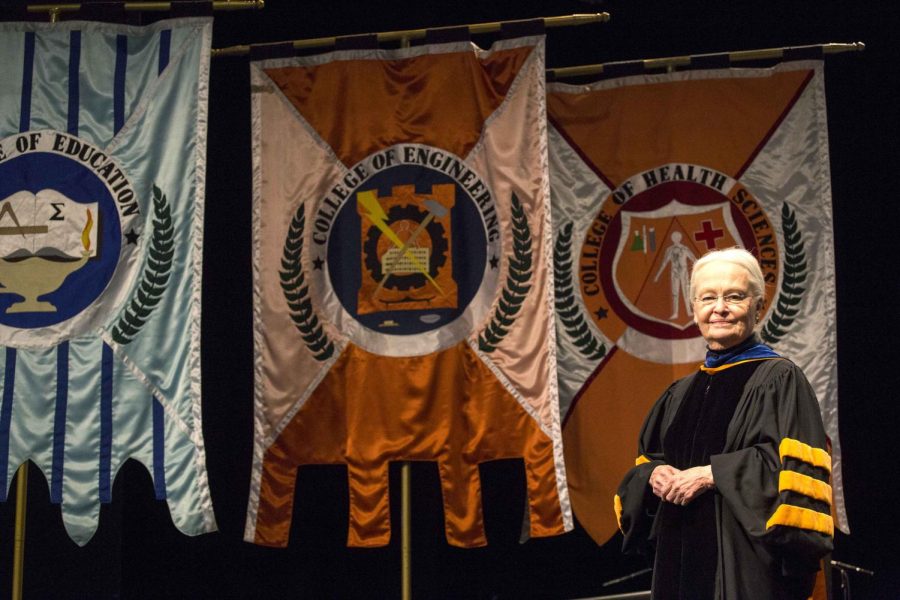 Diana Natalicio was only supposed to be at UTEP for one year. But that one year turned into a 45-year legacy on campus and 30 years as UTEP's president.
Her tenure consists of awards and recognitions including the Texas Women's Hall of Fame, a spot in TIME's 100 Leaders, the 2016 Hispanic Heritage Award in Science, Technology, Engineering and Math (STEM) by the Hispanic Heritage Foundation, and Fortune Magazine's fourth-annual 2017 list of the World's 50 Greatest Leaders.
In 1988, Natalicio became the first female president in the University of Texas System. There was a period when she was often the only woman in the room.
"At first people don't quite know what to do about that," she said. "It was a little unusual for them, I think that's no longer true, but it was a little awkward. Sometimes they were overly polite."
She said in most of her experiences, people have been kind, despite a few inappropriate jokes in the past, which were rare.
"Most of the people that I interacted with were supportive and as long as I was participating and demonstrating I had something to contribute I felt that they were all fairly supportive," Natalicio said. "I've felt through the years that I've had a lot of support and a lot of support from men."
Natalicio said it was motivation that helped her overcome self-doubt that kept her from persisting as a leader.
"You can't doubt yourself," she said. "Now, that doesn't mean you have to be brazen and pushy, it just means deep down you have to believe 'I can do this job, I can make these decisions, I can work with people.'" 
Passion and perseverance are two attributes she feels have played a large role in her success.
"You have to have a passion of a certain kind for the work that you do," she said. "I have a real passion for education because I knew what it did for me. If I hadn't gotten that degree at St. Louis University, I wouldn't be sitting here right now and I wouldn't have had this wonderful life at UTEP."
She explained that although there will be setbacks in life, she found that perseverance and tenacity is sometimes more important than brilliance.
"If you have a good idea, but you don't know how to move it forward, it doesn't matter much, but if you have a really good idea and you do see it through, that will have an impact," she said.
Although Natalicio recognizes not everyone wants to be in a leadership position, she said it's up to an individual to choose how they're going to move forward in life.
"In a role like this, you can make things happen. I never thought it would be 45 years, they've flown by like that," she said as she snapped her fingers.
Before working at UTEP she received her doctorate in linguistics at UT Austin. There she found students were more entitled and appreciated how students at UTEP did not take anything for granted. She decided if she had the opportunity to stay she would, but never imagined it would be so long.
Natalicio recognizes 30 years is unusual since university presidents often use one job as a stepping stone to another.
"I wasn't interested in that," she said. "I was interested in trying to see how you could have a vision, develop a mission, execute it and live with the consequences of the decisions you make, because if you stay 30 years you make a lot of decisions and you know if you've achieved whatever it is you were trying to make a decision on or not."
"For me it's been such a privilege and I'm glad I didn't get fired," she said jokingly.
Prior to her presidency, Natalicio was a linguistics professor on campus and felt content being a faculty member, teaching and doing research.
"I never thought that I would be a university president," she said.
[arve url="https://youtu.be/NhUyJXz2K0Y" autoplay="no" /]
Through a strange set of circumstances, where there wasn't anyone else to do the job, Natalicio said, "for a year I'll do it," but quickly enjoyed the impact she had serving in that position.
"You have control in resources, determining class schedules, you're doing a lot of things—and if you do those efficiently that benefits everybody—so you have a multiplier effect on your impact," she said.
Natalicio's first challenge was getting past the initial shock of her new-found title.
"I thought, now that I've caught this butterfly, what am I going to do with it," she said.
But 15-plus years of faculty experience put her one step ahead of an incoming president, who would not have understood UTEP's culture.
"Since I had been on the faculty here before, since 1971, I knew the students. I knew how hardworking and talented they were, but I also knew how stressed they were to get an education because all of the other responsibilities they had and so on. I also knew the faculty quite well so I really had a very good grounding. In that sense, it really wasn't very difficult," she said.
One of the first challenges Natalicio took on was helping high school students from all parts of the region make their way toward UTEP.
"I began digging into data and figuring out who were our students, what high schools do they come from," she said. "I hadn't been aware of the odd imbalance between certain high schools that were sending us many graduates. Coronado was sending us many graduates, but then other high schools, like Riverside—they weren't sending us many at all—maybe none in some cases. That was sort of puzzling because if you believe that people are talented everywhere, in every zip code and across gender, ethnicities and races you have to ask yourself  'why aren't they coming?'"
After conducting a study, she learned that money was a big factor in students choosing not to attend UTEP. Natalicio grew up in a blue-collar high school, where she said college was not thought of. The boys were expected to go into the workforce and girls were expected to marry them. However, Natalicio was the first in her family to attend college.
"I began to realize, based on my own experience, that I knew there were students just like me who weren't all that encouraged to go to college, but who had the talent to at least survive, which is what I did. Then I began to do better and better because I built my own confidence that I could do it."
Natalicio and her team then went on a quest to reach out to high schools and work with them to create a positive culture, to encourage, not discourage, the thought of going to college.
The next step was to make sure UTEP had competitive degrees, where a degree could serve as a prize in its competitiveness and brand in the marketplace to get better jobs.
"That came to this whole idea of access and excellence," Natalicio said. "We had to be affordable and accessible, but we also had to be very high quality so that our students could go out and be superstars. They had the talent, it was up to us to make sure that our programs delivered on that."
Natalicio finds it gratifying to see student demographics that now mirror the city's. Thirty years ago, El Paso was already around the 80 percent Hispanic population it is today. However, UTEP's student body was less than 50 percent Hispanic at the time.
"We look like El Paso, which if talent is spread across all sectors, we should look like El Paso," she said. 
Going forward, Natalicio still sees financial resources as an ongoing project.
"Financial resources are always a major issue because state funding has not increased and its either leveled out or in some years declined. Because of the demographics of our student population, the socioeconomic level of many of our students, it's very very hard for us to raise tuition." she said.
Natalicio understands that at a certain point students will not pay for a high-price education. She has encouraged UTEP keeps tuition as low as possible.
Natalicio said at other campus like UT Dallas their tuition is $4,000 a year higher, but they pay because they are able to.
Although on Monday, March 19, UTEP's vice president of student affairs announced proposals have been approved to increase tuition by five percent, Natalicio said she does not want to price students out of an education.
"If we were to raise our tuition to UT Dallas' level that would be impossible. We're focused on the diversification of our revenue because we can't just use state appropriations as counter balances to make up the difference."
Natalicio said research has helped UTEP by being one of the main sources of revenue in recent years.
"We bring in a lot of research dollars that help build facilities as part of the grants and they create a lot of jobs on the campus for students," she said.
Natalicio explained the grants usually contain a section on student support. This enables students to earn the money that they need to pay for school by working on campus.
UTEP is now working on tech and engineering in other parts of El Paso by testing machines and other devices out in Fabens and the outskirts of the city.
"Now we're starting to work with students in the Lower Valley who have difficulties getting to campus. It's a long trip to get from Fabens to UTEP through public transportation," she said. 
Seeing El Paso's growth outside of UTEP has been exciting for Natalicio.
"I think it took a while to get some momentum, but I think the momentum is there now and a lot of people are involved in all sorts of creative activities, and opening businesses, and renovating old buildings and all of these things. I think it's very exciting and I think that will help UTEP leverage opportunities that we wouldn't have otherwise been able to leverage because it will enable us to aim higher because we have more assets to offer."
Natalicio said that she still has a really long list of things she would like to do before retirement.
"[The list is] probably unrealistic, but that's because I don't set limits on anything. I don't set limits on my own career or on what UTEP can accomplish. The list always grows long and the more you do, the more you think you can do and the more you will do," she said. 
She wants the UTEP student body to take away the concept of never underestimating what they are capable of.
"They can tell you 'you can't do that,' but if you're really determined and passionate about what you do you'll find a way around it," she said. "You can't underestimate what can be accomplished, and if you do underestimate it, you will underperform, there's just no question about that."