Top UTEP female athletes of all time
5. Camilla Carrera—softball (2008-12)
Although the UTEP softball program isn't known for its winning history, it was home to one of the best hitters in school history with Camilla Carrera. There might never be a player quite like Carrera, who made an impact almost immediately.
Off the bat in her freshman season, Carrera led the team in batting average, slugging percentage, RBIs and hits. Her freshman season propelled her sophomore and junior seasons.
In her senior season, Carrera truly left her mark at UTEP, with an impressive  .447 batting average and a 1.199 slugging percentage. She led teams in home runs, runs batted and on-base percentage.
4. Kim Turner—track and field (1981-84)
During the Miners prolific '80s run, sprinter Kim Turner stood out among the shining track and field sprinters. Turner was exceptional in the 60-meter and 100-meter hurdles, claiming seven All-American selections. In 1984, Turner took the NCAA Outdoor National Championship in the 100-meter hurdles.
Over her four-year career at UTEP, Turner finished in the top five six times at the NCAA championships. She is still the fastest hurdler in the 100-meter race in program history, having set records both indoors and outdoors.
3. Kayla Thornton—basketball (2010-14)
Born and raised in El Paso, standout basketball player Kayla Thornton left her mark at UTEP with her skills on the court. She started her career at Irvin High School, where she was an All-State basketball player and a state qualifier for the 100-meter relay in track and field.
In college, Thornton used her athleticism and raw basketball talent to make an immediate impression. She was an off the bench go-to player in her freshman season. Then by her senior season, Thornton became the all-time leader in points, rebounds, double-doubles and field goals made in program history.
She joined the winningest class in program history and shined in those strong years, making the NCAA Tournament and raising both the C-USA regular season and tournament crowns in 2012.
2. Melinda Sergent—track and field (1991-96)
Melinda Sergent did it all for the UTEP track and field program. She starred in 12 conference championships, holding many school records and became the 1995 NCAA Indoor National Champion in the 55-meter run.
This is what truly makes her one of the most illustrious athletes in program history.
Sergent held the school record in the 200-meter dash for 20 years. Her time of 6.73 seconds in the 55-meter dash is still the top time in program history, going strong for over two decades.
1. Blessing Okagbare—track and field (2008-10)
Unmatched and untouched, Blessing Okagbare will be known as the greatest female Miner athlete in UTEP history. After a long drought with the program struggling, Okagbare helped raise the track and field program and pave the way for its modern-day success that UTEP track and field has achieved.
Through three seasons, Okagbare secured 11 All-American honors, which set the path for her long-fought career.
She won four NCAA championships in total, winning one in the 60-meter dash, 100-meter dash and the long jump. Okagbare also took home 15 conference championships during her time with the program.
During the 2008 and 2010 seasons, Okagbare set a combined nine school records and was undefeated in the 100-meter dash and long jump in 2008.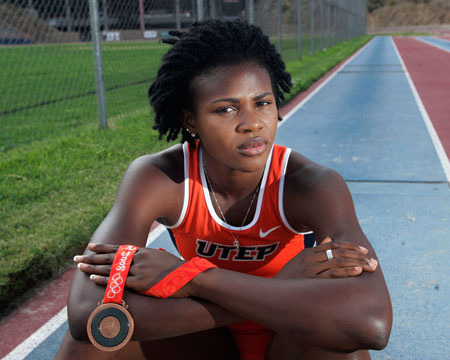 Honorable mention
Tobi Amusan—track and field (2016-17)
In back-to-back years, Tobi Amusan shined not only in Conference USA for track and field, but she made a global impact in the hurdle events. A native of Nigeria, she captured the 2017 NCAA championship in the 100-meter hurdles. She is also a two-time C-USA female track Athlete of the Year.
In 2016, Amusan ran for Nigeria in the Olympics. She advanced to the semifinals in the 100-meter hurdles and was .2 seconds away from being in the finals. After her conference championship, Amusan decided to go pro for track and field and untimely left the school.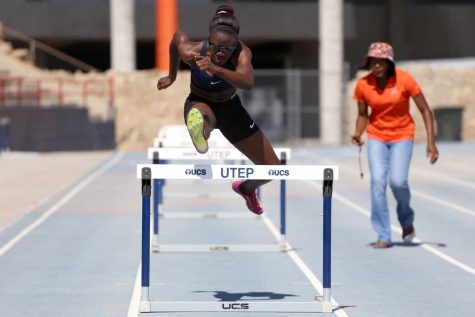 Follow Adrian Broaddus on Twitter @adrian_broaddus
About the Contributor
Adrian Broaddus, Sports Editor
Adrian Broaddus is the sports editor for The Prospector. He is a junior multimedia journalism major with a minor in political science.



Adrian...