El Paso Figure Skating Club unites skaters in the Borderland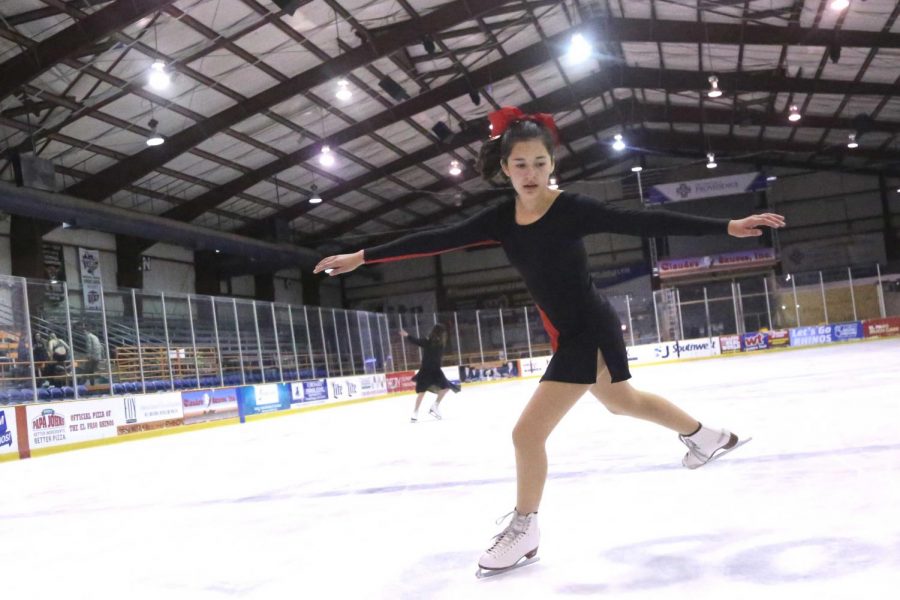 Despite the surrounding desert environment, figure skating is flourishing in the city of El Paso.
For over 21 years, the El Paso Figure Skating Club has been developing skaters in the borderland. The club was originally founded in Ciudad Juárez by former Ice Capades skater Lori Briggs. In 1996, the old hockey team that was known as the El Paso Buzzards asked Briggs to start a figure skating program here in El Paso and it has been going ever since.
The organization became part of the U.S. Figure Skating club in 2016. The El Paso Figure Skating Club was previously known as the Sun City Blades Figure Skating Club.
The current team continues to follow Briggs's philosophy of what skating is and how it should be fun for everyone, being the only one of its kind in El Paso.
Ally Ye, a second-year head coach for the club, has been figure skating for 10 years. Ye recently became a junior coach and acknowledged that the club has progressed throughout the years. She wants to expose the club to gain more popularity, showing the city that there are more sporting clubs to offer.
"We've actually grown a lot in the past few years and we really tried to get our name out there," Ye said. "We just want to show El Paso that we have other sports. Although, this one is not as common as most."
Like most coaches of the program, it all started with a simple process, which then turned into a deep passion for the sport.
"I actually started figure skating when I was about 9," Ye said. "I actually had a birthday party here and I told my parents I wanted to figure skate. My parents looked into it and I joined and from there, I continued to practice, and once I got of age and at a high level, I became a coach."
The club hosts three shows annually to show how hard their students have worked and how much the skaters have dedicated their time and effort. The three show themes are Christmas, Mother's Day and the spring exhibition "Skating Through the Decades (1920-2000)," which was just recently held. Occasionally, the figure skaters will also perform during the El Paso Rhinos hockey season at halftime, routinely displaying their skills.
Since the club is a member of both the Ice Skating Institute and the United States Figure Skating Club, the club's coaches usually work part time and spend the rest of their time as competitors, balancing training to both compete and coach.
Allison Couch is in her first year as an assistant coach and has been skating for nine years. Currently, at the middle point of the season, the current coaches on the club have competitions coming up, one as part of the U.S. Figure Skating organization and the other or the Ice Skating Institute (ISI).
"Usually it depends on the season and how many competitions are available," Couch said. "This year we have three. We have two upcoming, a USFS and ISI. So basically, Ally and I were part-time coaches and competitors, so we do practice and coach when we have time."
The figure skating season usually lasts from September until the end of May.
Once someone reaches a level as a member of the club where they can compete, they can represent the club at ISI and USFS competitions. On their Facebook page, the club posts if their representative placed or not.
As the club continues to grow, they want others to make figure skating a primary option for people to join.
"I mean we live in El Paso, it's a desert. So really when you think of a desert, I don't think an ice rink comes to mind," Couch said. "We're trying to push it into our culture, we're trying to bring Hispanics into skating."
Per the club, anybody who has an interest in figure skating is welcome to attend classes to learn.
Guests are welcomed to start and learn skating at the age of 3. Classes are held Monday through Friday from 5 p.m. to 6 p.m. with open skating afterward. Adult classes are held on Saturday mornings at 11 a.m. to noon.
The rink also has free hours for skating that are after the weekly practices and in the mornings on weekends.
For more information, visit the club at facebook.com/elpasofigureskatingclub/.