Tattoo Showdown heads to EL Paso County Coliseum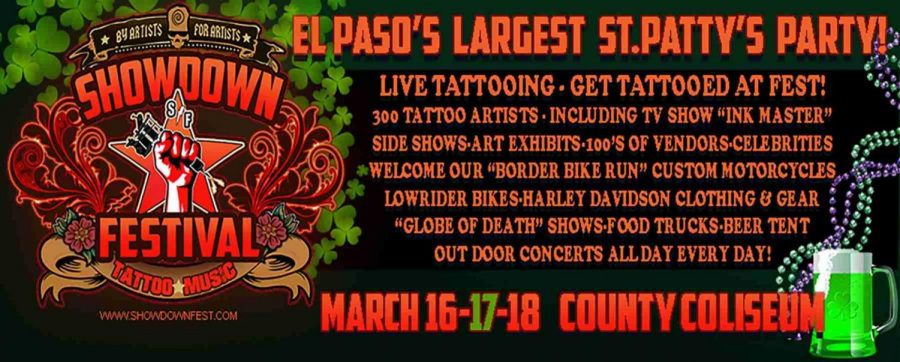 Brianna Chavez, Contributor
March 10, 2018
The El Paso Sports Commission is hosting the annual Texas Showdown Festival during spring break on  March 16, 17, and 18.
The three-day festival is the perfect mix of tattoo artists, motorcycles, and live music.
According to the Texas Showdown Facebook page, this is the largest tattoo festival in the nation with over 300 tattoo artists in attendance.
Several artists enter tattoo competitions and  some of the artists attending the festival are part of the reality TV show "Ink Masters."
The festival's music lineup includes Vince Neil from Mötley Crüe who will be performing on Friday. Long Beach Dub Allstars will take the stage on St. Patrick's Day and  Jack Russel's Great White on Sunday.
Different shows will be held throughout the weekend that will fill you with suspense, such as the "freak show" and BMX stunt shows like the "Globe of Death."
The festival will also hold a bike rally. The "Border Bike Rally" is open to all bike riders. Custom motorcycles, vintage bikes, and lowrider bikes will be on display.
Food and drinks will also be available at the festival as hundreds of vendors are expected to attend the event.
This is an all-ages event. Children under 12 go in for free. Tickets are available at the Coliseum's box office and at ticketmaster.com.
A one-day ticket is $25 and if you're interested in attending all three days, you can save a few bucks as tickets for a three-day pass retails for $60.
Doors open at noon and close at midnight the days of the event.
The El Paso County Coliseum is located across from the El Paso Zoo at 4100 E. Paisano Dr.