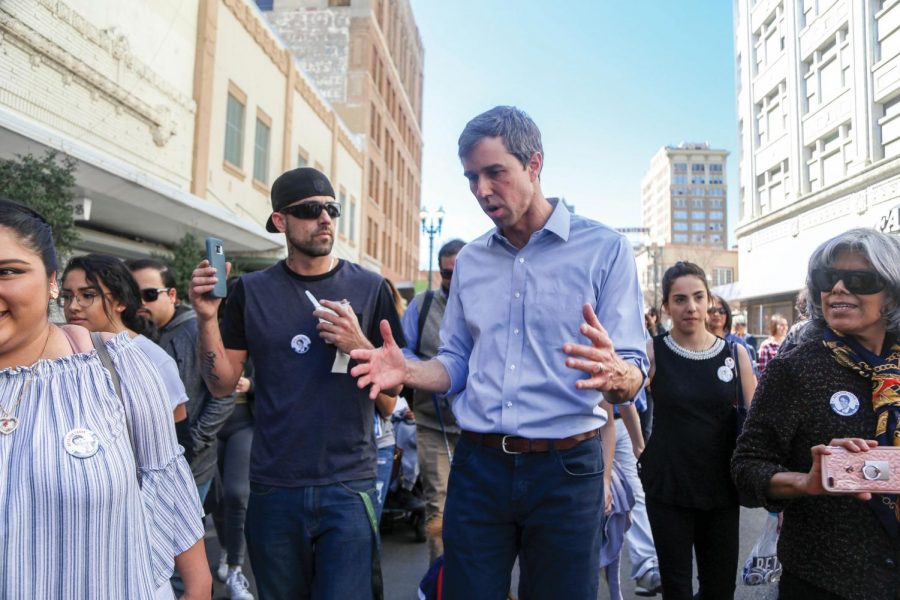 O'Rourke returns home to cast his primary vote and listen to El Pasoans
March 6, 2018
Early voting has come to an end, with Tuesday, March 6, being the last day to vote in the primary.
U.S. Representative Beto O'Rourke, D-Texas, who is battling Senator Ted Cruz, R-Texas, for his U.S. Senate seat, has yet to take a break from campaigning across every small town and big city within the red state, which has a population of 20 million.
Although historically red, Democratic turnout in Texas has topped GOP turnout during 10 days of early voting. Democrats saw an more than 102 percent voting increase as opposed to a Republican 16 percent increase since the midterm primaries in 2014. There were 449,269 Democrat early voters and 402,002 Republican early voters.
A crowd of over 100 gathered in downtown El Paso to hear O'Rourke speak at San Jacinto Plaza under the scorching sun on Friday, March 2. He thanked the crowd for their support and spoke briefly on immigration, public education, veterans, health care and border security.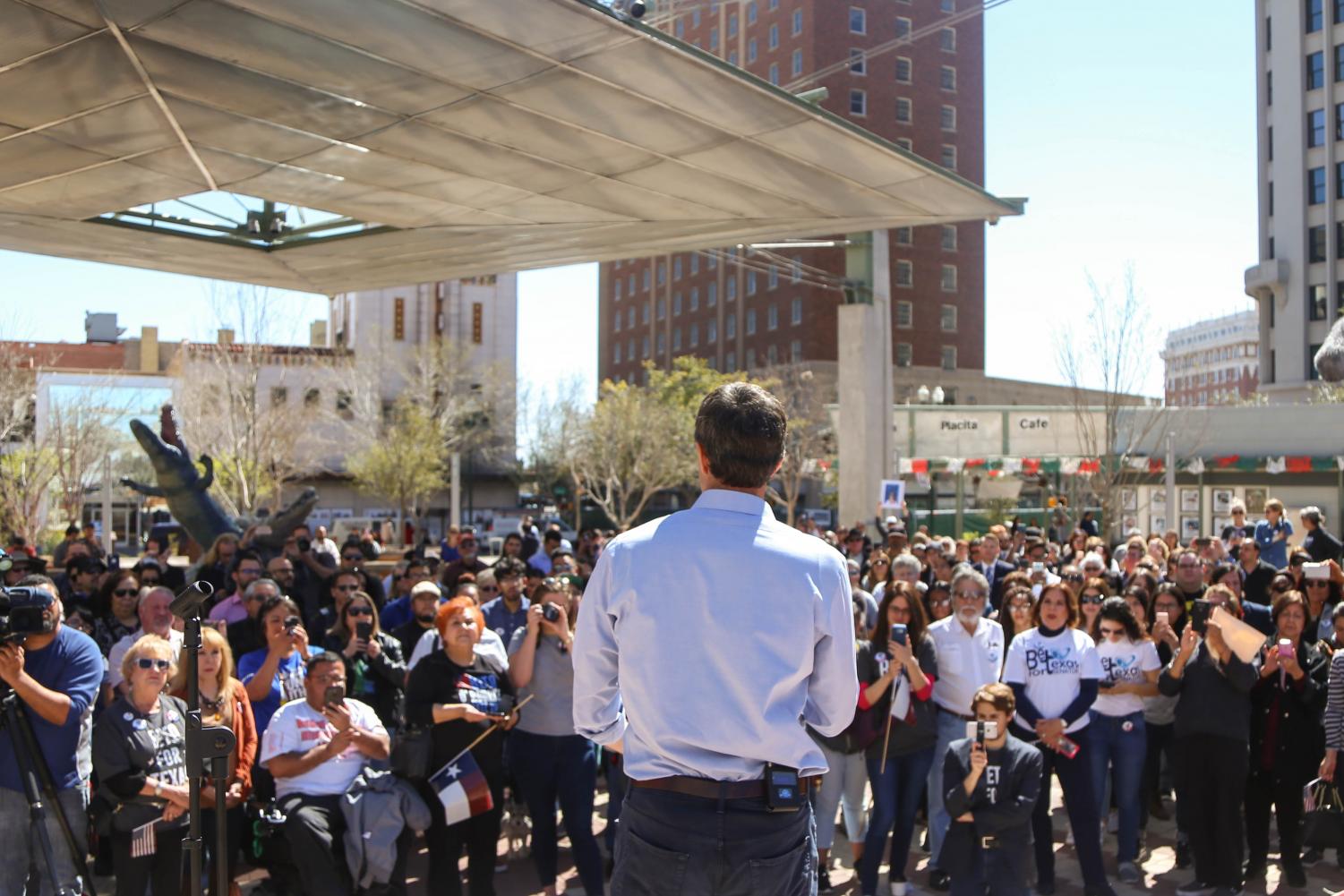 "No me importa (It doesn't matter) if you're a Democrat or a Republican or an Independent or someone who just doesn't vote, the fact that you're here, that you're in our country, that you're our state, that you're in our lives is all that matters to me," O'Rourke said. "I'm going to do everything I can to represent you, to serve you, to fight for you."
O'Rourke has been busy driving across the state, visiting all 254 counties to hold town hall meetings. He claims he's met the "coolest people" around Texas, even in King County, who saw an overwhelming 96 percent of its residents voting for President Donald Trump in 2016.
O'Rourke invited his supporters to walk with him to the El Paso County Courthouse and to join him in casting his vote. Dozens followed him as he made his way down Mesa Street and San Antonio Avenue.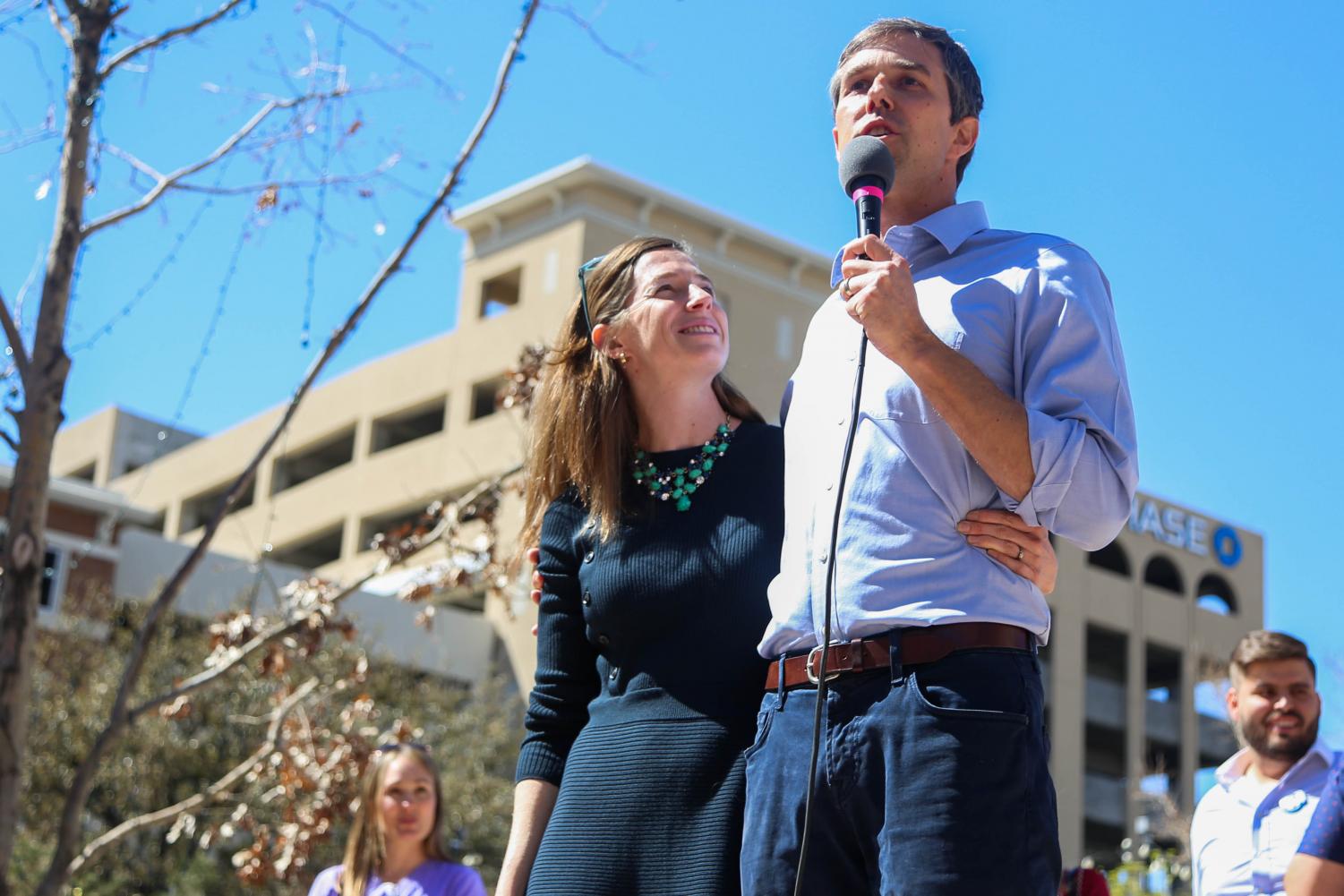 When asked what concerns he heard from college students across Texas, O'Rourke stressed their main concern is affordable education.
"College has to be affordable," he said. "It's the only way that people are going to be able to earn a living wage, contribute to their full potential and there's a public interest in doing that."
Being able to pay more in taxes, write better novels and make better art are societal benefits O'Rourke acknowledges.
"No student at UTEP or El Paso Community College should be taking on so much debt that they end up not affording their education, or graduate without the ability to stay in El Paso because they can't find a job that will allow them to pay the note on the debt and the mortgage and put food on the table and their health bill and everything else that comes with living life after school," he said. "I want to make sure that we invest in people who want to better themselves. It's an investment that pays dividends many times over."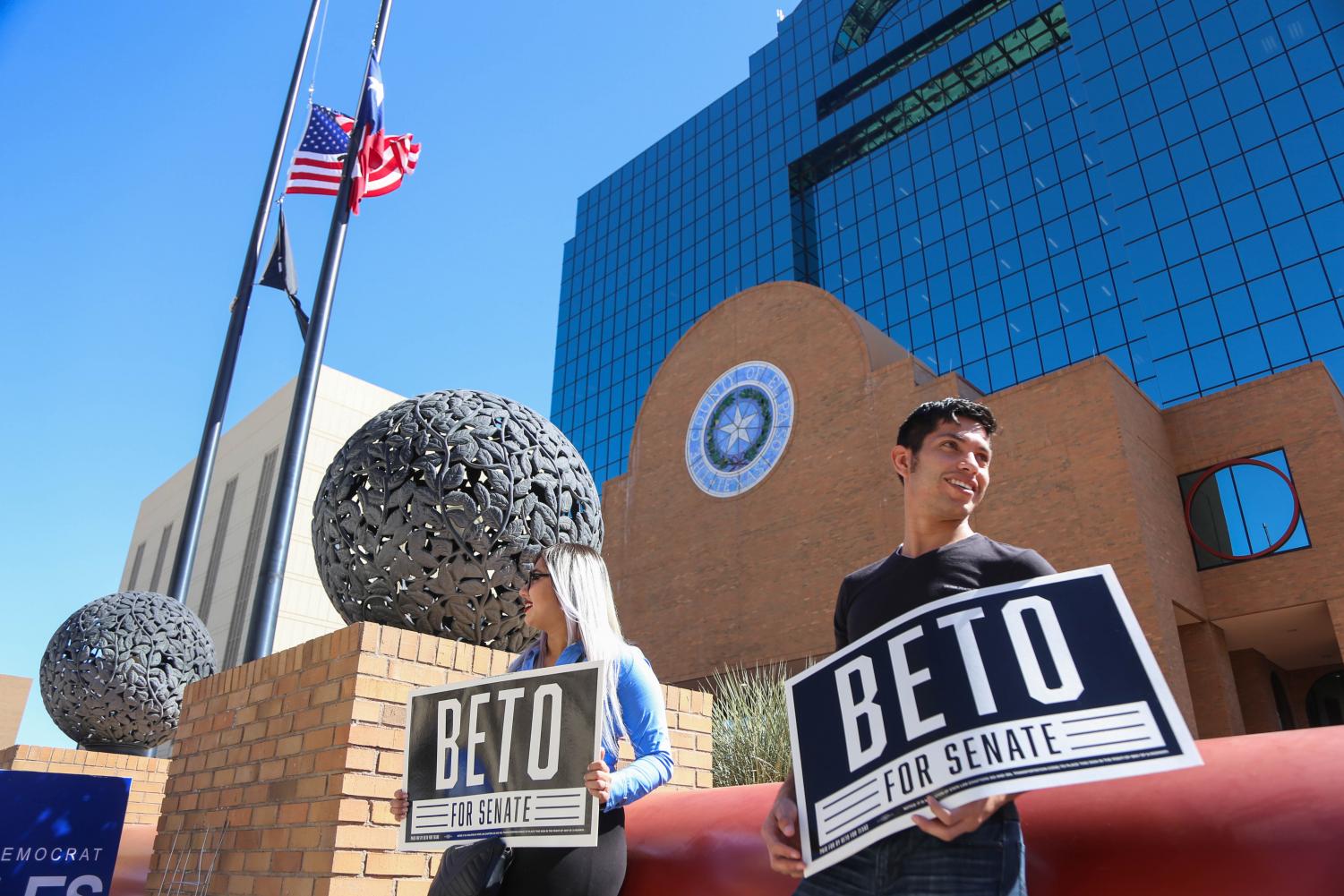 Although it is not confirmed yet exactly how many young voters selected O'Rourke during the early voting period, he acknowledges the strong impact that young voters may  in the Democratic turnout.
"I don't blame students for not having voted in previous elections if no one shows up to listen to them," he said. "I do think that those younger people, student and non-students alike, have been a big part of the surge in turnout that we've seen across Texas.
He predicted in El Paso that younger voter numbers are high, but is uncertain on the most recent data.
"I think it's happening in El Paso too, our numbers are up really high in El Paso," he said. "I don't have data on who it is, but I gotta think that a lot of them are young people."
According to Bob Moore, former El Paso Times editor, early voting numbers show that El Paso County had almost 1,000 more voters over age 80 than under age 30, even though El Paso has 80,000 more registered voters under 30 than over 80.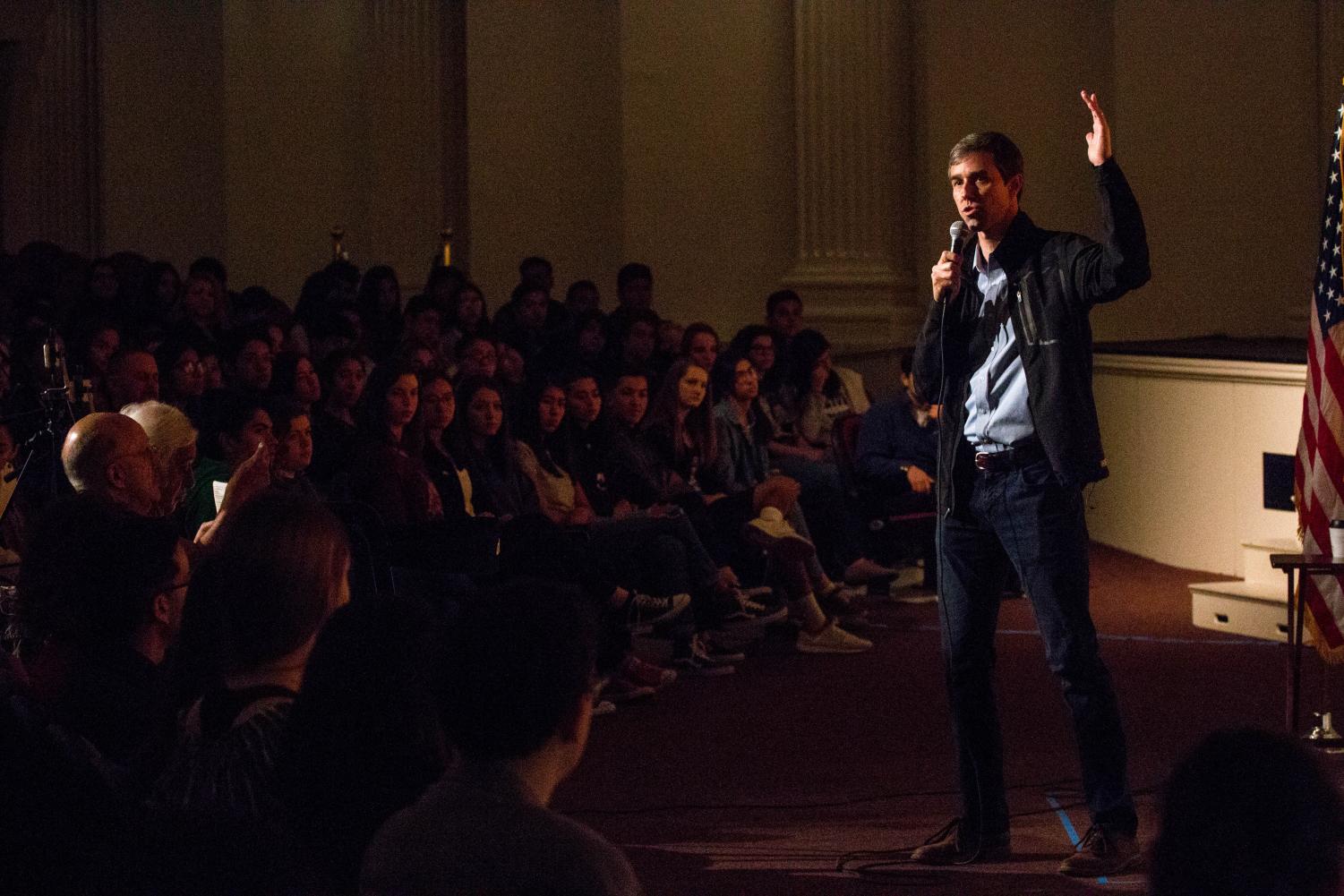 Earlier on Friday, O'Rourke held a general town hall at El Paso High School, his alma mater, in which community members, veterans and students asked him questions on a wide range of topics.
O'Rourke, who never shies away from storytelling, talked about being in the same seats the students sat in. He talked about being a "nerd" who dived into books, records and computers. He told the story about being turned onto punk rock music and attending shows at Campus Queen, a venue that no longer exists on Cincinnati Street. Then he talked about touring with his band, which included current At The Drive-In members.
"In the five years I have been a member of Congress, we have had precisely zero debates on the issue of gun safety and gun violence in America today," O'Rourke told the room. "I would love for El Paso and this state to lead the way on sensible gun safety reform."
O'Rourke's team will hold his watch party at the Brass Monkey on Tuesday, March 6, from 6:30 to 9:30 p.m. At 7:30 p.m., he will speak at the watch party via live stream. On Saturday, March 10, El Paso local artists Great Shapes, The Swell Kids, Dulce Mal and Brandon Bailey Johnson will play a show at the Lowbrow Palace to support O'Rourke. The show starts at 8 p.m. and there is a minimum donation of $5. Visit betofortexas.com for more information.