Basketball seniors bid farewell to UTEP
UTEP basketball will say goodbye to four seniors at the conclusion of the 2017-18 campaign.
Three men's players and one woman player will potentially play their final game in a UTEP uniform this week in Frisco at Conference USA Tournament.
With countless hours, energy and hard work spent both on and off the court as student-athletes, these players will remember both the highs and lows during their time on the court in the orange and blue.

Omega Harris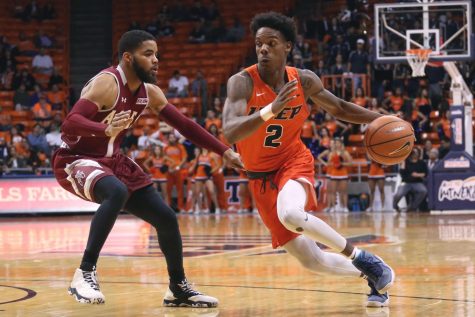 Senior guard Omega Harris will go down as one of the best players in UTEP history. Since he first started playing for the Miners in 2013, Harris continuously climbed the ladder in UTEP's record book.
Harris will finish in the top 10 in scoring at UTEP, he's top five in 3-pointers made, top 15 in recorded steals, along with doing all the little things that don't show up on the stat sheets.
"I let my game speak for itself," Harris said.
When Tim Floyd was able to snatch Harris from the rest of the nation, the hype around the city was electric because Harris was a talent that all coaches dreamed of. He could score in his sleep and defend the opposing team's best player, which his high school resume showed.
From Bethany, Okla., Harris played for Putnam City West High School and was listed as the No. 3 prospect in the state. In Oklahoma, the three-star product was the runner-up for 2014 Player of the Year after he averaged 18.5 points per game, five rebounds, 3.1 assists per game through the duration of his senior year. Harris was also named The Oklahoman's Big All-City Boys Player of the Year.
Also, in his high school career Harris was a three-time conference defensive player of the year and two-time offensive player of the year in conference.
"When I was getting recruited out of high school, I told my mom that I need to go somewhere where I'm needed. UTEP needed a point guard my freshman year," Harris said. "When I came here, I saw they had a gym running 24 hours, and UTEP had everything I was asking for."
However, before Harris became a household name at UTEP, he experienced some growing pains from the demands of being a student-athlete in college. During his sophomore year with the Miners, Harris was suspended for the first semester of the season due to struggles in the classroom.
"Going through my freshman year, with the setbacks that I went through and being able to overcome that, it was a wonderful feeling," Harris said. "Being able to be where I'm at right now and to have the support I've had with the coaching staff and everybody in El Paso is just wonderful."
Despite the obstacles Harris went through to begin his career, he still managed to put up 6.7 points, two rebounds and two assists per game in 20 games played during his freshman year. He also remembers the jump from high school to college-level basketball.
"Some of my big moments was playing against some big players. I played against Stanley Johnson (Detroit Pistons forward) early in my career," he said.
As a sophomore, Harris showed improvement. He was third on the team in scoring (12.3 points per game), set a sophomore record with a .440 3-point percentage and scored a career-high 23 points against rival New Mexico State.
But his junior season is where he really started to leave his mark at UTEP. The Miners started the year off with a dismal 2-13 record and it seemed as if UTEP was headed for one of their worst seasons, until one of the greatest turnarounds in program history took place.
After losing 13 of their first 15 games, UTEP went on to win 12 of their next 16, in large part to the dynamic duo of guard play from Harris and Dominic Artis. In their mid-season turnaround, UTEP handed Marshall their first home loss, they beat the conference leader Middle Tennessee and earned a top-four seed and a first-round bye in the Conference-USA tournament.
For that team, Harris was the leading scorer of the year with 17 points per game, and scored 16 straight games in double figures, was second in assists per game (2.1) and led the team in steals. For his efforts, Harris was named to C-USA's Third Team.
Then with a younger team, including five freshmen and seven newcomers, it was undoubtedly Harris' team during his senior year.
During his final season, the Miners went through a lot of changes, from all the new players, to losing Floyd to retirement five games into the season, to dealing with co-guard Keith Frazier leaving the team mid-season for a number of games. With all the distractions, UTEP (11-19, 6-12 C-USA), who was predicted to finish fifth in C-USA, finished as the No. 12 and final seed in the conference tournament.
Aside from the rough year, Harris still remained one of the brightest spots for a struggling UTEP team. He's averaging a team-high 11.8 points per game, scored 18 or more points in his final four games of the season and led UTEP with 60 total assists.
"The last shot in the Don Haskins Center was one of my biggest moments right now," Harris said on his four-point play against Southern Mississippi in his last home game.
Harris says he's far from done, though. The Conference USA tournament begins March 7 in Frisco, Texas, and UTEP has their eyes set on an upset against fifth-seeded UTSA.
"I'm still looking to make big moments for the UTEP program," Harris said. "We're trying to keep this going and make memories."
What kept Harris going through the roller coaster of his time at UTEP was his family. Harris has a 3-year-old daughter named Khylann, and along with her, Harris' biggest inspiration is his mother, Yolanela and his grandmother.
Harris plans on playing professional basketball after he graduates in May. His destination has yet to be announced.
"I can always say El Paso is a home to me," Harris said. "It's like I was coming to my second home, so it was like I never left Oklahoma."
Matt Willms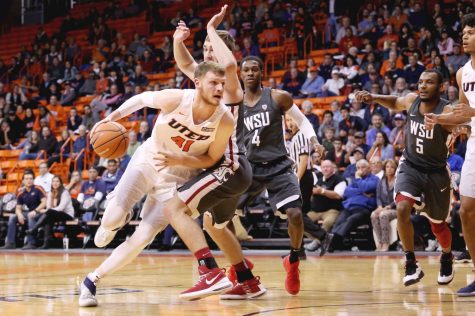 From Ontario, Canada, Matt Willms grew up loving hockey. It never crossed his mind that putting a ball through a hoop could get him to where he is now.
Willms started playing basketball at an older age than many. It wasn't until his junior year in high school that Willms played his first year of organized basketball. But at 7-foot-1 with natural basketball skills, it was a no-brainer that he could take his talents to the college level.
Coming out of one of the most prestigious high school basketball programs at Findlay Prep,  Willms averaged 8.5 points per game, 5.5 rebounds and recorded the second-highest single season of blocked shots in school history (46) on the team's way to a 32-1 record in the 2011-12 season. Willms was also part of the under-17 Canadian National Team in between his junior and senior season, where he was teammates with two NBA No. 1  picks in Anthony Bennett (2013) and Andrew Wiggins (2014).
Before committing to UTEP, Willms had signed to play for Texas A&M in College Station. However, as soon as Willms got the opportunity to explore El Paso and what it has to offer, Willms changed his mind and decided he wanted to compete for Tim Floyd. When the Miners struggled, though, it was something Willms had to learn how to deal with.
"Honestly, those have been my best moments, going through adversity," he said. "I haven't dealt with that before and every team before I got here had been one of the best in the state or even the country," Willms said. "It changes you as a person, after you lose, you come back the next day and keep working hard and never give up."
This past Saturday, March 3, UTEP found themselves in a tied game with North Texas. With 10 seconds left on the clock and a final spot in the conference tournament on the line, freshman guard Evan Gilyard found senior center  Willms at the rim for a C-USA Tournament-clinching dunk just as time expired.
The senior, who is appreciating his final moments as a Miner, added another important bucket to his legacy as the Miners edged out North Texas, 68-66.
"The journey, it's been a roller coaster," Willms said. "I've had really good seasons, we've had so-so seasons, and then this season, it's not going so well. But I mean we've kept battling, we're still doing good."
Willms has seen it all during his five years as a Miner. He was often injury plagued, but when he came back on the court, he produced. In his senior season, Willms has been responsible for two late buckets in two separate games that may have saved the Miners' season for now. The dunk against North Texas came three games after a game-winning tip-in against La Tech that gave UTEP a 74-72 win on Feb. 22.
"I would say that we're still continuing to battle. There hasn't been a lot of highs this season to talk good on," he said. "We keep battling and that's what I'm happy about. It's not the season we had wanted, but we can still change it around and end it on a good note."
Injuries aside, Willms used it as a learning experience and it has shaped him into the person that he is today.
"It has shaped me to become a man," he said. "It has made me more of a man because not everything is going to be bright. I got to keep working hard even when things go wrong, just got to push through and keep going."
Before his final game at the Don Haskins Center against Southern Miss, Willms and the other seniors, Omega Harris and Jake Flaggert, were honored on center court before the game. Willms was humbled by the crowd that attended the Don Haskins Center that stayed true to supporting him throughout his career as a Miner. The moment was special as Willms' mother and girlfriend were present for the occasion.
"It felt great. Having my mom and my girlfriend up there was a great feeling because I saw all of the fans out there," he said. "All the fans that I've known since I was a freshman. It just felt good to know that there was still a lot of support there."
Willms knows his time as a Miner is coming to an end. Only the conference tournament games remain and UTEP is the last seeded team (No. 12) in the tournament. While every game means it could be his last a Miner, the senior is optimistic about the tournament.
"It's a long time coming. I've been here for a long time and I'm kind of looking forward to it because I've been here so long," he said. I've been here for a long time, so once it's done it'll be like, 'okay, time for that chapter of my life to end.' I hope that we can finish off on a really good note and who knows where we can go in this tournament."
Jake Flaggert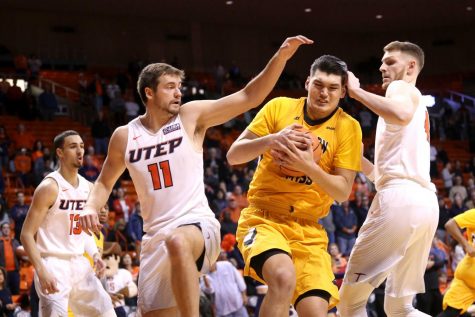 Jake Flaggert has led Conference USA in charges drawn for years. He led the conference in charges drawn in both 2015-16 (18) and 2016-17 (33). Although the senior has taken just 10 in limited playing time this season, Flaggert now has a total of 67 in his career with at least one game left to play.
"I'd love to take that as my identity," Flaggert said. "I enjoy it, taking charges to try and help my team win."
Arriving on the UTEP campus in 2013, Flaggert redshirted in 2014-15 and has seen teammates come and go, but one of the best moments at UTEP are the friendships that he has made.
"My journey as a Miner has been great," he said. "When I came in here, the seniors Cedrick Lang and Julian Washburn and other guys that I'm still friends with today have been great to build friendships with throughout this whole thing."
Flaggert appreciates the fans and acknowledges that the fan base is the reason why the Miners are trying to finish the season strong and do damage at the C-USA tournament.
"Definitely the fans, the fans are great," he said. If it was another team, I don't think they would nearly have as many fans that we still do. I think that's what motivating us as a team, this last end of the season for our fans who are still sticking with us, we're still trying to play hard for them."
Being a Texas native from his hometown of Lucas, Flaggert found El Paso and UTEP to be a second home for him. When he was honored before the tip-off against Southern Miss, Flaggert felt sentimental about leaving the UTEP home locker room after the game.
"It was great being honored at the Don for the last time," he said. It was a sad moment and I remember walking down to the locker room and all these fans wanted to talk to me. That meant a lot and whenever this season comes to end, it's been a second home for me."
The 6-foot-7 forward may not have the scoring average to impress UTEP fans, with his career average in points per game at five, but according to interim head coach Phil Johnson, Flaggert is one of the smartest kids he has known and says he already has plans set for graduation day.
"Jake is a really bright kid," Johnson said. "He's going to leave here with a degree or two and maybe even a master's degree. He's already got his future laid out for himself as far as business and going to work as soon as he graduates and heads home to Dallas. In fact, we all may be calling for a job soon in a couple weeks."
Tamara Seda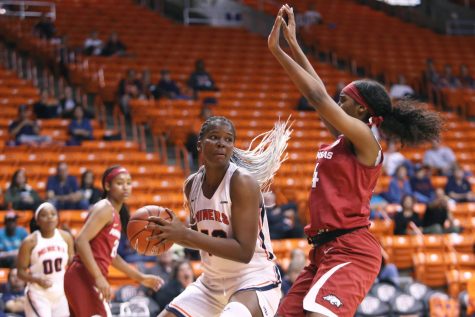 The majority of Division I student-athletes begin playing their respective sports at a relatively young age and multiple season-ending injuries can lead a player to not reach their full potentials, or even lure them to quitting at times.
But for Tamara Seda, she defied all the odds.
It was 2011 when Seda first picked up a basketball, but she still managed to find her way onto a college roster with Seward County Community College, despite starting later than others.
At Seward County, Seda was forced to take a medical redshirt in 2013-14 season after suffering a preseason injury. Unfortunately, the following year (2014-15), after averaging 14.2 points, 10 rebounds and 1.3 assists per game, Seda was forced to sit out for the final 14 games due to another season-ending injury.
However, for a UTEP team that had just finished a disappointing 2014-15 season at 12-16 and 7-11 in Conference USA, then head coach Keitha Adams needed to regroup for the next year.
Seda and UTEP were a perfect mutual fit. UTEP needed improved talent and Seda was a top-20 overall junior college prospect in the country, according to the rankings done by Dan Olson Collegiate Girls Basketball Report.
Seda's road, defying obstacles in her way, led her to not only play for the Miners, but also becoming a key part of her team by the end of her collegiate career.
From Mozambique, Maputo, to Seward County in Kansas, Seda was new to El Paso and UTEP. In her first season with the Miners in 2015-16, the adjustments to Division I were not the only aspects Seda had to deal with.
"The first thing I learned when I got here was the diverse culture that UTEP has, with the border and the Hispanic community here," she said. "Basketball-wise, I had to learn how to get stronger. At this level, post players have to be very physical."
As a redshirt sophomore and new to the team, Seda played in 34 games, clocked in 15 minutes per game and averaged four points and four rebounds per game. Her ability to get to the free throw line was apparent, as she went 33-of-71 at the line.
The addition of Seda helped UTEP rebound from a down year the season prior to her arrival. UTEP went 29-5 overall (16-2 in conference) and won the Conference USA regular season championship.
"That was my highest moment, when we won the conference my first year here," Seda said.
UTEP would end up playing in the WNIT tournament at the Don Haskins Center, where they lost to Oregon, 71-67, in the semifinals.
"Playing the WNIT here at home was special. Seeing the Don filled up was huge," Seda said.
Also, during that same season, Seda developed an element to her game that comes along with being the defensive anchor that she is down low.
"I remember my first year when I blocked a shot on the baseline, and that's when the finger wag started," Seda said.
The following season, Seda really shined for a UTEP team that was going through a rebuilding year. The 6-foot-4 forward improved in every aspect of her game. She put up 9.6 points, nine rebounds and was force on defense as she also averaged 1.6 blocks per game.
"I wouldn't consider tough moments being low points because we were never low as a team. You always get to learn something," Seda said.
During that 2016-17 season, the Miners went 8-23 (5-13 C-USA) and lost in the first round of the conference tournament, 80-70 against Old Dominion. After the down year, UTEP's head coach of 18 years, Keitha Adams, resigned and moved on to her home state team at Wichita State.
That's when UTEP hired Kevin Baker on April 24, 2017, out of Angelo State University before Seda's senior year.
"Everybody makes their own choices," Seda said. "It wasn't that tough because coach Baker came in and he's a very good coach. He came in and made everyone comfortable with the move."
Baker pushed Seda's game to the highest point of her career. She led UTEP in points scored (14.8 points per game), rebounds (9.3) and blocks (18). UTEP's offense ran through Seda on nearly every possession.
In her last home game, Seda scored 21 points, 13 in the fourth quarter, to help her team get their best conference win in two seasons, 80-75 over defending C-USA regular season champions Western Kentucky.
"How perfect was it for her to play her last game ever at the Haskins Center and then go to the free throw line with a chance to win the game," Baker said following the win over WKU. "Couldn't have happened to a better player, couldn't have happened to a better person. The Miners are going to miss Tamara Seda but Tamara Seda is going to go on and do big things so I'm just proud to know her."
On Monday, Conference USA announced Seda to the All-Conference second team for her efforts during the 2017-18 campaign.
With her help, the women's basketball program was able to double their win total this season from the year prior, going 16-13 (7-9 C-USA).
After Seda's career comes to an end, she plans to keep playing basketball overseas. As a backup plan, Seda wants to come back to UTEP and work her way to master's degree.
"This year I had to learn different skills of being a post player," she said. "Coach (Michael) Madrid made me step out of my comfort zone and do things I never thought I could do and that is something I will build on when I leave."
The Miners will take on Southern Mississippi on March 7 at 11 a.m. in Frisco, Texas.
Follow The Prospector at theprospectordaily.com.