Fahrenheit 180 is one of the newest places in town that offers more than just your typical cup of coffee and is located right across from the Don Haskins Center.
"My friend runs Fahrenheit 32 (ice cream shop), and what he does is that he tries to bring new things to El Paso or whatever is trending in other states like New York or other parts of the world," said owner James Kim, 24. 
Even though El Paso has a large variety of places to relax with a good cup of coffee, to Kim, creating a space with different products was one of the important factors that led to the creation of Fahrenheit 180.
"When I first came here, there was nowhere to go. When my girlfriend came to visit we wanted to go out somewhere to just hang out and chill, but the closest thing was Starbucks, which only fits in a couple of people," Kim said. "So I tried to vision a place where people can come and study and just chill out."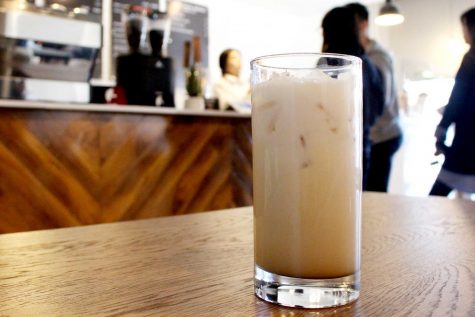 Rene Delgadillo
Known for their popular charcoal drink, Kim said that they try to infuse products that are trending in the state of New York, San Francisco and other places of Southeast Asia such as Thailand and Korea.
"Other than coffee, I wanted to introduce people to some new drinks and one of them is the charcoal latte, and what we use is activated charcoal, and it's not just for the color or aesthetic effect, it's also good for digestion and health benefits," he said.
Kim explained that in order to create the drink, they use coconut ash charcoal, which is an edible charcoal, and they add coconut cream and coconut extract.
Kim said that all of the product's ingredients are from Japan to maintain the products as authentic as possible.
"The charcoal is imported, and if it's a matcha, we try to get high-class products so we import it straight from Japan," Kim said. "Same thing for ube (purple yam), it's imported from Southeast Asia, where it is grown."
Besides the charcoal latte, Fahrenheit 180 offers a new insight to some of the most popular drinks and desserts in Asia, such as the bicolored croissant, the angel snow dessert, matcha crepe cake and ube drinks.
"The bicolour croissants are filled with different types of fillings, but it's not like a regular croissant where you just roll chocolate inside," Kim said. "We actually give it a little twist by adding color to it. So if it's a chocolate croissant, we add dark chocolate and with a marshmallow fluff."
Another product that Fahrenheit 180 has on their menu is their popular Japanese cheesecake, which took over the Internet last year for its unique texture and appearance. 
"People are familiar with the New York cheesecake, which is very thick, and the Japanese cheesecake is more bready, is more fluffy and is not as thick as the New York cheesecake," Kim said. "You can eat a whole portion and still be fine."
Part of the concept of Fahrenheit 180 is not only to offer new trending products, but also to bring parts of different cultures to blend in with the El Paso community.
"I feel it's very important that everywhere else is moving forward and El Paso is not there yet," Kim said. "So, I feel that bringing this here is a cultural effect and is just not about bringing just one culture, it is about bringing cultures from other parts of the world."
Fahrenheit 180 is open from Monday to Sunday. from 6 a.m. to 11 p.m. on Friday to Saturday from 6 a.m. to midnight and Sunday from 7 a.m. to 10 p.m.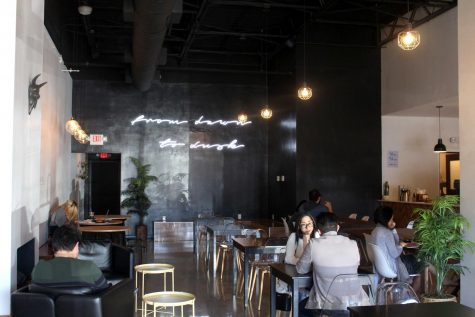 Claudia Flores may be reached at [email protected].