Ever since Malolam opened its doors four years ago, restaurateurs Octavio Gomez, Rudy Valdes and Nick Salgado held on the idea of opening a ramen shop with a Mexican approach.
"(El Cuartito) was one of the original concepts, but we were looking for the right moment to do it," Gomez said. "It feels good to see something that you put on paper come to life."
Located next to Malolam Cantina at TI:ME at Montecillo, on N. Mesa Street, El Cuartito will open its doors on Feb. 28, serving meals from Wednesday to Sunday from 11 to 2 a.m.
Growing up in the border cities of Juárez and El Paso, Gomez, Valdes and Salgado wanted to offer a new concept that combines the Japanese cuisine with the authentic flavors of the borderland.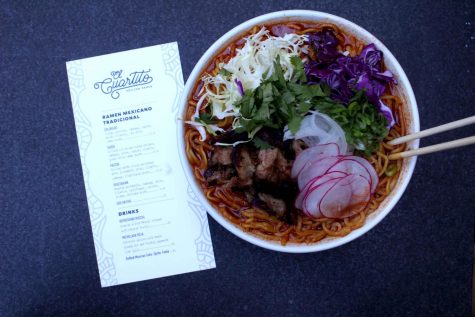 Claudia Flores
"I think the approach that we take is the easiest part of it. We all have a collective background–I grew up in Juárez, Nick grew up here in El Paso, and we all are children of the border," Valdes said. "When I say menudo, everyone knows what I'm talking about because we all share those collective experiences and that's why we take that approach on Mexican ramen."
El Cuartito will offer four different variations of ramen, such as chile colorado, which includes carnitas (pork), salsa verde with chicken, al pastor, which has the traditional marinated pork and pineapple, and a vegetarian option that has portobello mushrooms with vegetable broth.
"The reason why we do this is because some people are afraid of eating ramen. My wife and Nick's wife wouldn't eat ramen, but you put this spin on it and maybe they will be also willing to eat the traditional ramen–it's all about opening doors," Gomez said.
Valdes, who is also the executive chef for Stonewood Modern American Grill, said that ramen is about taking humble ingredients and turning them into a new product.
"Ramen to me has the same place in my heart, maybe slightly below where menudo, pozole, pho and these other soups sit. It's about taking humble ingredients, basically things people didn't originally want to eat," Valdes said. "With ramen we're taking bones and noodles and tuning super humble ingredients into something better, and we marry them with the flavors that we grew up with, such as menudo, pozole and tacos al pastor–putting together familiar with less familiar and creating an awesome new product."
With the final product, the food has been in the making for over 24 hours.
Valdes explained that he starts with the traditional ingredients with ramen, and it is near the end of the process that he takes a Mexican turn.
"We start with kombu (kelp), katsuobushi (smoked skipjack tuna flakes) and dashi, which is the stock of Japanese cuisine and is the Knorr Suiza of Mexican cuisine," Valdes said. "Our broth is considered a pork broth, but there are also chicken bones in there and those bones get blanched and clean and they go into the dashi. It takes 24 hours to make and it takes two days to make the whole thing."
Valdes said that making ramen takes a lot of practice, knowledge and patience. In fact, the main ingredients to make the savory broth consist of elements in which some people would consider leftovers.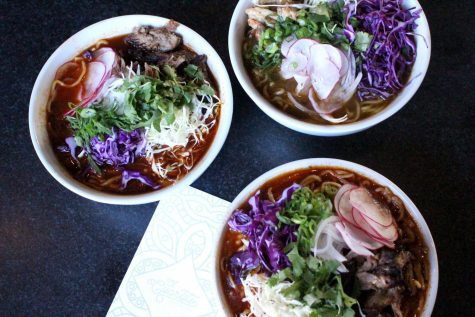 Claudia Flores
Ramen arrived to Japan in the 19th century and has since spread all over the globe. People take their own approach to reinvent the classic plate, however, the creation process is a tough one, as one simple mistake can alter the whole plate.
"A lot of time you won't know if you mess up until the end. So if you're in a restaurant and you order something and I mess up it will take me 30 seconds to fix," Valdes said. "But if I mess something up that takes 48 hours to make, and I won't notice until the very end–something just happened–that's why the time and precision are so important because I have to ensure that those 48 hours weren't in vain."
Other ramen restaurants in El Paso, such as Kaedama and Nishi Ramen, offer a more traditional style of ramen.
Aside from serving as a restaurant, El Cuartito will also have a bar offering a variety of drinks such as Mezcal and Estrella Jalisco beer.