Saruni sets records in second season with UTEP track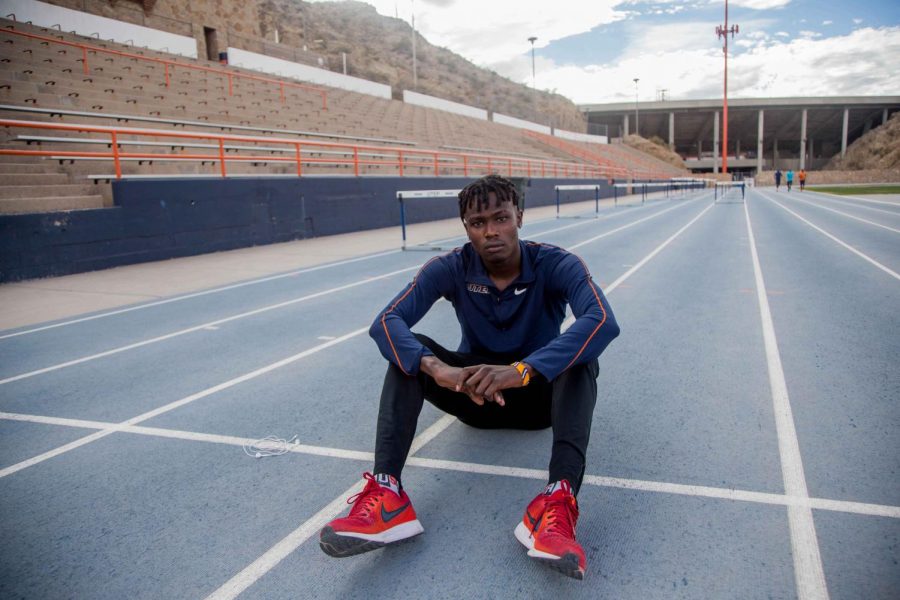 As a sophomore, UTEP distance runner Michael Saruni has broken school records and is now looking to be in a league of his own.
Saruni is from Ravine, Kenya, and currently holds the school record in the 800-meter rally. He broke the record earlier this year at the Commodore Invitational on Jan. 13 in Nashville, with a time of 1:45.92.
"Everything has been going as planned, I'm just pushing for more," Saruni said.
Paul Ereng, associate head coach for track and field, works with Saruni personally and gets to see what kind of a person he is on a daily basis.
From someone who struggled his freshman year getting accustomed to the sport to becoming a record-breaking track athlete as a sophomore, Ereng has seen the transition to a talented athlete in Saruni.
"I remembered last year he fell and got DQ (disqualified)," Ereng said. "But towards the end of the season, he was reaching his best, which means the race was kind of a learning experience for him."
Head coach Mika Laaksonen has also noticed a difference in his high-profile athlete this season.
"I think he's definitely more focused this year," Laaksonen said. "Freshman year, he didn't really have it together–he had a rough freshman year. This year he has been on a mission and is very driven."
Saruni has a one-track mind when it comes to this season, from training with his coaches, to establishing the work needed for this season, as the track season just finished its conference indoor championship meets.
"I prepare well. Nothing to fear, just go for it," Saruni said.
Feast your eyes on the No. 2 NCAA All-Time 800m run by Michael Saruni #WeAreMiners pic.twitter.com/4uoxWdLmOS

— UTEP Track & Field (@UTEPTrack) January 27, 2018
Ereng is not only Saruni's personal coach and mentor, but is also one of his biggest fans. Ereng currently holds the NCAA record in the 800-meter rally with a time of 1:44.84. The record became his sole possession in 1989, and Ereng is ready for it to be Saruni's one day.
"I want that to happen because that record doesn't do anything to me anymore," Ereng said. "This is something that I've had for 30 years ago, and it was so beneficial for me at that time at the age. When I was running in college it meant a lot of good things for me, but now it is just sitting there as a record, it's a number, it's historical and nobody is going to erase that history. But I want him to take it, so he can use it for himself and the good of himself and the institution as well."
Laaksonen anticipates the possibility of Saruni breaking fellow coach Ereng's record as well.
"He's just a sophomore, so there's no limit for him. He can probably accomplish whatever he wants to put his mind to in athletics and his event, which is 800," Laaksonen said.
Earlier this year was the first time Saruni attempted breaking the 800-meter record. Saruni was just shy of the record with a time of 1:45.92. He actually had the record in his mind and was determined to get it, but on the verge of nationals, Saruni has just one thing on his mind–the win.
"If I could break it–I mean it's kind of tricky because I feel like I gave it my all–I tried to break it on the first attempt," Saruni said. "But this time, I'm going for the win. If the record goes, then that's great for me.
Earlier in the season, Saruni set a world-record time of 1:14.79 in the 600-meter at the Dr. Martin Luther King Jr. Invitational in Albuquerque.
"I knew he broke it, so all those numbers are right there, face to face. But the most important thing is I knew for sure–he was going to break the 600," Ereng said. "The time he performed at Texas Tech was actually very impressive. I didn't expect him to run that fast by himself, it was very impressive."
Saruni has had the same approach all season, yet eyes the record he wants to beat.
"If I feel good before the race, I'm definitely going for it, but I just want the win," Saruni said.
Saruni is a fan of coach Ereng's aggressive workouts because they get him ready for the meets, but what he values the most is when Ereng offers words of encouragement before a race.
"Everybody gets nervous, he (Ereng) just talks to me and I feel comfortable," Saruni said.
Both coaches realize they have a unique talent in their program and the future is bright for Saruni as he gets better every season.
"I think it's good to have these high-profile athletes, I mean it's good publicity for the program," Laaksonen said.
This past weekend at the C-USA indoor Championship track meet, Saruni finished in second place behind teammate Jonah Koech in the 600-meter. But in the 800-meter, Saruni returned the favor when he finished with gold and Koech finished in second place.
"The sport is about talent. When you get this big talent and it is well guided, then things work out," Ereng said. "They come and go, but that's the way the sport goes. So, he's very special. He's a special guy. This is his time."
Follow Daniel Mendez on Twitter @dmendez24