Jennifer Han retains her IBF title in front of her home crowd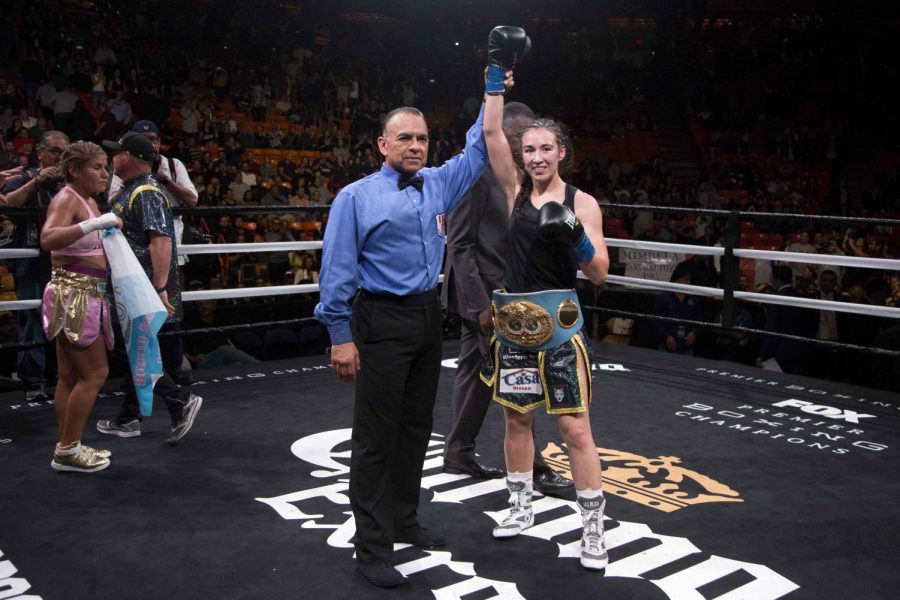 IBF Featherweight World Champion Jennifer Han successfully defended her title against number one challenger Lizbeth Crespo, in the main event of Ortiz vs Alexander card, in front of 5,087 fans at the Don Haskins Center on Saturday night.
Han, a technical fighter, was in for the most aggressive fight of her career. Crespo constantly brought the fight to her, at times wrestling with Han rather than boxing. The tactic frustrated Han throughout the fight as she suffered a slash above her left eye which was caused by a headbutt.
"She's very aggressive, I knew she was very aggressive, but I didn't realize that much with the head," Han said. "I know I'm a technical fighter and she came to do whatever she came to win but it wasn't enough. I was frustrated that she kept on leaning with her head and I tried to keep it from stopping it but the ref kept calling it on me."
Crespo after the match stated her desire for a rematch but Han has her sights set on something bigger.
"Well that's up to my team but I want to fight the best in the world," Han said. "I want to go for unification, my path is not done in this weight class and I don't plan on sticking her forever, I want to fight the best and maybe move up."
Han vs Crespo was the main event of the evening but the card was stacked with some surprises that occurred earlier in the evening.
Middleweight Tony Harrison defeated George Sosa in the fifth round at a time of 2:21 by way of knockout. Sosa showed resilience after being knocked down twice early in the round while Harrison finally put the fight a way with a third knockout combo to the head.
Before Ortiz vs Alexander went live on FOX and FOX Deportes, Las Cruces's own Austin "No doubt" Trout defeated Juan De Angel with a unanimous decision in the eighth round.
This was Trout's first win since 2015. The judges, Don Griffin, Glen Crocker, and Javier Martinez scorecard for the contest read 80-72 in Trout's favor. Trout, who had the home crowd behind him said he went back to basic for this contest, his defense. De Angel, a knockout puncher, was trying to land his right hand but it never seemed to faze Trout. Trout then started letting his hands loose in the later rounds as he became the aggressor.
"I felt good, I was starting to get back into rhythm," Trout said. "I was happy with the defense. I got hit one too many times, but the defense is what got me to the world title, to Cotto and Canelo and ever since I've abandon it. I guess trying to please the TV and the people but I got to stay true to myself because what got me here is me, so I'm getting back to me."
Trout is eyeing a return to the championship scene, he has his own plan that he hopes his boxing promoter Al Haymon will listen to and follow through on.
"Honestly I don't know what's next," Trout said. "I'm hoping to get a name then after the name another world title, that's my plan. You know Al Haymon listens to me plans and and tries to make those plans happen. It's not a perfect world but were definitely looking to move up and ahead."
In the first of the televised fights on FOX, Caleb "Sweet hands" Plant defeated Jorge Medina in unanimous decision. Judges Jesse Reyes, Albert Bennett, Robert Paolino each scored the bout in Plant's favor. Reyes scored the bout 109-119, Bennett scored the fight at 111-117 and Paolino scored the bout 120-108.
Plant had kicked things off during the final press conference and weigh in when he was determined to get under his opponent's skin. It continued tonight throughout the fight there was constant taunting from both fighters.
"I stuck to the game plan and I did exactly what I said I was going to do. I boxed his ears off," Plant said.
The second televised fight of the evening featured former Olympian Karlos Balderas. Balderas continues his undefeated streak and rise in the sport when he defeated Jorge Rojas in unanimous decision of 40-36. In the fourth round, in what sealed the victory for Balderas, was where he landed a body shot on Rojas that dropped Rojas to the mat. Rojas eventually beat the count but suffered his third defeat.
The last of the televised fights on FOX featured former welterweight champions Victor Ortiz vs Devon Alexander. The judges scored the fight in a draw. The judges Don Griffin, Glen Crocker and Javier Martinez each had Alexander winning the early rounds, and had Ortiz winning the second half of the fight.
Alexander looked like it was his fight to lose in the early rounds until the very end of round five where Ortiz was able to land combinations after combinations that put Alexander against the ropes.
The late round surge sparked Ortiz's second half performance. The two former champions exchanged punches in bunches as Alexander would often land a three punch combo that would end in an uppercut while Ortiz would land combos of his own to Alexander's body and face.
Alexander looked energized throughout the fight while at times Ortiz looked like his quitting self.
"I thought the decision was a little off. I thought I did enough to win. The first few rounds were a little complicated, he's a great boxer and he was timing me just right. I wasn't leaving the line of fire," Ortiz said.
"I absolutely thought I won the fight. The last few rounds I probably gave him, but I thought I out landed him in the 12th. I thought I did enough to win. I gave him three rounds," Alexander said.
Both fighters addressed the fact that they would both love a rematch if it was presented to them.
"I would love a rematch. That's up to my team to see what's next, but I'll fight anybody. I'm a real fighter," Alexander said.
"A rematch would be awesome. If both teams agree and the fans want it, let's make it happen, Ortiz said.
The one upset of the evening came before Han vs Crespo, when Thomas Williams was knocked out by up and comer Humberto Velasco. It was not long ago that Williams was the WBO NABO light heavyweight champ.