Thousands attend Angela Davis' visit to UTEP
Editors note: The Prospector first reported hundreds attended the event. According to the African American Studies Department, the final number of attendees was 2,000. 
Political activist, scholar and author Angela Davis visited UTEP on Wednesday evening as part of the African American Program Lecture Series and the observance of Black History Month.
Davis spoke about the importance of Black History Month, the Trump administration, social movements, and injustices in the prison system including her own experience during the early 1970s when she was on the FBI's Ten Most Wanted Fugitive List.
Two thousand attendees made their way into the UGLC to secure a seat long before the lecture began and a small altercation over a reserved seat took place in front of the room. The unidentified woman was escorted out by campus police to the applause of those inside.
Opening remarks were made by the director of the African American Studies Program, Michael V. Williams, the dean of the Graduate School, Charles Ambler, the Black Student Union, and Creative Writing associate professor and poet Sasha Pimentel.
Davis was welcomed into the packed auditorium with a standing ovation from the audience, as hundreds of others filled three additional rooms in the building where her lecture was being broadcast.
She opened her lecture with commentary about the city of El Paso and Ciudad Juárez and the relation to the ongoing discussion about immigration reform.
"I'm really honored to be here in El Paso which is one of the historical epicenters of the Chicano movement," Davis said. "I'm also proud to be among many people who have resisted repressive immigration policies with this administration, especially now under the Trump government with its racism directed at people of Mexican heritage, whether documented or not. I stand with all of you have insisted that El Paso is a sanctuary city and that DACA represents an important first step for a humane immigration policy."
Davis continued her speech by giving a background about the establishment of Black History Month and the importance of observing the celebration stating that it is more than just honoring those Black individuals who have made important contributions.
"I don't think Black history is primarily about firsts, rather it is about the uplift of community," Davis said.
The Trump administration was another hot topic as Davis spoke out about remarks made by Trump about Haiti and African nations. She also threw in some digs at Trump's lack of reading and his catchphrase.
"How can America be great again, when America was never great to begin with?" Davis said.
Davis also talked about social movements such as the Women's Rights Movement, Women's Suffrage, and the Civil Rights Movement. She explained how one social movement helps inspire another.
Davis reminded minority groups, from Latinos to Asian-Americans to Muslims to the LGBTQ and disabled communities, that black people have fought for everyone who believes in the possibility of freedom. She said this is why Black history in the U.S is the history of the U.S.
"The most profound message has been that if black lives are ever made to matter in the world, then all lives will matter," Davis said.
After the lecture concluded, Davis took some time to answer questions from the audience and participated in a brief book signing. Well over a hundred members of the audience eagerly waited in line to get a glimpse and snap photos of the famed political activist.
UTEP graduate student Blanca Campos was able to snag an autograph. She was excited to meet Davis due to her own views as a woman in the borderland community.
"She's meant so much, especially as a female empowering other females and speaking of the intersectionality of the movements that we are currently experiencing in America," Campos said. "I think that's very important as we study academically, but also culturally in this society."
Nathan Luke, a senior psychology major and Senator at Large for the SGA was also in attendance. He mentioned watching documentaries of Davis and noticed how she handled herself with grace, even in trying situations. He believes her presence at UTEP and in El Paso, was beneficial because she the gives encouragement to remain level-headed when it comes to political discussions.
"I think having her presence here, especially in such an influential city, with all of these issues, such as El Paso, where Juarez is across the border, is important for us to experience to continue fighting for our rights, to continue advocating for what's right and be against for what is wrong," Luke said.
Davis stayed late to sign books and programs until the last person in line was able to meet her.
About the Contributors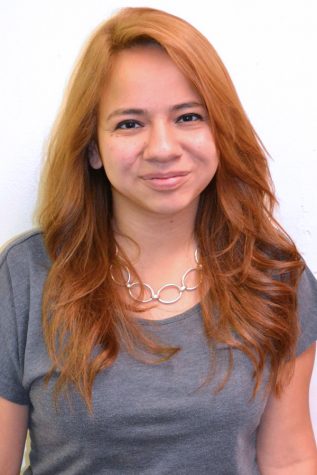 Michaela Roman, Editor-in-Chief
Michaela is a Senior Digital Media Production major at The University of Texas at El Paso. As the Editor-in-Chief, and former Photo Editor of The Prospector,...