Patrick Gabaldon, a UTEP alumnus and now prosecutor for the 34th Judicial District Attorney's Office, is becoming a widely recognized artist in El Paso.
With no professional art background, it has been no small feat to have his art acknowledged and showcased in various establishments.
"Luckily because I didn't study art, everything is still really new to me, and it's refreshing to kind of get to discover a new thing to be obsessed with," Gabaldon said.
Gabaldon's work has been exhibited at the El Paso International Airport, featuring over 20 pieces that showcase the city, and a piece at the Southwest University Ballpark for the 2017 season, UTEP and even as stickers on laptops.
Being a lawyer, husband and full-time artist has proven difficult, but not impossible for Gabaldon.
"There's a sense of really being free creatively, when I can shut off the logical side of my brain and just kind of go for it," he said.
Gabaldon said that while all aspects of his life are very different, he combines them easily. Without his art, he wouldn't have a medium to let go of the stress that comes from being a lawyer, and without being a lawyer; he wouldn't have the means to create art so freely and so often.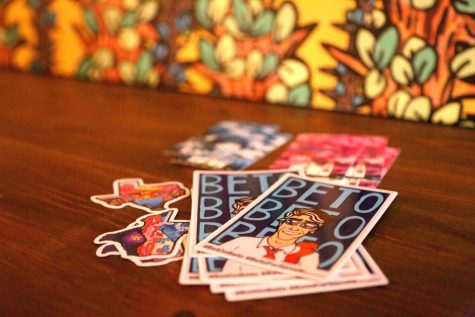 "It's nice to know that they're totally separate, but that they also feed off of each other," Gabaldon said.
A big focus of his work is giving El Paso a positive image, and making others see the city the way he does.
"When I grew up, a lot of people talked down about El Paso saying how it's not that great," he said. "But now I think there's some sort of cultural awareness about how beautiful the city really is and that's what I try to communicate with my art."
Through the use of bright colors and  El Paso's scenic views, he also explained that a message of happiness is embedded in every each piece.
"As a prosecutor, I see a lot of cases that are really tough and so I experience enough of that during the day at work," he said. "When I paint and when someone else has something of mine, I want it to communicate good feelings, happy feelings–joy, peace, tranquility."
Gabaldon said that his mistakes, such as forgetting to outline a part of his art piece with black or accidentally brushing the canvas with a different color than intended, now creates a better sense of himself in his work.
"Now in recent pieces, I've left a little part just not outlined or not finished completely on purpose so that I see it. No one else knows it's there most of the time, but it's something for me to have for myself," he said. "Similarly, if you look at all my artwork, my signature is always in weird places. It's floating up in the clouds or on a mountain, or curved around the shape of a cactus. It's somewhat hidden."
Part of the process he goes through when creating his artwork includes the use of music.
"I listen to a lot of music when I work," he said. "I am music obsessed, so I make sure that it's usually a different album that I listen to with every piece, usually a specific song."
Gabaldon believes that certain pieces of art he has created can't truly be truly appreciated, unless the person viewing the art is listening to the song that the piece is paired with.
"There's a piece of a roadrunner eating a little lizard, and that piece is to be appreciated when listening to the song 'Desert Island Disk' by Radiohead" Gabaldon said. "Every piece has a song specific to it."
For this piece and everything else he has created, Gabaldon received the El Paso's Chamber of Commerce Breakthrough Leader Award in 2017.
"It's still really insane to see my art up at restaurants and seeing them in different publications and getting this award. It's all these crazy things that I would've never imagined," he said. 
He's donated original artwork to United Way of El Paso, El Paso Bar Association, the Humane Society of El Paso's Yearly Fundraiser and the Boys and Girls Club of El Paso. He also continues to serve the community, not only as an artist but also through his community involvement as a Border Art Residency Board Member and as a judge for the Barlett Park Public Art Project, where he got to help choose the public art installation.
"It all started as doing paintings for friends, and that kind of grew and kept going," he said. "I love creating and I don't think I'll ever stop."