Poor second half dooms Miners in 72-60 loss to Western Kentucky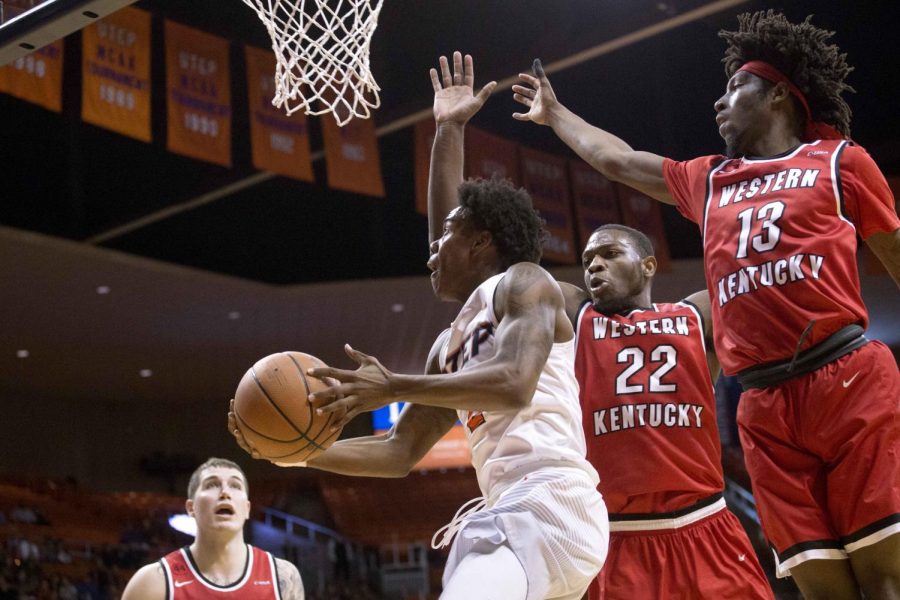 Mike Flores, Staff Reporter
February 2, 2018
UTEP's offense went cold when it counted most. In the final five minutes of the game, the Miners did not make a single basket against the stingy Western Kentucky defense, dropping their fourth game in a row with a 72-60 loss to Western Kentucky on Thursday night at the Don Haskins Center.
The Miners (7-15, 2-8 C-USA) are now 2-9 in their last 11 games, while second place WKU improved their record to 16-6 overall and 8-1 in Conference USA outings.
Opposite of the Miners, the Hilltoppers are 9-2 in their last 11 games.
In the first half of the game, the Miners jumped out to a surprising 32-30 lead, as they came out hot in the first 20 minutes. In that first half, UTEP nailed six of their eight 3-pointers, shot 46 percent from the field and took care of the ball.
However, in the second half, WKU clamped down on defense. The Hilltoppers also found their offense, aside from Justin Johnson and ended up outscoring UTEP by 14 (42-28).
"Another second half problem, you can't win with 16 turnovers," UTEP interim head coach Phil Johnson said. "I don't think it was a meltdown, we just didn't handle the ball well. We had four turnovers in the first (half) and 12 in the second."
With a limited Matt Willms—who only played 13 minutes in the loss—and no Tirus Smith (injury) for UTEP, the Miners had no answer for WKU's length and play down low. In the paint, WKU outscored UTEP, 34-18. And the rebounding battle also went in WKU's favor as they outrebounded the Miners 36-27.
WKU's two staring bigs in Justin Johnson and Dwight Coleby both scored in double digits and caused trouble for UTEP all night long. Johnson turned in a double-double tonight for the Hilltoppers, coming up with a game-high in both points scored (20) and rebounds (12). Coleby fell short of a double-double himself, adding 10 points with eight boards.
Along with Johnson and Coleby's big nights, they were also accompanied by their starting guards Taveion Hollingsworth who scored 17 and Lamonte Bearden who added in 11 points.
Even though the Miners bench came up with 22 total points, UTEP struggled to find reliable offense throughout the game, especially when it counted most. The only Miners to score in double figures were Omega Harris (16 points) and Paul Thomas (10 points), while four of the players on WKU's roster hit double digits.
Running a 2-3 zone defense for the majority of the second half, WKU's defensive scheme helped force 16 UTEP turnover off of eight total steals. Off of those double-digit turnovers, the Hilltoppers scored 15.
"At halftime I really felt we were going to win the game but we went back to being reckless," Johnson said. "No one played particularly well tonight, just really disappointed."
UTEP will continue the second game of their three-game homestand against Marshall on Saturday at the Don Haskins Center at 7 p.m.