Miners open pivotal homestand against WKU and Marshall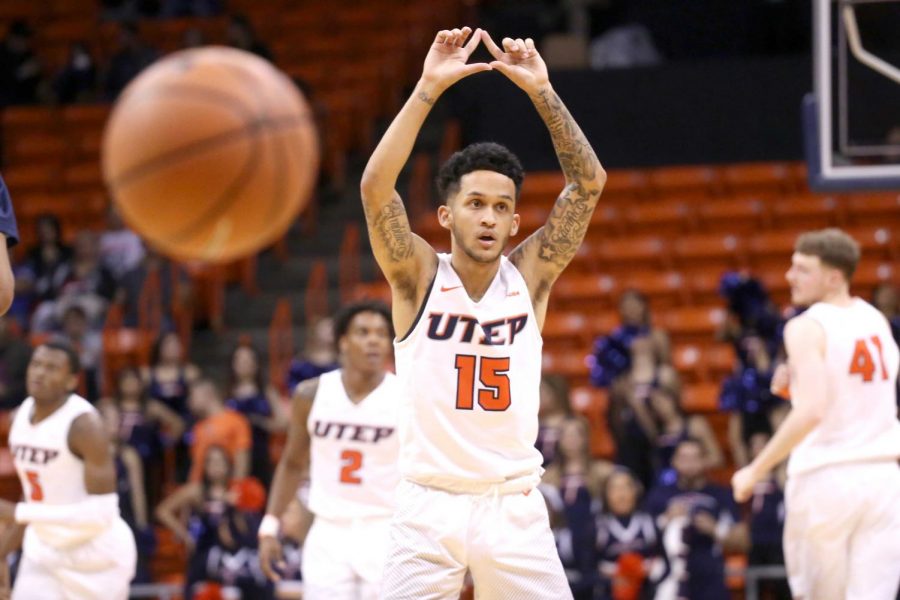 Mike Flores, Staff Reporter
January 29, 2018
After the toughest set of Conference USA games yet, which resulted in three straight losses to UTSA, UAB and Middle Tennessee State, the UTEP men's basketball team is ailing in the worst way.
In their last 10 games, the Miners have come out victorious twice in C-USA play, including a win against 11th ranked Florida International, 72-68, and 13th ranked Rice, 80-62.
The long road trip for UTEP started in San Antonio, where the Miners led for 34 minutes and eventually lost as big of a 16-point lead in the contest. After San Antonio, the Miners traveled to Birmingham, Ala., where UAB defended their home court, defeating UTEP 85-78, despite the trio of UTEP freshman Trey Wade, Evan Gilyard and Kobe Magee combining for nearly 50 points.
To end the three-game road trip, UTEP had a date with the top team in C-USA against MTSU. The game was lopsided, resulting in a 81-50 victory for MTSU and the Miners struggled to maintain any consistency down low as both Matt Willms and Tirus Smith were out due to an injury.
Out of the 14 C-USA teams, UTEP (7-14, 2-7 C-USA) sits at the No. 12 spot in the conference, above just Rice (2-7 C-USA) and Charlotte (1-7 C-USA).
On the bright side for the Miners, they will return home to the Don Haskins Center this week, starting Thursday, Feb. 1, against Western Kentucky at 8 p.m., followed by Marshall on Saturday, Feb. 3 at 7 p.m.
The bad news going into the trio of home games for UTEP is that the competition doesn't get any easier. Both WKU (15-6, 7-1 C-USA) and Marshall (14-7, 5-3 C-USA) would end up with a first-round bye in the conference tournament if it started today, as they both hold a top-four spot.
Last season, WKU snapped a three-game winning streak for UTEP, beating them 65-62 in Bowling Green, Ky. In that contest, UTEP nearly capped off a 21-point comeback, but Jake Flaggert's last-second 3-pointer fell just short and WKU escaped with the narrow win.
Against Marshall last year, UTEP came out firing on all cylinders and caught many people off guard, beating the high-flying Herd, 91-68, on the road.
This time, though, the Miners will have the luxury of being at home against both squads and that's a place the Miners are clearly more comfortable in. This season, UTEP is 7-5 at the Don Haskins Center, but 0-6 on the road.
While UTEP is 2-8 in their last 10 games, the Hilltoppers are the exact opposite at 8-2 in their last 10 matchups. On the road, WKU has won four straight away from the state of Kentucky and are now 4-2. Marshall is 6-4 in their last 10 games.
UTEP is coming off their worst loss of the season to MTSU. The 50 team points the Miners scored in the blowout loss will not cut it against either WKU, who averages 78.4 points per game (3rd best in C-USA), or Marshall, who leads the conference with 86.2 points per game.
UTEP's offense (68.9 points per game) will need a huge lift to keep up with the Hilltoppers and Thundering Herd this week.
UTEP's offense has struggled in part due to their senior leader's struggle in Omega Harris. As a junior last year, Harris scored a team-high of 17 points per game. But this season, his touch hasn't been as consistent, as the 6-foot-2 guard is down nearly six points (11.4) from a year ago (17.0). Harris' 11.4 points per game is still good enough to be at the top of UTEP's roster, but the team needs his scoring touch of last year in hopes of capturing a postseason spot.
The Miners' other leading scorer Keith Frazier (11.4 points per game) was on fire to start his season at UTEP, but once he missed a few games due to personal problems, he has yet to mimic his play from earlier in the year.
WKU has five players on their roster who are averaging more than UTEP's leading scorers in Harris and Frazier. The Hilltoppers' two leading scorers are Darius Thompson (15 points per game) and Justin Johnson (13.8 points per game).
Marshall has the most electrifying dynamic duo in all of C-USA in Jon Elmor (21.9 points per game) and C.J. Burks (21.8 points per game)—a duo that holds the top spots in scoring in C-USA. Their other threat is Ajdin Penava, who puts up over 16 points per match.
Both teams have a wider variety of scoring options than UTEP has had this season.
Both Harris and Frazier need to recapture their offensive games, and these set of games might be just what they needed since  Marshall has shown flaws when it comes to the defensive side of the ball. The Thundering Herd are the worst defensive team in the conference, sitting dead last (81.4 points per game) in C-USA.
WKU, on the other hand, is only giving up 69.6 points per game. But the Miners' defense isn't far behind, allowing just 71 points per contest.
The Miners will look to stop the bleeding and get back on track this week. In C-USA, the top 12 teams at the end of the regular season make it to the conference tournament and UTEP is holding that last spot as of now.
  Follow Mike Flores on Twitter @mikey__flores