Women's basketball to host UAB before traveling to UTSA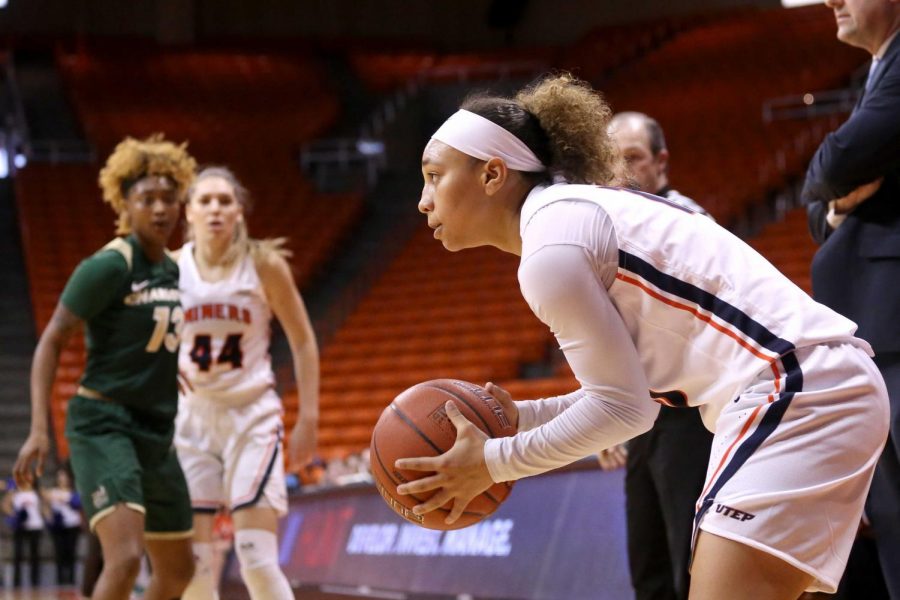 The women's basketball team returns home this week to face Conference USA co-leader UAB on Feb. 2 before hitting the road to play last place UTSA on Feb. 4.
The Miners (13-7, 4-3 C-USA) return to the comfort of home after splitting a two-game road trip, falling at Rice (56-42) on Jan. 26, but winning a tough defensive battle against North Texas (50-48) on Jan. 28.
This week, the Miners host the UAB Blazers (17-3, 6-1 C-USA) on Friday, Feb. 3, before a quick road turnaround on Sunday, Feb. 4, to play the UTSA Roadrunners (3-17, 1-7 C-USA), which are two vastly different opponents.
UTEP will look to see if it can continue to rely on its steady defense when they host a red-hot UAB offense this Friday night.
"I was really pleased with our defense (against UNT), I like how our team is guarding," UTEP head coach Kevin Baker said following his team's win at North Texas. "We even guarded well at Rice, we just couldn't score and tonight we were able to score a little bit more."
The Miners held Rice to nearly 11 points under their average (67.2 percent) and North Texas to just a 35.4 percent clip (17-48).
The Blazers come into the Haskins Center as the second-best scoring offense in C-USA (75 points per game) and are the number one team from behind the arc in field goal percentage at a 41.3 percent clip.
UAB also likes to share the wealth, sitting at No. 1 in the conference in assists per game (18.1 per game) with a total of 366 tallied on the campaign thus far. Sophomore Miyah Barnes leads the team with 97 while eight other Blazers have double-digits in assists.
Fifth year head coach Randy Norton and his Blazers are riding a three-game winning streak and look to remain in prime position for the No. 1 spot behind Western Kentucky.
The Blazers are led by reigning C-USA Freshman of the Year Rachael Childress. Childress, now a sophomore, is the Blazers leading scorer with 14.1 points per game and likes to share the wealth, contributing with a total of 45 assists on the season.
Barnes can also score the ball as she is the team's third-best scorer (11.5 points per game). Junior guard Deanna Kuzmanic is the team's second best in that category with an average of 12.8 points per game.
UAB is C-USA's third-best rebounding team (39) in C-USA, while UTEP sits in the No. 2 spot (40). UAB's Kara Rawls had recently been placed into the starting lineup after not starting in the first five games this season and has been on a tear ever since. She leads the team in rebounds with 157, with an average of 7.9 a game.
UTEP will be in for a battle against UAB, facing the upper echelon of the conference, whereas on the road they'll UTSA, who are at the bottom of the C-USA rankings, in the teams' first of two meetings.
First year head coach Kristen Holt and her Roadrunners are currently on a five-game losing streak. Holt was previously the associate head coach under former UTSA head coach Lubomyr Lichonczak (2013-17).
UTSA is allowing opposing offenses to score 71.4 points per game and average 59.8 points per game, while dishing out the ball for 12.3 assists. They also average 38.6 rebounds per game.
Senior guard Crystal Chidomere is the team's leading scorer, who averages 13.6 points per game. Right behind her is sophomore forward Marie Benson, who averages 12.2 points per game and is recording an average of 9.8 rebounds per game.
Baker and company are just 4-5 on the road so far this season, but are 7-2 at home with a top five ranking in the conference in field goal percentage efficiency (42.6).
In conference, senior captain Tamara Seda sits just outside the top 10 in scoring, with an average of 14.5 points per game, leading all Miners.
Junior Najala Howell is second on the team with an average scoring total of 13 points per game, with sophomore Katarina Zec rounding out the top three (9.1 points per game).
In the last battle against North Texas, all three players (Seda, Howell, Zec) were UTEP's leading scorers in the win.
Seda carried her team with 13 points, while Zec added 11 and Howell added 10. Junior Jordan Alexander set a new career-high in rebounds, grabbing 13.
Although the defense from inside has helped fuel UTEP recently, the Miners will need to improve their 3-point defense and be able to score the ball more for their matchup against UAB.
The Blazers have made more 3-pointers than any other team in conference (172), while UTEP has allowed their opponents to make more 3-pointers than any other team in conference (157).
In terms of scoring, UTEP will have to keep up if their defense can't stop UAB. The Miners shot just 33.3 percent (31-93) in their recent two-game road split (Rice, UNT).
Tip-off is slated for 7 p.m. at the Don Haskins Center and 1 p.m. will be the scheduled start for the Miners against the Roadrunners in San Antonio.
  Follow Daniel Mendez on Twitter @dmendez24