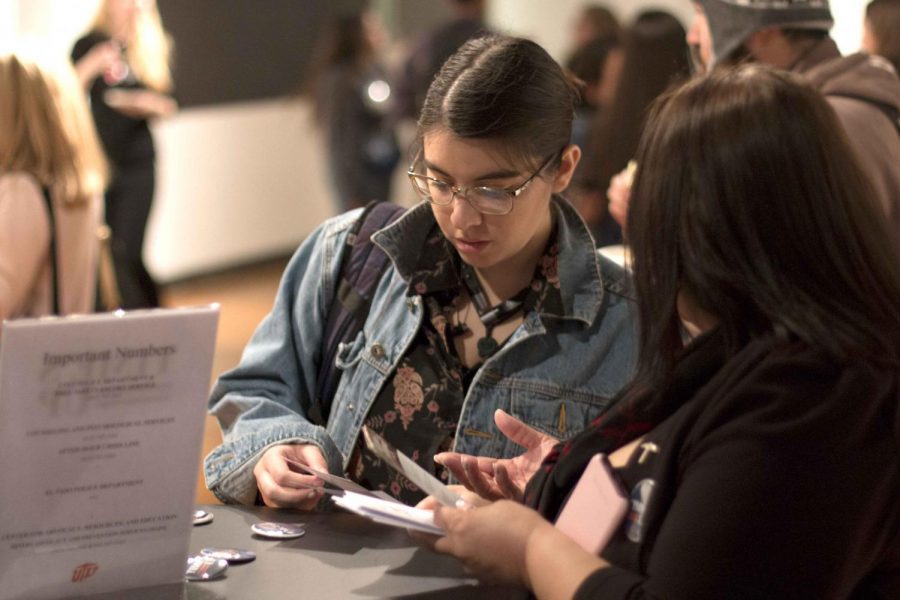 UTEP resources host a Time's Up exhibit to open up a conversation
January 26, 2018
UTEP staff, students, and faculty wore all black Friday night at the Union East gallery to stand with the nation-wide Time's Up movement and discuss the next step forward.
Time's Up is a movement against sexual harassment founded on January 1, 2018, by Hollywood celebrities in response to reports of sexual assault in hollywood.
One in five UTEP students reported being sexually harassed by other students at UTEP, according to the Cultivating Learning and Safe Environments survey. National statistics from Know Your (Title) IX, say more than 90 percent of sexual assault victims on college campuses do not report the assault.
"We want to bring the conversation here to UTEP to know that our students are really able to use their voice and talk about what the Time's Up movement could look like here on campus and really know about resources," said Mallory Garcia, Student Engagement Leadership Center (SELC) Coordinator for campus engagement and organizer of the event.
SELC hosted the event alongside the University Counseling Center, Center for Advocacy Resources and Education, an office that focuses on supporting student victims of crime, the Dean of Students Office, Center against Sexual Violence and the 24-hour crisis hotline.
"We really just want our students to know that we're a community that cares about each other," Garcia said. "We want them to know that we as a University care about them and really help the students figure out, 'what can we do', what's next?"
The interactive exhibit was covered with black sheets of paper and sticky notes were laid out so visitors could write out ideas on ending sexual assault.
"Everyone can have this collaborative library of what everyone wants to do next so we can gather ideas and really help each other figure out what we can do as a group," Garcia said.
Crystal Saavedra and Alejandra Lopez are coordinators at the Office of Alumni Relations. They attended the event together to show that they stand with the Time's Up movement and what it stands for.
"There are women out there willing to empower each other," Lopez said. "People don't necessarily need to be affected by it to be standing behind the Time's Up Movement. I think this is a chance for everybody to take a stand affected or not affected."
Saavedra said its great UTEP is joining the conversation and involving the student body, faculty and staff.
"It's something that's so refreshing to see that it's not just staying with celebrities and on TV," Saavedra said. "It's a breath of fresh air."
SELC is going to use the sticky notes and feedback to work toward activities throughout the year to see how they can help students who have experienced sexual assault and help put a stop to it.
"Now you can actually have a voice and say 'I'm not going to not say anything, I'm actually going to go out there and say something and not just stay quiet behind a door," Saavedra said.