Men's basketball team faces tough challenge on the road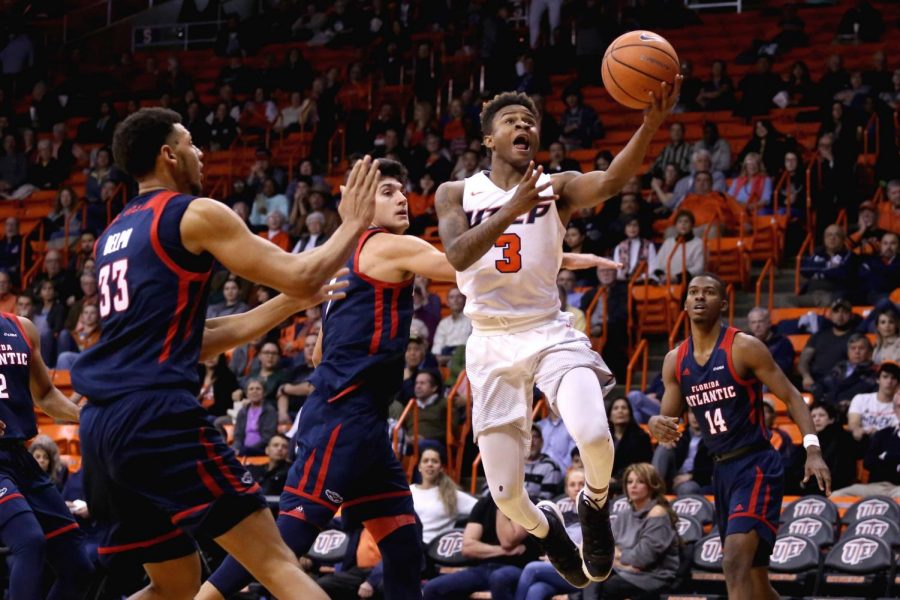 Falling to the No. 12 spot in the Conference-USA standings after a 65-61 loss to UTSA this past Saturday night, the men's basketball team will still be in search of their first road win of the season when they face UAB and Middle Tennessee this week.
The Miners (7-12, 2-5) will look to redeem themselves as they face two of C-USA's top five teams on the road this week, starting with the UAB (13-7, 4-3 C-USA) on Thursday, Jan. 25, and top-ranked Middle Tennessee (15-4,6-1) on Saturday, Jan. 27.
UTEP has relied on sophomore guard Isiah Osborne, who has been improving his game in recent weeks and scored a season-high 25 points against Louisiana Tech earlier this month. Osborne has dropped three 20-point games in his team's last four outings. In the Miners' last pair of games (FIU, UTSA), Osborne has been the Miners' leading scorer.
The scoring from the sophomore has been a nice surprise, but it also comes down to the struggles from senior guard Omega Harris. Harris suffered a back injury early this season and has not been the same player UTEP has seen in the past. The senior's average is down 5.2 points per game from last season with an 11.8 clip after averaging 17 points a game in 2016-17. Against UTSA on Saturday, Harris recorded a season-high 40 minutes, yet only managed to score nine points in the contest.
Another reason why Osborne's scoring has been crucial is that the Miners' leading scorer Keith Frazier (12.5) is working himself back into the rotation. After taking a leave of absence in December, Frazier rejoined the club on Jan. 11.
Interim head coach Phil Johnson said he wanted to ease Frazier back into the rotation, but against Florida Atlantic (Frazier's first game back), Johnson used Frazier as a spark off the bench when the team needed one.
After missing playing in the Miners' last home stand against FAU and FIU, Frazier came off the bench against UTSA and missed three shots during eight minutes of play. If Frazier can work his way back to being the same scorer that dropped a season-high 25 earlier this season against Appalachian State (Nov. 19), the Miners might have a chance against the top tier teams of C-USA.
Another important contribution the last few games has been freshmen forward/guard Trey Wade. Wade has gotten an increase in minutes, filling in for the injured Tirus Smith. Smith, who injured his leg during practice two weeks ago, has not played since the Miners fell to Florida Atlantic (73-66) on Jan. 11, and is out indefinitely.
At 6-foot-8, Wade has been crucial for the Miners in attacking the glass. Against UTSA and FIU, Wade had a combined 14 rebounds. But it's his defensive ability that has been beneficial. Against FIU, Wade recorded a season-high of four blocked shots.
The Miners will face C-USA's fifth-best team when they play the Blazers on Thursday. UAB is just two games from first place as three teams are currently tied for the number one spot (ODU, MTSU, WKU).
Second-year head coach Robert Ehsan has his team in the top 100 in offense and defense. UAB is ranked No. 73 in points per game (78.9) and No. 72 in points allowed (67.5). Another aspect of the Blazers' game is their attack off the glass with 38.7 rebounds per game, which ranks 55th best in the country and second in Conference USA.
UAB is also in the top 25 nationally in assists per game (22). The Blazers average 17.5 per game in that category with each member of the team sharing the wealth. Meanwhile, UTEP is ranked 335 out of 351 division one teams in assists per game.
Defensively, UTEP will have to be ready for UAB's senior forward Chris Cokley. The senior is averaging near double-double stats with 18.3 points per game and 9.5 rebounds per game. Cokley has nine double-doubles on the season and is coming off a season-high of 28 points in the Blazers' loss at Marshall in overtime on Saturday (Jan. 20).
Following UAB, UTEP will head to Murfreesboro, Tenn., where they will face one of the teams that is currently in a three-way tie for first place in C-USA. The Blue Raiders are led by 16-year head coach Kermit Davis.
Middle Tennessee does not have the flashy offensive statistics like UAB, but the Blue Raiders get it done on the defensive end with a national rank of 50 in points allowed per game (66.4). Nick King leads the Blue Raiders with an average of 21.7 points per game and 7.9 rebounds per game. He has already torched opposing defenses for three 30-point games and has nine 20-plus point games.
In a showdown last week against rival Western Kentucky, King scored 28 points to hand the Hilltoppers their first loss in conference play with a 66-62 win on the road. Senior guard Giddy Potts was the second-leading scorer in that game for the Blue Raiders. Potts is averaging 13.4 points per game as Middle Tennessee's second-leading scorer behind King.
Tip-off against the Blazers is set for 6 p.m. MST in Birmingham, Ala., and 5 p.m. will be the scheduled tip-off against the Blue Raiders in Murfreesboro.
Follow Daniel Mendez on Twitter @dmendez24