Borderland dehumanizes and marginalizes asylum seekers, according to recent report
The Hope Border Institute and the Borderland Immigration Council presented a report on asylum seekers living under the Trump administration on Thursday night at the El Paso Natural Gas Conference Center.
The study, "Sealing the Border: The Criminalization of Asylum Seekers in the Trump Era," documented human rights violations by immigration enforcement agencies in El Paso and Southern New Mexico.
The study found that El Paso is one of the hardest places to get asylum requests approved if you are a Mexican or Central American. El Paso judges run between a 93.7 and 99.4 percent denial record compared to 61.8 percent national rate.
The report was based on over 300 cases in El Paso immigration cases as well as a "community based participatory action research" survey taken in the El Paso area.
UTEP graduate students from the "Research in Latin America and Border Studies" class taught by Jeremy Slack, an assistant professor of geography, contributed to the research as well.
"We've known for a long time that the best way to learn something is by doing things and the best place to do stuff is out in the community. If you're teaching social science, there's a society out there," Josiah Heyman, professor of Anthropology and Director of the Center for Interamerican and Border Studies said.
The presentation also included a panel of immigration scholars with a special guest, Maria de Loera, an asylum seeker.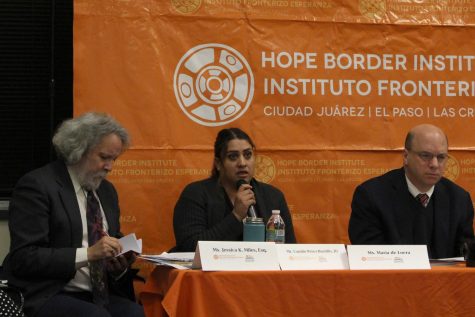 Maria de Loera, a Mexican national, fled Juárez, Mexico seeking asylum from the drug violence that has continued to plague the nation. She filed for asylum but her case took a turn when she discovered that her 5-year-old daughter had bone cancer. Maria's needs changed from being granted asylum to include specialized medical care for her daughter. Maria's deportation date is Feb. 7.
Her case would have qualified as a humanitarian stay of deportation before the Trump administration, according to Jessica Miles, an immigration attorney whose law firm, Noble & Vrapi, is part of the Borderland Immigration Council. The difficulty in De Loera's case getting a stay of deportation highlights the change in immigration policy where Maria has previously been granted three stays by Immigration and Customs Enforcement.
The study also found that ICE has a blanket detention policy on asylum seekers. El Paso detention centers have an average of around 2,000 people detained every night. The study reported that 80 percent of attorneys said that their clients did not receive adequate physical or mental health treatment. The result is that people often would rather be deported than stay in a detention center.
Guest speakers at the presentation included Kevin Appleby, the senior director of International Migration Policy and Center for Migration Studies, Helen Kerwin a legal fellow at the Inter-American Commission on Human Rights, Jessica Miles an attorney at Noble & Vrapi Immigration Law and Camilo Perez-Bustillo, the director of Advocacy & Research at the Hope Border Institute.
The Hope Institute and the Borderland Immigration Council built this report upon their previous work, Discretion to Deny.
For more information, go to https://www.hopeborder.org/.