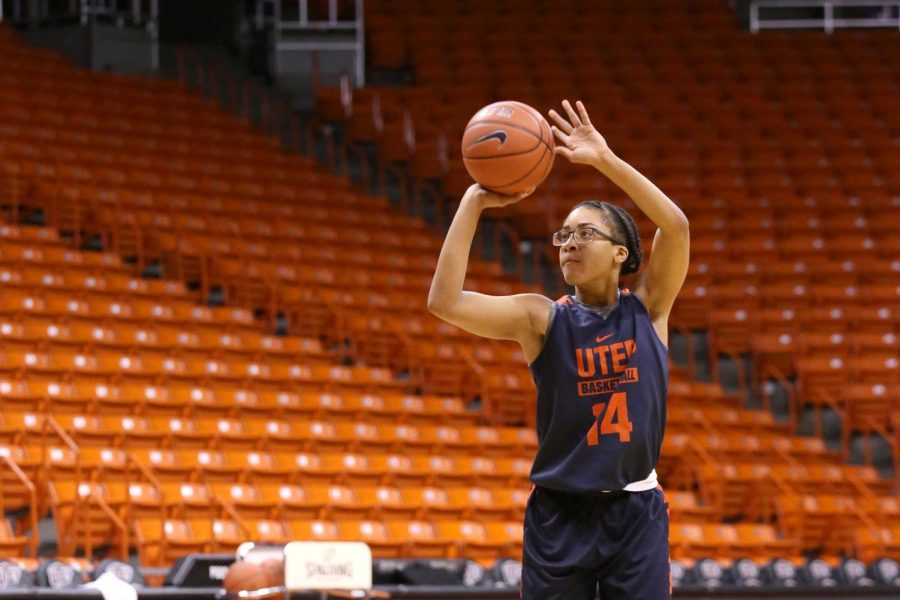 Young start helps Howell find clutch moments
January 17, 2018
A basketball life that started in kindergarten, UTEP women's basketball player Najala Howell says starting at a young age is what has developed her into the player she is now.
"I was basically born in the gym," Howell said. "My sister played basketball with my other sister and I would always go to her games and be in there (gym). I always had a passion for it when I started in kindergarten and I knew from then that it (basketball) was all I ever wanted to do."
Once Howell reached high school in her hometown of DeSoto, Texas, she started to develop into the ideal collegiate player. She was fast but also big for her position, which helped her game on both sides of the court.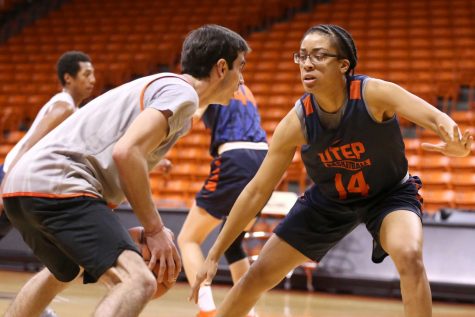 The guard was named the MVP at the Texas Girls Coaches' Association All-Star game in the summer of 2015, and posted a double-double (26 points, 10 rebounds) while adding five steals and four assists to secure the honor at the prestigious event.
Howell was also a two-time (2014 and 2015) First-Team All-State honoree by the Texas Association of Basketball Coaches and was also voted twice to the Class5A All-Region I girls basketball team and the 7-5A All-District first team as a three-year varsity letter winner.
In her final two years at DeSoto High, Howell served as team captain. The leader averaged 17 points and 5.7 rebounds to go along with 2.5 steals during her junior year and improved to 18.2 points and 6.3 rebounds per game with 2.4 steals in her senior campaign, leading to a four-star recruit ranking by Prospect Nation at the end of her high school career.
"High school was an eye-opener to my opportunities and my potential as a player," Howell said. "I never really thought I would get as many offers as I did, I knew I wanted to go to the WNBA but I didn't really know the steps to get there when I was younger."
Howell signed her National Letter of Intent to come to UTEP in November of 2014, following UTEP's historic run to the championship game of the 2014 WNIT against Rutgers.
"She is one of the top post players in the country in the junior-college ranks," former UTEP head coach Keitha Adams said following Howell's commitment.
The current junior has had quite the career thus far for the UTEP women's basketball team.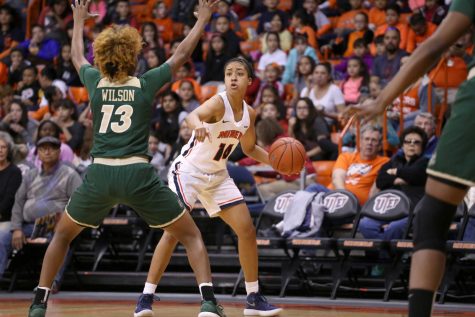 As a freshman player in 2015-16, Howell played in 24 games as a reserve guard where she averaged 7.5 minutes per contest and recorded at least three rebounds in eight games while pitching in five points or more three times, nailing 76.9 percent (10-13) of her free-throw attempts.
As a sophomore in 2016-17 as UTEP's third-leading scorer, Howell averaged 7.9 points per outing and starting in five times while playing in all 31 games. The guard shot 40.1 percent from the field (85-212), 35.2 percent from beyond the arc (19-54) and 72.4 percent from the charity stripe (55-76) while scoring in double figures 13 times, including a seven-game streak at midseason and in four of the last five tilts.
One notable performance from Howell as a sophomore came when she capped the campaign with a 17-point (6-for-10 FGs, 4-for-5 FTs) effort against Old Dominion in the C-USA Tournament and dished out three assists with no turnovers in 35 minutes versus ODU. Her season-high 20 points came in the league opener versus UTSA, where she played 39 minutes and was on the floor for 44 minutes in a three-overtime game at FIU.
Going into this season as a Junior, Howell had to go through a transition at the head coaching position along with her entire team. Keitha Adams took a job offer at Wichita State after 16 years at the helm of UTEP (2001-2017). The program then hired Kevin Baker to lead the charge in late April (2017).
"It was hard but he (Baker) is very smart and very strategic, not just him but the whole staff too," Howell said. "We just had to get on board and follow the game plan as a team and follow along."
Now second on the team in scoring behind senior captain Tamara Seda, Howell credits her teammates for everything she has done on the court this season as well as the close bond the entire team shares. Howell has scored in double figures in 13 of her team's 17 games.
Her best game this season came on the road at UC Riverside back on Dec. 30. Against the Highlanders, Howell set a new career-high of 23 points off a perfect 5-for-5 showing from 3-point land, turning the ball over just a single time to help her team claim a 73-62 win.
"Roe (Roeshonda Patterson) is really encouraging and Rachel (Tapps) is always pushing me to go harder," she said. "We (Howell, Patterson, Tapps) go at it (encourage each other) offensively and defensively. As far as my other teammates, we all have really good chemistry and are always cheering each other on and saying positive things to one another."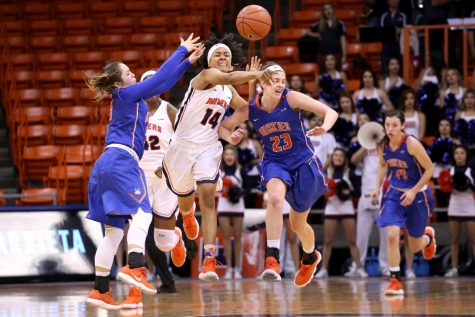 While it could be that chemistry they share as a team, the team has gotten off a nice start on the season and a lot of it has come down to clutch basketball moments from Howell.
The Miners sit at 11-6 overall and 2-2 in Conference USA play with Howell's free throws at FIU on Jan. 5, contributing to a nail-biting 77-76, C-USA win on the road.
In that contest, Howell hit two game-winning free throws in the game's final 3.2 seconds while also going a perfect 9-for-9 at the line. In her last 19 attempts at the charity stripe, the junior has missed just one (94.7 percent).
"I go to the line knowing it's going to go in," she said. "It all comes down to focusing, you have to focus. I'm in the gym every day working on my free throws a lot."
Howell is also UTEP's go to marksman from behind the arc. The guard has hit some critical 3-point shots this season at momentum shifting periods of the game. She leads the team in 3-point shooting percentage (42.9 percent) and 3-pointers made (27).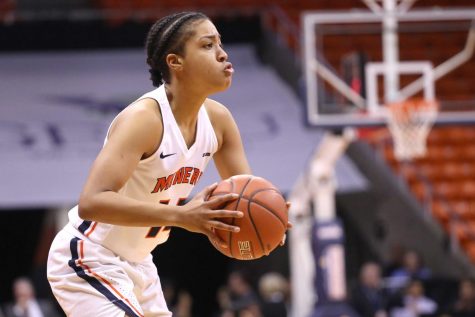 "She is just a clutch basketball player, I can't really explain it," Baker said following UTEP's come from behind win over Charlotte last Thursday. "Time and time again she'll hit a clutch shot and make timely free throws and she just does it over and over again. She wants the ball in her hands in tough situations and those are things you can't coach, you either have it or you don't, and she has it."
Any great player must overcome challenges and Howell is also looking for ways to improve.
"I'm working on staying lower on the court, especially on defense," she said. "I need to make sure I'm lower than my opponents."
Staying low in dribble formation is important for ball security in the game of basketball. This season, turnovers have been an issue for both Howell and her team.
The junior has turned the ball over 48 times while UTEP as a team has totaled 328 through 17 games but Howell has limited them as of late, committing just five combined since the start of the homestand on Jan. 11, against Charlotte and Middle Tennessee (Jan. 13).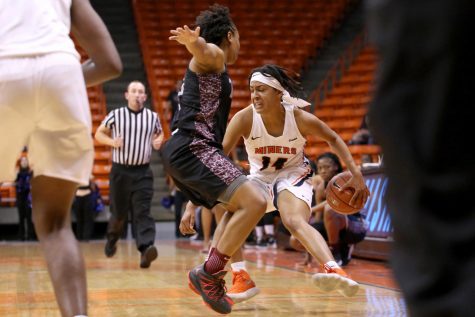 Howell and the Miners will look to close out their three-game homestand on a positive note when they host on FAU (8-6, 2-1 C-USA) on Thursday night at the Don Haskins Center. UTEP fell to FAU 72-66 in the two team's first matchup back on Jan. 7, in Boca Raton, Fla.
Tip-off is slated for 7 p.m.