Former Texas quarterback Locksley commits to UTEP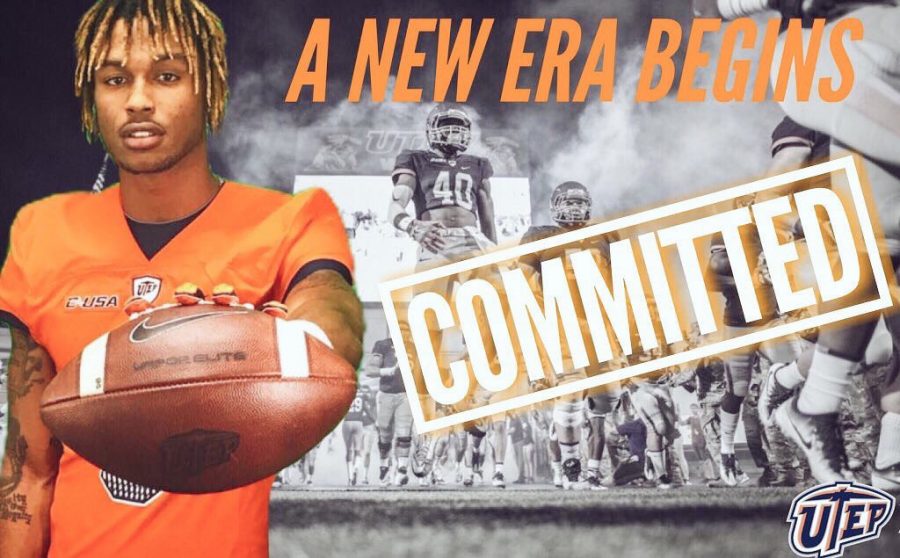 Mike Flores, Staff Reporter
January 15, 2018
Former Texas and Iowa Western quarterback Kai Locksley announced on his Twitter account on Monday night that he has committed to play for the UTEP football team next season.
Locksley entered his collegiate playing career as a four-star rated prospect and is currently the 4th best JUCO quarterback, according to 247Sports.
For a UTEP team that put up a nation-worst 11.8 points per game and a bottom-10 passing offense (134.9 passing yards per game) last season, the dual-threat quarterback will add much-needed offense for a team that lost a lot of the offense they did have, such as former quarterback Zach Greenlee, AP All-American offensive lineman Will Hernandez and running back Kevin Dove.
UTEP wasn't the only school in the running for Locksley's return to Division I football, the other schools that offered Locksley were New Mexico State and Marshall. Other schools, such as Pittsburgh, Ole Miss, Indiana and Kentucky also showed interest in Locksley.
At Iowa Western Community College, Locksley put up video game numbers. He led his team to an 11-1 season, passed for 2,238 yards, rushed for 705 rushing yards and scored a total of 40 touchdowns, all on his way to the NCJAA Offensive Player of the Year award.
Locksley was born in West Port, New York, but went to a private high school in Baltimore Maryland, and was a two-time all-state honoree at Gilman School. Coming out of private school, Locksley was ranked No. 146 nationally (No. 9 ATH) and No. 3 in the state of Maryland, according to 247Sports.
At GHS, the 6-foot-4 product showed his ability to beat teams with both his arm and feet. During his senior season, he rushed for 1,050 yards and found the end zone 17 times, while he also passed for over 900 yards and added five touchdown passes for 22 total touchdowns scored, all in rout to an 8-3 season (5-1 in conference).
To top off his spectacular high school run, Locksley led his team to a share of the MIAA A Conference title in 2014 and was named as a second-team Private School All-State in 2013.
In 2015, Locksley participated in Under Armour All-American Game, where he ended up with 36 receiving yards for Team Highlight, who beat Team Armour, 46-6.
Before picking Texas, Locksley was first committed to Florida State before he made his decision to change his mind.
Locksley comes from a family that is very familiar with football. His dad, Mike, played for Towson University—where he was a standout defensive player for his team, earning team defensive MVP honors his senior year—is the current analyst at Alabama and was the quarterback coach/offensive coordinator at Maryland from 2012-15 and at New Mexico from 2009-11.
His brothers have both played Division I football. Mike Jr. played at Illinois and his other brother Meiko played with both Illinois and UNM.
Locksley was also a multi-sport athlete in high school. He played basketball, where he averaged 15 points per game as a junior and named to the all-conference team, and he also ran for the track and field team.
National Signing Day is Feb. 7th.