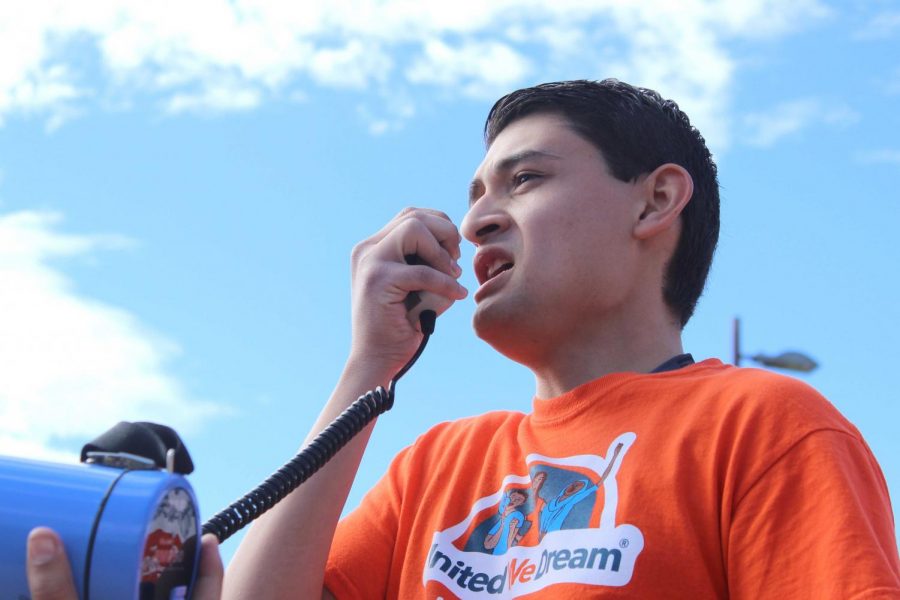 Dreamers continue the fight to preserve DACA
January 15, 2018
Noe Labrado wakes up every morning uncertain what his future holds, with the fear that he could potentially be deported and not be able to complete his degree in May.
Labrado is one of the nearly 9,000 Dreamers in El Paso County, according to the Migration Policy Institute, that could be deported if the Deferred Action for Childhood Arrivals program, also known as DACA, is eliminated.
He said that without DACA, he would have to hide in the shadows simply for not having a paper document that allows him to work.
"At the end of the day, this turns into a game. A political game that's messing with hundreds of thousands of lives and their families," he said.
Labrado, a senior physics major and member of United We Dream, which is the largest immigrant youth-led community in the country, has been a DACA recipient since the program first started in 2012.
He said that the Jan. 9 injunction from a federal judge in California to stop President Trump's plans to rescind work permits for young undocumented immigrants was not the victory he hoped for. 
"It was a partial victory for something that we really didn't expect, however, our eyes are set in a permanent solution, in a real victory—not just for us, but for our parents," Labrado said.
In a statement, Judge William Alsup of the Federal District Court in San Francisco said that the Trump administration must "maintain the DACA program on a nationwide basis" while this immigration issue is decided in a court.
"Due to a federal court order, USCIS has resumed accepting requests to renew a grant of deferred action under DACA.  Until further notice, and unless otherwise provided in this guidance, the DACA policy will be operated on the terms in place before it was rescinded on Sept. 5, 2017," a statement on the U.S. Citizenship and Immigration Services website read.
On Dec. 21, two El Pasoans were arrested in Washington D.C. after participating in a coordinated mass mobilization of 1,500 immigrant youth.
During the five-day mobilization, Alonzo Mendoza, a UT Austin graduate, and Roberto Valadez, a recent UTEP graduate with DACA, were arrested after they and 16 other members of United We Dream sat down on the floor of the Senate cafeteria in attempts to show members of Congress the importance of passing a bill that protects Dreamers.
"We were arrested by the Capitol Police and placed in a police warehouse, where we were processed and set free in less than two hours. We went through the post-and-forfeiture procedure, in which we paid a $50 bail and were released without any criminal conviction," said Mendoza, an activist and co-founder of Soñando Juntos, an immigrant youth-led organization.
As the Jan. 19 funding deadline for the country approaches, Democrats said they would not support any spending bill if Dreamers are not granted protections under the bill. 
Democrats are now facing the question of whether to accept Trump's $18 billion border wall in order to give young undocumented immigrants the opportunity to stay in the country. If Congress does not reach an agreement, and a spending bill is not passed, a government shutdown could happen. 
"DACA is probably dead because the Democrats don't really want it, they just want to talk and take desperately needed money away from our Military," Trump tweeted on Jan. 14.
Eric Camacho, a DACA recipient since 2013 plans to graduate in May of this year with a master's degree in software engineering with a concentration in cyber security, said people who don't support DACA should listen to the stories of Dreamers to understand the difficulties that undocumented immigrants have to go through.
"When I was doing my bachelor's for computer science I still managed to get a good GPA and still work two-part time jobs to pay my tuition and still help out my folks," Camacho said. "I don't have any loan debt because of DACA."
Last year, the Center for American Progress estimated that the U.S. GDP would lose $433 billion over the next 10 years if all DACA recipients were deported.
Labrado said these numbers reflect the positive contributions that DACA recipients have made to the economy of the country.
"We don't want something greater than what citizens get or are able to earn. We don't want anything for free, we don't want any free benefits that we don't have to work for. We're not here to feed off the system," Labrado said. "We are here to earn and to work our way to citizenship, to be able to feel part of this country as a whole with the right documents."
People who had been granted deferred action under DACA can renew their permit if it expired on or after Sept. 5, 2016.
Those whose permits expired before Sept. 5, cannot request a DACA renewal, but may file a new initial DACA request, the agency said. Officials said they will no longer accept requests for people that have never been protected under DACA.
Follow Rene Delgadillo on Twitter @rdelgadillonews
Dreamers continue the fight to preserve DACA