UTEP pushes past Florida International in league play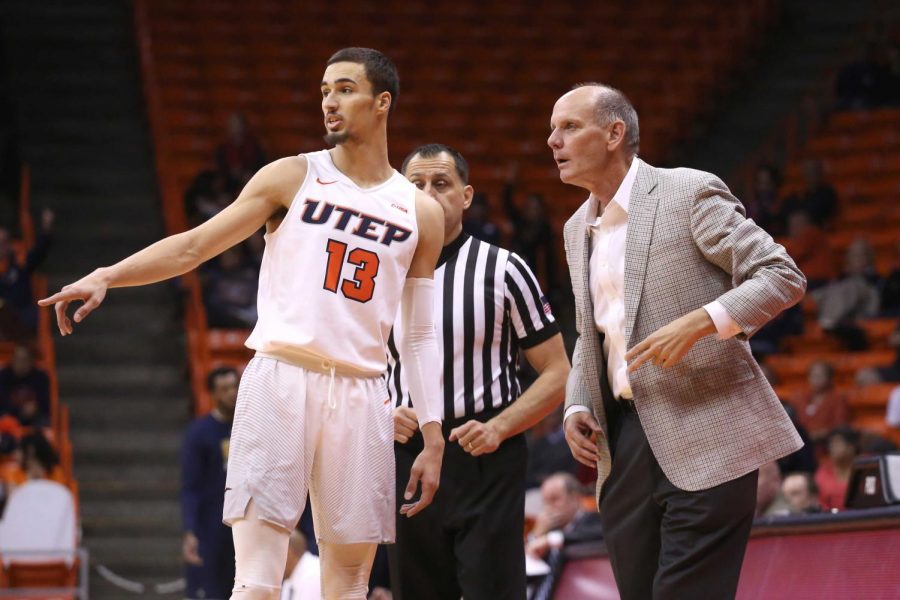 Mike Flores, Staff Reporter
January 14, 2018
UTEP and Florida International were locked at 53 with six minutes remaining in the ball game, until the Miners went streaking on a 10-0 run to avoid a second half letdown, eventually pushing past FIU, 72-68.
UTEP's offense ran through guard Isiah Osborne, who had a game-high 21 points, and freshman guard Evan Gilyard who chipped in with 14 points.
"We're starting to see a guy emerge in Isiah Osborne," UTEP interim head coach Phil Johnson said.
"I just saw that they (FIU) was committing a lot of fouls, so I tried to get to the hole and earn some easy buckets, since my shot wasn't really falling throughout the game," Osborne said after his 7-of-16 shooting performance and seven made free throws.
Senior guard Omega Harris added in 10 points and was enough to move him to 13th all-time on UTEP's scoring list (1,256 career points), passing UTEP legend John Tofi.
"Omega (Harris) was great tonight. He's got out of control at times in key moments, in key games, but I don't think he did tonight. I'm so proud of him," Johnson said.
In the first half, the Miners ran out to a 30-18 lead by halftime thanks to a suffocating defense against the Panthers.
FIU was held to a season-low 18 points scored in the first half on 6-of-28 shooting (21 percent) from the first and 1-13 from the three-point range (eight percent). UTEP recorded five blocks—four of them coming from freshman Trey Wade—and made every possession for FIU difficult.
"Trey Wade gave us a huge lift. He finished with nine (points) and eight (rebounds) for us tonight in 27 minutes. We've been trying to get him to defend better and tonight he really tried," Johnson said.
UTEP managed to still get out to a 12-point lead at halftime even with Omega Harris and Paul Thomas only clocking in seven minutes each, and Keith Frazier not playing a single minute, nor freshman Tirus Smith, who was nursing a knee injury.
That all changed once both teams trotted back onto the court after intermission.
The Panthers scored 50 second half points, and threatened for a comeback victory when they used a 13-0 run to grab their first lead of the game, 46-45, with 9:35 remaining in the contest.
"We gave up 50 in the second half, and that's a recurring theme. That's a problem that we have to get corrected," Johnson said. "We're such a quiet team, no one likes to speak on defense. But they did get more aggressive, and we knew they would. We were changing defenses all throughout the second half, trying to look for anything that can stop them."
Along with UTEP's 10-0 run to seal the win, FIU was also their own worst enemy. Even though FIU was hitting from all cylinders in the last 20 minutes of the game and got 19 points apiece from Hassan Hussein and Michael Douglas, the Panthers left 16 points on the board after going 14-30 from the free throw line.
The scoreboard would have looked much different if the Panthers didn't shoot 46 percent from the free throw line.
While FIU came into the game with a knack for causing turnovers, led by Brian Jr. Beard, who is third in the nation averaging over three steals per game, the Miners were more than careful with every possession.
UTEP only turned it over seven times and kept Beard from recording a single steal tonight, while FIU turned it over five times.
"That might have been the biggest stat of the night. We knew they forced turnovers and for us to only have seven turnovers was big," Johnson said.
The Miners also won the rebounding battle, 43-40, which was pleasing to Johnson.
"We actually outrebounded somebody tonight. That was a change for once," Johnson said.
Last year, UTEP beat FIU on a Dominic Artis buzzer beater, and ended up winning nine out of their next 11 games from there on out. The Miners are hoping for the same midseason turnaround after a win against the Panthers.
Next, UTEP will hit the road for their following three games. First, the Miners will make a stop in San Antonio to face UTSA on Jan. 20 at 6:30 p.m.