UTEP football coaches address media after a stretch of recruiting efforts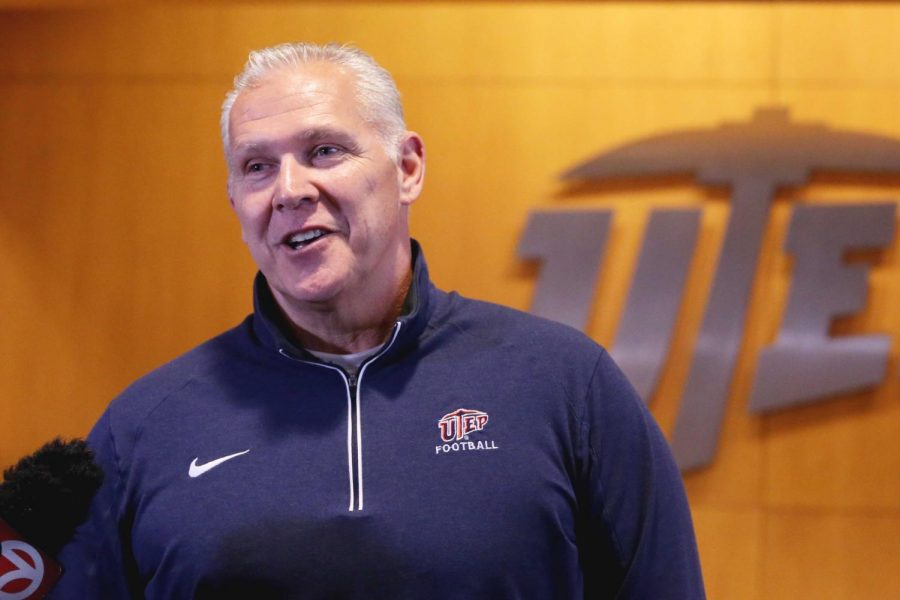 Mike Flores, Reporter
January 4, 2018
"UTEP is a sleeping giant. There's so many advantages of being here." These were the words from UTEP's new offensive coordinator Mike Canales that echoed through the Larry K. Durham Center as a new era of Miners football has been set in place.
Today, newly hired head coach Dina Dimel introduced Canales and defensive coordinator Mike Cox as newly hired members of his staff.
It was Dimel's first full week on the job at UTEP after finishing up his last game as Kansas State's offensive coordinator in their 35-17 win over UCLA in the Cactus Bowl.
Dimel's main emphasis began with the recruiting—something he says he and his staff have hit the ground running this week.
"As I come in, we only have 10 scholarships to give in the spring as we get close to signing day. We don't exactly know what the number is, but some will be mid-year signees. A lot of this will be determined with what we do this first week by January 12th," Dimel said.
No players who are on the team have announced that they plan to leave or transfer from the team, according to Dimel.
They reflected on the past, when Canales was Dimel's co-offensive coordinator at the University of Arizona. Both have fantasized for years of getting the opportunity to coach together again if Dimel were to get another chance at being a head coach.
"Mike (Canales) has been at power-five institutions as a coordinator, he's coached at the NFL level and he's been very successful everywhere he's been," Dimel said. "Our offensive philosophy is very similar since we've been together. We have so many similarities, we mesh really well together."
What excites Dimel about Canales is that he brings a diverse offensive look.
Most recently, Canales was the quarterbacks coach at Tennessee for the last three seasons, where he coached some talented stars like as Alvin Kamara and Josh Dobbs.
From 2010-15, Canales was the offensive coordinator at North Texas where he also spent some time as the interim head coach. His overall record as the interim coach is 3-9 (3-7 C-USA). Under Canales, though, UNT was ranked no. 1 in the nation in red zone offense and efficiency.
Canales will take over a football program that didn't score over 21 points in a single game this season, one that only put 11.8 points per game (last in the nation), and one that ranked in the bottom ten in the nation in both passing yards per game and rushing yards per game.
But Canales is not worried about the past. He's all about what is next to come.
"There's some good players here. These kids are hungry to get going and to prove themselves. They have chips on their shoulders. We need to produce some new excitement and stay positive here," he said.
Don't turn the ball over, take care of the football and score in the red zone—Canales' philosophy is seemingly simple and believes his offensive mind will help revive UTEP's ailing offense.
"Our style of play will set us apart. Our style of play is going to create an advantage; the way we play, our tempo we play at, the way our kids will play. Bringing our style of play is going to create an atmosphere for our players that they will strive in and be successful at," he said.
Dimel and Cox come as a pair that were together for five years at KSU, where Cox was the linebackers coach (2012-16). Now as the defensive coordinator for UTEP, he plans to have an "attacking" defense.
Under Cox, five KSU linebackers earned All-Big 12 status and also coached the 2012 Big 12 Defensive Player of the Year in Arthur Brown.
Cox spent time at the University of Washington as a linebackers coach (2009-11) and two years with the St. Louis Rams (2007-08) coaching the secondary and linebackers.
"He's (Cox) is going to bring more aggression and a more attacking style of defense, which we didn't necessarily have at Kansas State. Mike (Cox) has a personality for that. We want to force more turnovers and help the offense get good field position. He has great experience," Dimel said about Cox.
Cox has his work cut out for him as he's taking over a defense at UTEP that allowed 36.8 points per game (12th worst in the nation) and a defense that gave up 30 or more points in nine games this season.
"We have to play to our strengths. We have to find what we're good at and keep improving," Cox said. "The cool thing about a transition is that everyone gets a fresh start. There is some depth coming back. What I've learned is give people the chance to change and grow, give them a chance to start over, and that's what my message is going to be. If everyone improves a little every day, the whole team improves."
Dimel still needs to hire his recruiting coordinator, offensive line coach and just interviewed a candidate for the strength and position coach today.