Strong second half lifts UTEP past Rice 80-62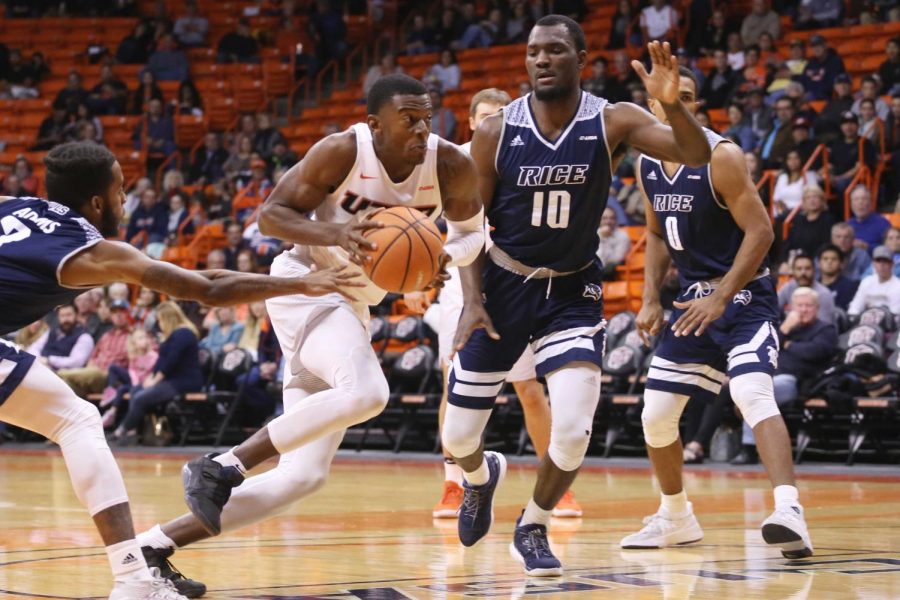 The UTEP men's basketball team closed out 2017 on a high-note, outscoring a struggling Rice Owls team by 20 (51-31) in the second half to secure a 80-62 win on Saturday night at the Don Haskins Center.
With the victory, the Miners (6-8, 1-1 C-USA) grabbed their first win in Conference USA play this season.
UTEP shot 63.2 percent (12-19) from behind the arc on the night, nailing 8-of-10 attempts in the second half. However, it wasn't just the three-ball that helped the Miners tonight. The team as a whole recored a season-high shooting night of 55.4 percent (31-56) from the floor while Rice shot just 36 percent (22-61).
UTEP also dished out 14 assists (11 in the second half) which helped the Miners offense move with flow in the second frame.
"The ball moved tonight," interim head coach Phil Johnson said postgame. "Probably better than it has all season."
But what was shocking was the news that broke shortly before tipoff that graduate transfer Keith Frazier will be taking an immediate leave of absence. Frazier did not play in the contest. The guard is averaging 14.5 points per game and is second on the team in rebounding.
"It's kind of a personal issue," Johnson said when asked about Frazier's sudden leave of absence. "There are some personal issues going on and really I don't think I'm allowed to talk about some of them."
The night belonged to the young guns of the Miners. Freshmen forward Tirus Smith, guards Trey Wade, Kobe Magee, and sophomore guard Isiah Osbourne.
Wade finished the night with a new career-high of 16 points. His previous career high was 13 points on Nov. 27, against Lamar.
"I don't really worry about points all the time but I focus on different things, rebounding, playing defense", Wade said.
"Of course I got to step up", Wade said on filling in the scoring hole now that Frazier is gone. "He is a good player but whatever is best for the team, that's what we got to roll with."
Osborne contributed with 12 of his 15 points in the second half while Smith added nine points, which were all in the second half. Magee notched 12 points, while the veterans (Paul Thomas, Matt Willms, Omega Harris) all struggled to make shots from the field tonight (5-16).
Thomas and Willms each finished with four points, Harris added five points.
"We did it really without Matt having a huge night, Omega and Paul did not have a huge nights," Johnson said. "So I'm really pleased to see Trey and Isiah play so well."
The Owls were led by Connor Cashaw as he finished the night with 17 points.
The first half was a display of sloppiness by both teams. Each team shot less than 40 percent from the field, Owls 36.4 percent, UTEP 39.3 percent. As both teams exchanged the lead 11 times with each team going in scoring droughts.
Rice held a 31-29 advantage at the break.
The shooting woes continued for Harris as he finished just one-for-seven from the floor with two points. Against North Texas this past Thursday night, Harris notched just six in the loss.
Saturday night's win concluded a nine-game homestand for the Miners, who found the win column in five of the nine contests.
UTEP's first game of the new year will be on the road as they face Southern Miss (7-8, 0-2 C-USA) on Jan. 4.