Arizona State pounded on the ground as NC State sets rushing record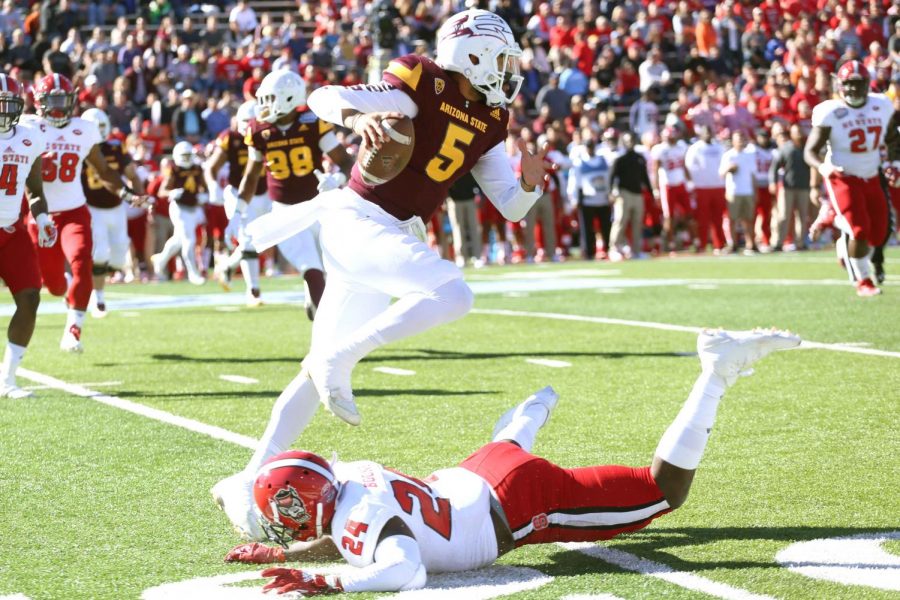 Mike Flores, Staff Reporter
December 29, 2017
North Carolina State ran for a Hyundai Sun Bowl record six rushing touchdowns on their way to a 52-31 victory over Arizona State. NC State bullied their way for six rushing scores today, with three different running backs each scoring.
NC State's Nyheim Hines was named the Hyundai Sun Bowl's MVP after a trio of touchdowns—which was one away from tying the Sun Bowl record—and 101 total yards.
Along with Hines' big day, his backup running back Reggie Gallaspy rushed for a game-high 79 yards of his own and found the endzone once. Jaylen Samuels punched the fifth and sixth rushing scores.
"We absolutely dominated tonight. I think that's apparent by the six rushing touchdowns today, and it all starts up there in the trenches. We had a great game plan," NC State's starting quarterback Ryan Finley said. "When you can run the ball like that it opens up so many things."
Arizona State came into the 84th annual Hyundai Sun Bowl with one of the worst defenses in all of college football, giving up 447 yards per game (109th in the nation) and allowing over 30 points per game this season. Today, it was no different as North Carolina State picked up 495 total yards.
NC State opened up the game with the first touchdown and never looked back, and their 52 points scored was the school's second-highest scoring game in their bowl game history.
"We just couldn't stop them today. You have to play better defense than that to have a chance to beat a good football team like that," ASU head coach Todd Graham said.
NC State grew their lead to as much as 28 just 10 seconds into the final quarter (38-10) before ASU tried to storm back.
Through the air or on the ground, the Wolfpack could do no wrong in front of the 39,897 spectators at the Sun Bowl.
On the ground, ASU was outrushed 177-117.
[arve url="https://youtu.be/gkQnKfci9Bg" thumbnail="29585″ title="Wolfpack hang on to beat emotional Sun Devils 52-31 in Hyundai Sun Bowl" autoplay="yes" /]
NC State took advantage of an ASU pass defense that gave up the 268 passing yards per game this year—the nation's 118th ranked team in that category—as the Wolfpack picked up 318 passing yards.
Jaylen Samuels hauled in seven passes today, which made him NC State's all-time leading career receiving leader (202 total catches in his career).
When the game got tight and ASU still had hopes of completing the comeback, NC State picked up a crucial first down on third-and-8 through the air with five minutes left that led to the backbreaker touchdown that put NC State up 45-24.
That was the biggest third down pick up for an NC State team that was 10-of-14 (71 percent) on third-down conversions throughout the game.
Not only did ASU not show up defensively, they weren't much better on the offensive side as they dug themselves a hole with four costly turnovers and an offense that didn't wake up until it was too late.
"We turned it over four times today. I don't think we've even turned it over twice in game this year, so that was the difference in this game," Graham said.
ASU's Manny Wilkins was under duress all game. Even without their star defensive end Bradley Chubb, NC State's defense forced Wilkins to throw three interceptions and they also recorded three sacks on the day.
With Todd Graham's coaching career coming to an end with the Sun Devils, he finished with a 46-32 record in six years with ASU and 2-3 in bowl games.
Kentavius Street was named the Most Valuable Lineman, and his teammate Kyle Bambard was named the Most Valuable Special Teams Player.
NC State finished the year 9-4, while ASU fell to 7-6 to close out their season.
With NC State looking like they're headed in the right direction after tying the program's second most wins in a season; the Sun Devils will head in a new direction with Herm Edwards leading the way.