Dreams of a graduating student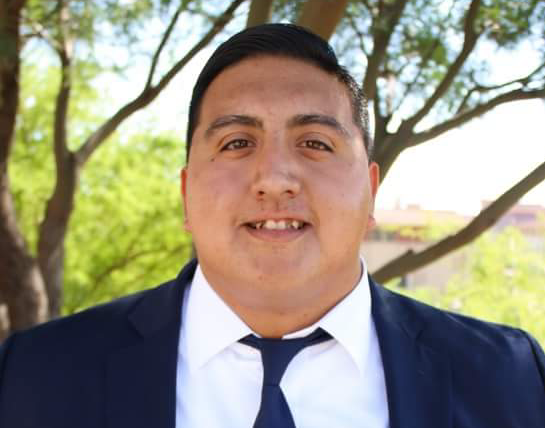 Graduation is close and as seniors prepare to walk, 22-year-old marketing student Rigoberto Gonzalez is ready to receive the diploma he worked so hard for.
Born in Los Angeles but raised in El Paso, Gonzalez grew up in an environment that allowed him to understand the value of hard work to reach his goals.
"My upbringing was a humble one. My sisters and I grew up in the lower middle class, my parents always instilled in us the importance of going to college and that is how I ended up at UTEP," Gonzalez said
It was his passion for business thatinspired him to pursue a career in the College of Business Administration with a focus in marketing.
"I always loved business and selling things. When I started at UTEP I knew I wanted to be in the college of business," Gonzalez said. "What really brought me to marketing were the people I met early on in my college career. I got involved with the American Marketing Association and eventually I had the privilege to act as the executive vice president for the organization."
Taking every opportunity to grow was crucial to Gonzalez' career and his involvement with the American Marketing Association soon began pay off.
"My experience with the American Marketing Association and my involvement in marketing throughout my college experience have allowed for me to develop strong experience," Gonzalez said. "I believe it was this experience and my work ethic that got me my internship with Helen of Troy."
According to the Helen of Troys' LinkedIn, the company is a global consumer products company that provides recognized brands such as Revlon, Gold 'N Hot and Febreze.
"I began my internship this past summer as the Marketing Intern. I work with the Beauty Professional department and focus on brands like Hot Tools and Gold N Hot," Gonzalez said. "I work in all aspects of marketing in the department, anything from advertising to brand management."
Gonzalez said that being an intern allowed him to seet what it would be to work in an actual marketing department as he had the opportunity to develop actual campaigns and track real progress.
"These experiences are extremely important to have before you graduate because you not only get to strengthen your resume and receive great experience, but you also get to take a look at what you are doing and decide if that is what you really want to do," Gonzalez said.
From his experience, Gonzalez said that internships allow student to apply what they learned in the classroom and prepares them to put their hands in real work experience.
"UTEP offers a lot to its students. One of the best opportunities for a UTEP marketing student is the ability to work with lots of local companies and receive great experience right here in the community," Gonzalez said.
As he prepares to graduate, Gonzalez said his advice is for students to get involved in early programs and organizations.
"The more you do early on the better experience you will have and you will have strong opportunities come your way. Most people wait till they are close to graduating but the competition is a lot stronger at that point," Gonzalez said. "If you prepare yourself early on you will not only have strong experience but you will probably have a great college experience."
Even when graduation is a dream students aim to achieve, being surrounded by the right people can make the journey a lot easier.
"The best part about studying at UTEP is the people. Everyone at UTEP is focused and dedicated to reaching their goals," Gonzalez said. "It makes it easier to better yourself if you surround yourself with people doing the same thing."