Dimel introduced as program's 26th head coach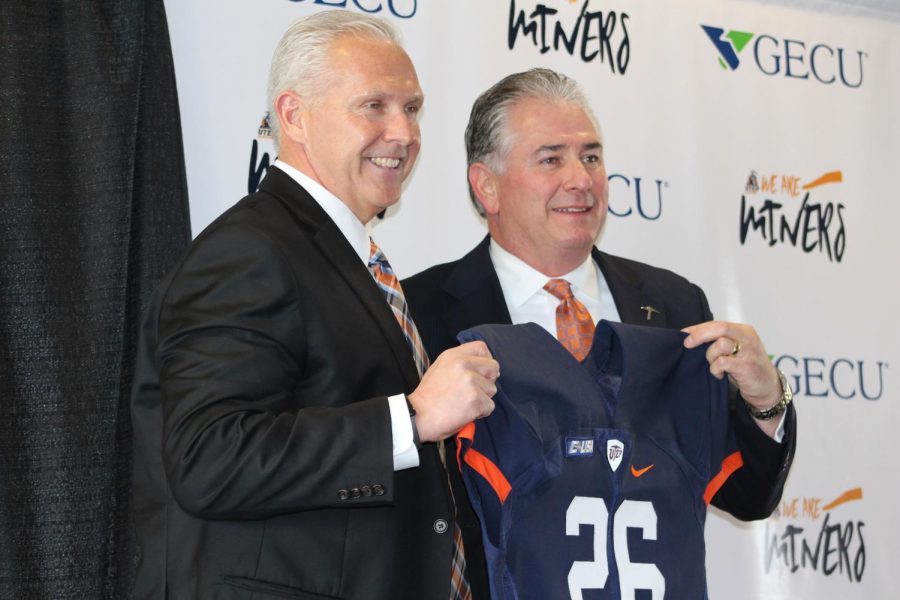 Mike Flores, Staff Reporter
December 7, 2017
It took over two months for UTEP football to find the right man for the job, Dana Dimel was officially introduced as UTEP's 26th head coach in program history on Thursday afternoon.
Dimel takes over a program that was the only winless team in the nation at 0-12 that had to deal with a mid-season departure at head coach with Sean Kugler.
UTEP had the nation's worst offense in college football this season, but UTEP president Diana Natalicio and new Athletic Director Jim Senter are more than confident that Dimel is the right choice to revive Miners football.
"The individual we chose is the best person. Dimel has a plan and has the ability to build a program. He was part of one of the best turnaround stories with coach Bill Snyder at KSU, and he's come a full circle to become a head coach again," Senter said. "This is about winning games and it's not just about being a football player, but getting our players their degrees and setting them up for the future. We believe we found that with Coach Dimel."
The timing and opportunity played a huge role why Dimel decided to pursue being a head coach again, despite UTEP's results from last year and still having no recruits for the 2018 season.
"I like the challenge. My whole career has involved rebuilding. This is a challenge I know I can handle. I want the gratification of turning this thing around," he said. "I see the great potential here. Every player is going to represent the university the right way. My recruiting starts with player's character."
Dimel was the head coach at the University of Wyoming from 1997-1999 and also at the University of Houston from 2000-2002. In his six years of coaching, Dimel went 30-39, with his best season was an 8-3 season in 1998 and his worst season coming in 2001 with the Cougars going winless (0-11).
Dimel brought in Conference USA's best recruiting class the last two years while he was at Houston.
"One of my strengths is my relationship with the high school football coaches in Texas. All of them are excited that I'm back as a head coach in Texas. We're going to build a program from the ground up," Dimel said.
Most recently, Dimel served as the offensive coordinator, running backs coach and tight ends coach at his alma mater, Kansas State University, where he took over that job in 2009.
Another strength Dimel hopes to bring from his time with KSU is bringing offense to a Miners team that only averaged 11.8 points per game last year.
Dimel has the most wins of any active offensive coordinator in college football since 2011 with 60 total wins. Over the last seven seasons, Dimel has led the Wildcats to 33.4 points per game, and KSU has ranked third nationally in the fewest turnovers per game.
A concept Dimel goes by is keeping a "1-0" mindset. This concept that Dimel will encourage his staff and players is to be the best you can be today and tomorrow will take care of itself.
By new year's, Dimel plans to have his complete staff ready or close to it.
About the Contributor
Adrian Broaddus, Sports Editor
Adrian Broaddus is the sports editor for The Prospector. He is a junior multimedia journalism major with a minor in political science.



Adrian...