Graduation celebration spots and health inspections by the numbers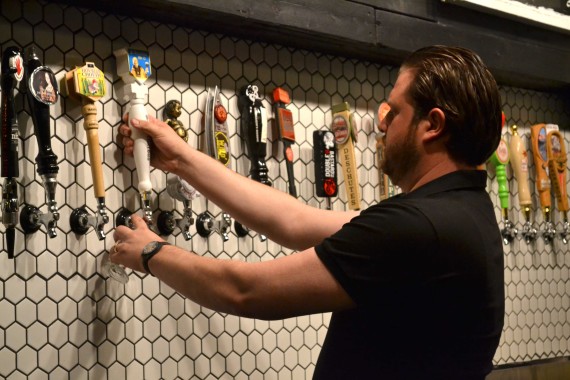 Congrats recent graduates, you just graduated and want to celebrate the hard work and effort you put in  to get that degree once graduation day rolls around.
You may want to celebrate with friends and family at a nice restaurant and get some drinks afterward. Or, you may just want to go out and get demolished at one of the premier bars in El Paso.
Either way, it'll be all sorts of fun on your night of celebration. But just how clean is the establishment you're about to toast and drink the night away at?
Here at The Prospector, we decided to do a map of those establishments across town, separating each establishment by area—ranging from the eastside to downtown to the westside.  The numbers used for this map are all according to the city of El Paso  Health Inspection records, rated on a scale from 0 (not clean) to 100 (clean). Also, there is a list of top-grossing bars in terms of revenue is according to the Texas State Comptroller's office.
1. Westside
Crave Kitchen and Bar – 74/100
300 Cincinnati Ave.
•Crawdaddy's, 74/100 212 Cincinnati Ave.
•Loft Mini bar, 87/100, after re-inspection 100. 2626 N. Mesa
•Ditzy Duck, 94/100. 207 Cincinnati Ave.
•Geosgeske, 57/100 after re-inspection 83/100. 2701 N. Stanton St.
•Fools Gold, 89/100. 2700 N. Mesa St.
•Spirit of 66, 100/100. 2712 Mesa St.
•Hope and Anchor, 86/100
•Rubik's West, 88/100
•Brass Monkey, 68/100, after re-inspection 82/100. 3233 N. Mesa St.
•Barmen, 75/100, after re-inspection 100/100. 4130 N. Mesa St.
•Ode Brewing Company, 81/100. 3233 Mesa 301
•King's X, 90/100. 4119 N. Mesa St.
Highlight: Up the street from Cincinnati, lies El Paso's third-best bar in terms of revenue generated, Cantina Malolam. This place may seem like a top spot to go celebrate at, but with a health rating of a 68/100 for their first inspection, which is the lowest health rating in terms of top producing bars in El Paso. They redeemed themselves when the re-inspection occurred propelling them to 83/100
2. Downtown
•Anson 11, 75/100. 303 N. Oregon St.
•Café Central, 73/100. 109 N. Oregon St.
•Later later, 91/100. 109 n Coldwell St.
•Pallets Bar, 77/100.  204 E. Mills Ave.
•Blackbird Cantina Deluxe, 90/100. W. Franklin Ave.
•Gray Dog, 95/100. 500 N. Oregon.
•International, 99/100. 114 E. Mills Ave.
•The Darkhorse, 74/100. 115 Durango St.
•The Tab restaurant, 56/100, after re-inspection 82/100. 408 E. San Antonio Ave.
3. Central
• L & J's restaurant, 79/100.
• Pershing Inn, 87/100.
•The Edge of Texas, 78/100. 8690 Edge of Texas.
4. East and far east
•Gringo Theory, 90/100. Located at 11410 Montana Ave.
•Funkmeyers Rec Room, 100/100, 1506 Lee Trevino Dr. Suite B-1.
•Legendary Tipsy Tiger, 91/100. 1590 George Dieter Dr.
•Murray's, 88/100. 1580 George Dieter Dr.
•Rubik's East, 81/100. 11395 James Watt Dr.
Note: Missing from the list is the new popular bar EPTX, located in the same George Dieter district area, also missing is Whiskey Dick's.  The availability of their inspection was not provided. 
•For a full list, visit the City of El Paso website's health page.
Daniel Mendez may be reached at [email protected]