Senter sees UTEP as a 'sleeping giant' for athletic success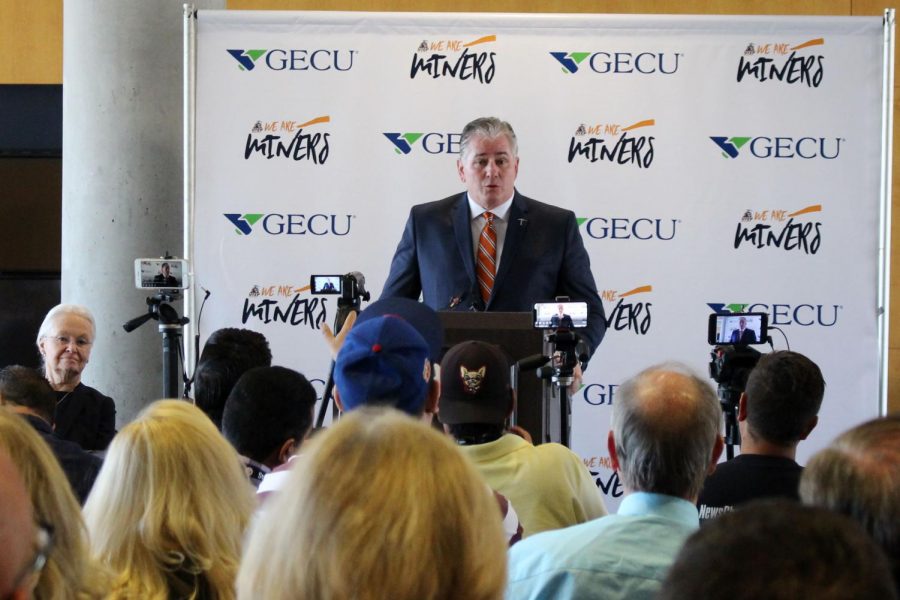 A new era is upon UTEP Athletics. A fresh new face who is ready to take the task at hand and run with it, like he has before.
The man behind the new era of athletics for the Miners is Jim Senter, who was announced as the new director of athletics by President Diana Natalicio on Wednesday, Nov. 22. He will be replacing Bob Stull, who was at the helm of athletics for 18 years. This ended the 21-week search that began on Aug. 31, when Stull announced his retirement.
"Our job is to educate young people here," Senter said. "My job as the athletic director is to make sure student-athletes reach their highest potential both academically and athletically."
The search came down to two candidates–Senter and Stull's top assistant Chris Park. UTEP elected to go outside the family with this hire, ushering in a truly new era of athletics for the Miners.
"We're delighted to welcome Jim Senter to the UTEP family," Natalicio said. "He brings to El Paso extensive leadership experience in athletics administration and fundraising, most recently at The Citadel, where for the past three years, student-athletes have achieved excellence both on the playing field and in the classroom, and successful fundraising has enhanced the college athletics experience for them and their fans."
On Monday, Senter was formally introduced as the director of athletics. He wants to utilize his triple-A philosophy at UTEP, which stands for "attitude, action and accountability."
"Everything starts with a positive attitude," Senter said. "I believe that's the bedrock of being successful. Instead of focusing on the things it doesn't have, or wished they had, focus on the things we do have and we have a lot of things to sell here. Get up early, stay late, roll up your sleeves and go to work. There are no shortcuts to success."
Senter has actually had his eyes set on the Miners for a while now and acknowledged the potential in UTEP Athletics.
"I've had my eye on this job for over 20 years, I've known about UTEP," Senter said. "I've always looked at this place as a sleeping giant. It has the ability to be more than it is and people have shown here that you can win. Now the question is, how do we sustain winning and how do we get there?"
Senter's first big task will be searching the football coaching carousel to find the next head coach of football. He is eyeing for a coach who will provide an offensive spark and recruit well.
"Great integrity, find someone with the ability to move the football and score points, somebody that is a great recruiter," Senter said. "The ability to build a staff that is talented, really good teachers, really good people with character and the ability to hit the road recruiting."
Senter is entering a peculiar situation at UTEP. The athletic department took its time to find its new athletic director, which has been losing money for the past years along with the football team coming off its worst season in its 100 years of existence.
"No time frame, as quick as possible without sacrificing quality," Senter said regarding the time to hire a new coach. "We've been working ever since the job was offered to me, there are no shortcuts to success, you have to respect the process. We're not going to sacrifice speed for quality. We're going to focus on somebody that is the right fit."
Once a coach is hired, Senter will face the task of upgrading facilities, as UTEP's last major one was the opening of the Foster-Stevens Center in 2009.
"If you're not continuing to enhance facilities you're falling behind," Senter said.
Senter has a mission when it comes to his first 100 days of athletic director here at UTEP. The top priority is to find the new head football coach, meet with the top donors and corporate partners to show his gratitude and plans to instill a series of town hall meetings to establish a connection between the community.
His first hire will truly mark the new era of athletics here at UTEP, replacing the old regime with new blood as Senter looks to elevate UTEP from the dark hole that it is currently in.
During his run as athletic director at The Citadel, Senter hired head coaches in football, men's basketball, baseball, soccer and volleyball. It should be an interesting first year for Senter, as fans have grown unhappy with UTEP football and men's basketball.
"Every person makes a difference, I mean that from the bottom of my heart," Senter said. "There is not anybody in this community who couldn't make a difference and be a difference maker for UTEP Athletics. My job and our staff's job is to go out and engage this community like never before to get more people involved so they can make a difference and be a difference maker."
Follow Daniel Mendez on Twitter @dmendez24.