Price wraps up difficult interim job as head coach of UTEP football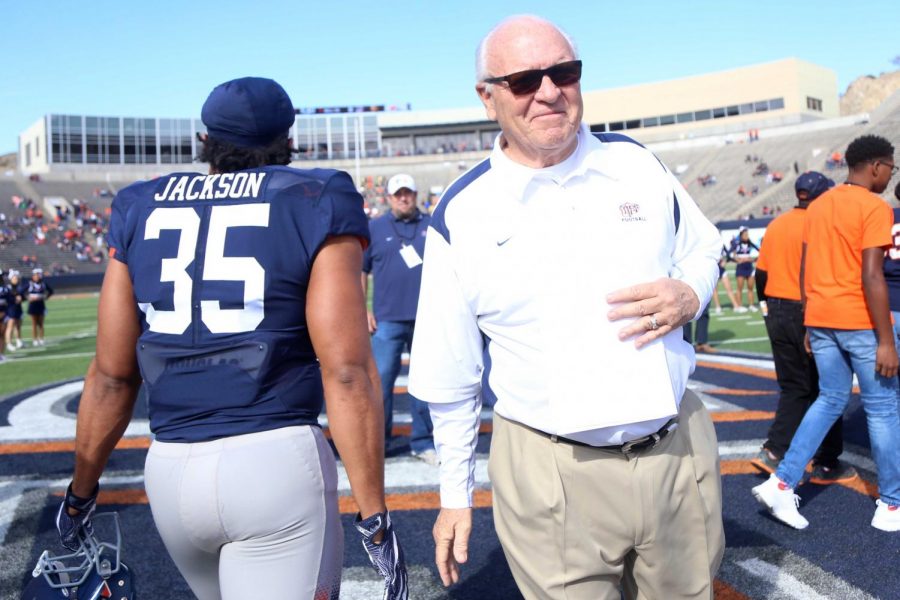 Before Mike Price left his comfortable lake house in Idaho for his 4 a.m. flight to return to El Paso as the interim head coach for the UTEP football team, he asked his wife, "what am I doing?"
After seven losses to close out the season with a winless record, Price is leaving the program discomforted and feeling as helpless as ever, as shown by his final press conferences and interviews with the media.
Throughout the season he made statements such as, "not how we thought it would be when we got here," and "I don't think I contributed as much as I thought I would."
He closed out his final press conference by giving an honest evaluation of himself.
"F," he said when asked what letter grade he would give his coaching efforts. "I don't feel really good about what I've done here. I've failed. I've not done what I needed to do… Deep down inside I wanted to win and we didn't win."
But where does one fault Price's efforts?
When he came into the program, Price promised one thing—"to do his best and have fun." He also guaranteed he would not be as hands-on and be more of a manager for the team.
Looking back at all that unfolded this season, a manager was exactly what the Miners needed.
First, former Athletic Director Bob Stull announced his retirement at the end of August, which left the athletic department in limbo as to who would be in charge.
The Miners finished summer ball looking confident and sharp going into their season opener at Oklahoma. They dropped an expected loss to the Sooners and would have four interesting games against Rice, Arizona, New Mexico State and Army.
They had no luck during the four-game stretch as the Miners lost each game by a combined score of 170-65. With the losses, head coach Sean Kugler fired offensive coordinator Brent Pease and promoted Brian Natkin to fill the void.
Then came the shocking news of Kugler resigning after the 35-21 loss against Army. It came as a surprise and heartbreak to many players, who thought of Kugler as a father figure aside from just a head coach. Kugler finished his four and a half years at UTEP with an 18-36 overall record.
Stull, who lingered around the athletics department months after he announced his retirement since the department had not found a replacement, addressed the media before the Western Kentucky game. He claimed that there was a 50 percent chance they would promote from within, which he quickly changed to an 85 percent chance, alluding to Natkin or defensive coordinator Tom Mason taking the job.
Both Natkin and Mason voiced their opinions on why they thought the athletic department should choose to promote from within. Despite their wishes, Stull announced Price as the interim head coach that same Monday afternoon.
Price was left to resurrect a team that was 0-5, had lost their head coach and offensive coordinator, and who frankly wanted either Natkin or defensive coordinator Tom Mason to take the job.
So with all these events surrounding the program, why did Price take on the job in the first place?
"I love this place," said Price, explaining why. "This place gave me a job when no one did."
From a loyalty aspect, Price could be a true benchmark for UTEP athletics. He served as head coach from 2004-12, compiling a 177-183 all-time record as a head coach. He led the Miners to three bowl games in 2004, 2005 and 2010, and retired in 2012.
He didn't owe the program anything but still decided to make the 1,200-mile trip to try and salvage the team.
Then comes the internal picture that Price painted. Three coaches on the team had to make coaching adjustments mid-season to cater toward what the team needed.
For example, Natkin went from special teams coordinator at the start of the season, to offensive coordinator, tight ends coach and wide receivers coach. First-year coach Chuck Veliz went from coaching receivers to coaching the quarterbacks. Don Yanowsky went from assisting the special teams, to taking over the special teams coaching the safeties and becoming the recruiting coordinator.
Having Price as the interim head coach took all the weight off the shoulders of Natkin, Mason or any of the already depleted coaching staff having to deal with the press, football boosters or any more responsibilities they would have been overwhelmed with.
Price expressed time and time again how his lack of involvement with the Miners offense, which was the worst across the FBS, was his fault, but in retrospect, he said multiple times how he did not want to change anything.
Toward the end of the season, Price looked worn out and defeated. He voiced how badly he wanted this team to win for the 22 graduating seniors, for the coaches who probably were more frustrated than him, and for the fans, who he thanked for coming to games despite their winless record.
Even senior linebacker Alvin Jones, who may not have agreed initially with the hire of Price, used the disheartening season as a learning lesson.
"In life, you experience mountain peaks and valleys, you have to fight against adversity," he said after the last home loss to LA Tech. "It's a great test for me and the kids who are coming back next year. They don't want to be like we were this year."
Price truly dealt with a valley of a team this fall.
He didn't have an answer for the offense that averaged just 230.5 yards a game, nor for the quarterback situation that changed game after game. He didn't have an answer for the fact that the program didn't have one recruiting commit for the 2018 season. And he didn't have an answer for what truly transpired at the end of the season.
But Price did have an answer for the direction of the program. First, he talked about how important it is to replace him.
With the addition of newly hired athletic director Jim Senter, hiring a new coach will be more possible.
"It's going to be a refreshing change in the athletic department and the football program," Price said. "That happens in a growth of a program—you have the highs and the lows."
Price even tossed in a name for the head coaching job, his son Eric, who is the receivers coach for the Jacksonville Jaguars
"He's a great recruiter, he has a great judgment of talent," Price said. "You've got to have that. You're not going to beat a lot of big schools on recruits…. in every place Eric has been until now with Jacksonville, he's been with teams that throw the ball a lot. If he applies, he'll be a good candidate."
For now, the future of UTEP football is out of his hands. Price will get to return home to his life of retirement–watching his grandsons play baseball and football–and wash his hands clean of the UTEP program. Plus he will be $40,000 richer due to his guaranteed contract from the school.
Follow Adrian Broaddus on Twitter @adrian_broaddus.
[arve url="https://www.youtube.com/watch?v=bbheYGiYg2I" thumbnail="28912″ autoplay="yes" /]
About the Contributors
Adrian Broaddus, Sports Editor
Adrian Broaddus is the sports editor for The Prospector. He is a junior multimedia journalism major with a minor in political science.



Adrian...