Men's basketball set for Puerto Rico Tip-Off tournament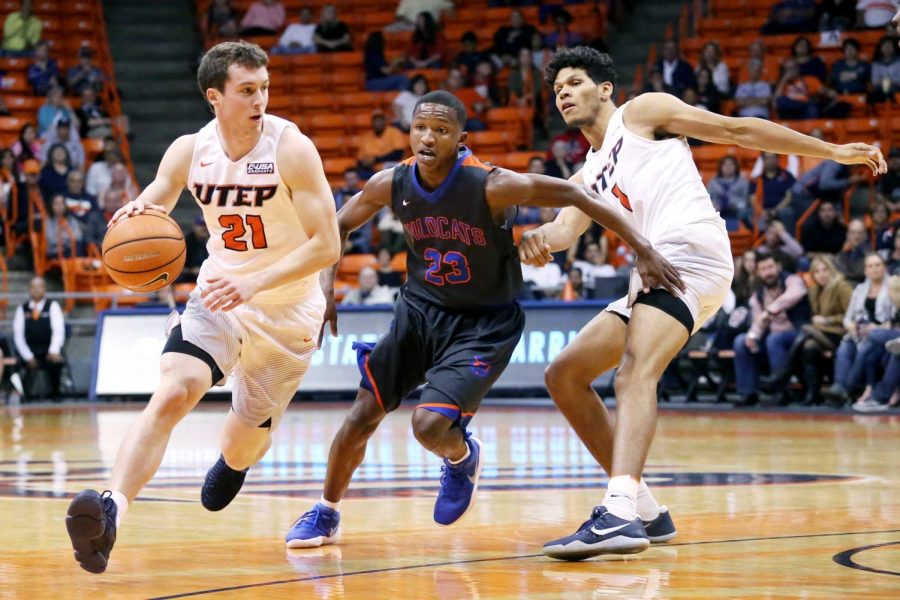 Mike Flores, Staff Reporter
November 13, 2017
The UTEP men's basketball team will kick off the 2017 Puerto Rico Tip-Off tournament against their old Western Athletic Conference rival Boise State on Thursday, Nov. 16, at noon at the HTC Center in Conway, SC. The game will be televised on ESPNU.
The tournament was relocated to South Carolina after the impact of Hurricane Maria on the Puerto Rico region in late September.
The winner of the Miners (1-0) versus the Broncos (2-0) game will play the winner of last year's Final Four, South Carolina, or Illinois State on Nov. 17.
The Miners are coming off a 50-point victory over Louisiana College on Friday, Nov. 10, at home. UTEP opened the game with a 32-0 run, putting the game out of reach early. Junior forward Paul Thomas led the Miners in scoring with 16 points (6-of-7 from the floor) to go along with eight boards. Graduate transfer guard and forward Keith Frazier led the team in rebounds with nine.
Meanwhile, the Broncos scored more than 100 points in their season-opening win just like the Miners did, earning a 104-65 win against Eastern Oregon on the same night (Nov. 10). Sophomore guard Alex Hobbs led Boise State in scoring (21) with a perfect nine-for-nine shooting from the floor.
UTEP and Boise State have met 11 times in their history, with UTEP owning the series lead, 6-5. However, the two teams haven't matched up since the 2005 WAC Championship game, which resulted in a 91-78 win for the Miners.
Both UTEP and Boise State come into the 2017-18 season with new and inexperienced teams.
Needless to say, Boise State will pose an early season test for a UTEP team that has more newcomers than returners and the same amount of freshman as they do returners.
UTEP's roster is comprised of eight newcomers–five freshmen–and only five returners from last year's fourth-seeded Conference USA team that went 15-17 overall but an impressive 12-6 in Conference USA play.
Nonetheless, out of the five returners for UTEP, four of them were starters on last year's team, including their leading scorer from last year, guard Omega Harris, who is now a senior, and their two bigs down low in senior center Matt Willms and Thomas.
Boise State is coming off a third-place finish last year in the Mountain West Conference after going 20-12 (12-6 in conference).
Boise State has the Mountain West Preseason Player of the Year and leading scorer (17.4 points per game in 2016-17) from a year ago, guard Chandler Hutchinson. Hutchinson was a first-team All-Conference player last season and has helped lead an offense that averaged 75.1 points per game, and who will be a senior leader for the Broncos this season.
Just like UTEP, who added a gifted graduate transfer in  Frazier, the Broncos added two experienced graduate transfers of their own and now have three seniors alongside Hutchinson.
One of their additions comes from Fordham University in Christian Sengfelder—a 6-foot-9, 246-pound player who brings 93 games of experience.
The other grad transfer the Broncos added this offseason is Lexus Williams, who makes for a reliable starter.
Both Sengfelder and Williams being added to the Broncos roster, with a talent like Hutchinson, make Boise State's inexperience more lethal and raise the potential for a big three.
Also, both teams are trying to fill the shoes of key players departing last year. UTEP is still searching for the point guard position since losing Dominic Artis—UTEP's leader in both assists (5.8 assists per game) and rebounding (6.5 points per game) last season—while Boise State lost Paris Austin to California. Austin averaged 12.3 points per game and a team-leading 2.8 assists per game.
In the preseason polls, both UTEP and Boise State were projected to finish in the top half of their respected conferences, with Boise State picked to finish third again in the MWC and UTEP picked to finish fifth in C-USA.
UTEP is guaranteed to play three games in the Puerto Rico Tip-Off from Nov. 16 to Nov. 19. The other teams participating in the tournament that the Miners could match-up with in the third game include Iowa State, Appalachian State, Tulsa and Western Michigan.
Follow Mike Flores on Twitter @MikeyTheReal.