Kevin Baker embarks on a new journey with women's basketball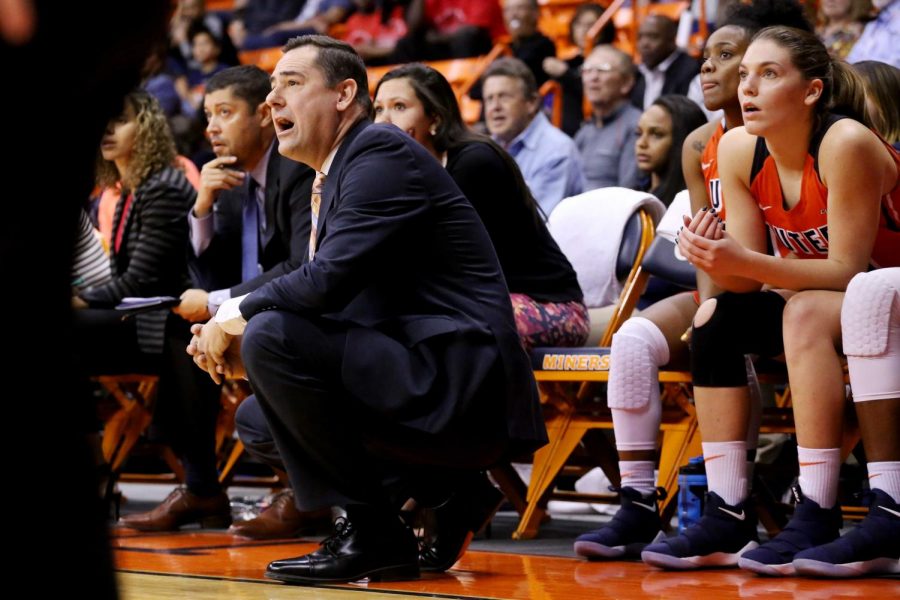 Poised and respectfully, Kevin Baker told his team "last time" for their in-bound drill to cap off another practice.
Baker, who filled the spot of UTEP's highly acclaimed head coach Keitha Adams, is coming off a teaching-filled summer, a fine-tuning fall and now is embarking on new possibilities for the start of his inaugural season as head coach.
"Family on three. One, two, three… family," the team yells in unison after they finish practice. It's what they do after every practice.
How could eight returning players and four newcomers call themselves family after only knowing each other for less than six months?
Simple, says the team.
"We have great chemistry and that's most of what he's doing," said sophomore guard Katarina Zec, who has adjusted well to the change from former head coach Adams to Baker.  "The way he talks to us and the way he appreciates us affects the way that we play as a team. We can't wait for Saturday's game."
They have two exhibition games under their belt, topping the likes of Division II opponent Sul Ross State, 99-40, but falling short to St. Mary's, 68-62.
Now the countdown begins to the regular season, where Baker will begin his campaign as head coach when the Miners take on Cal State Bakersfield on Saturday, Nov. 11.
"Honestly it doesn't feel real right now because we're practicing and practicing, and the games aren't real games, they're scrimmages. So it doesn't feel that real to us. Plus, we're working really hard to build a team, so I think it won't be real until November 11th, when we run out there on the floor for the first time," Baker said. "I think that'll be the moment when I'll feel this is happening, our team's ready to play."
Backtracking to the start of his tenure, Baker was not pressed with all the challenges that most teams have initially with a new coach.
Instead, he believed the team adapted well to the change and continues to impress him.
"It's been remarkably easy to put the kids together," Baker said. "Before we got here, the eight returners were all really close, really tight. The four we brought here have been really good too. My job as a coach—this is probably been the easiest group as far as kids who all get along and have great chemistry—that's made my job really easy."
As a four-year senior, even center Tamara Seda has seen a swift transition from coaches.
Unlike Adams, Baker focuses on detail-oriented drills and runs a fast-paced offense that likes to push the ball inside.
"What better way to do it than your last year?" Seda said. "I just have to make sure I don't stay behind."
An interesting resume builder about Baker is that throughout his 15 years of coaching Division 2 schools and high school basketball, he's only had one losing season.
He started his career at Commerce High School in 1997 and then coached at Palestine High School (1998-2000), Nacogdoches High School (2000-03) and Copperas Cove High School (2003-06).
During his high school coaching career, he put together a 222-101 all-time record. He has had district championships, bi-district titles and regional wins throughout his time.
His Division 2 time was also successful, leading Angelo State and UT Tyler to the Sweet 16 of the NCAA Tournament, something that both respective programs had never done.
With UT Tyler, Baker won back-to-back American Southwest Conference titles in 2014 and 2015 and was named ASC Coach of the Year all three years he was there.
At Angelo State, he led his team to be ranked as high as second in the nation and had four Conference Coach of the Year awards.
"I used to tell people when I started this profession that I wanted to win the biggest game on the highest stage one day. Even back then I was naïve and I didn't know what it would take to get there," he said. "It's just that every job I took, whether it was a 3A school, 4A, 5A, Division 2 coach, I was going to do the best I could there and if other opportunities came open for me, I would jump there if I could. But every job I get, I roll up my sleeves and it becomes the job, I'm gonna make it the best situation I can."
Throughout his time, he changed his coaching philosophy from being like a "general," as he calls it, to a "teacher."
"I think he's doing great with us, trying to find what each player is good at," Zec said. "Also he motivates us really hard and pushes us really hard each day. He's willing to correct our mistakes and correct every detail."
To others, he's becoming a strong mentor both on and off the court.
"It's been great even when we have some different programs, we go to his house and they call it 'club Baker,'" Seda said. "We have fun, we do some fun games. Even last week we did a scavenger hunt, it's been great."
And to Baker, he is trying to be the positive successor to Adams, who is the program's all-time leading coach.
"They loved Keitha Adams for a reason," he said. "She was not only a coach here on the court, but also in the community. So there was a reason people loved her. I think the best thing I can do for the community is just be me. I'm kind of the same way, I'm really good in the community. I think the more the people of El Paso get to know me, the better off we'll all be and I love it here. This is home for me now and I want it to be home for me."
The family mentality seems to continue on beyond the court for most of the team, which is something that Baker wants to bring forth and build upon.
"Being international and being far away from family is hard, and you can really feel the whole family thing on this team," Seda said. "It's everything together, nothing is singular. It's 'our,' 'we,' 'together'—everything is just a plural environment. "
The team, or family, as Baker likes to call it, will take the court against CSU Bakersfield at 1 p.m. Saturday at the Don Haskins Center.
Follow Adrian Broaddus on Twitter @Adrian_Broaddus
About the Contributors
Adrian Broaddus, Sports Editor
Adrian Broaddus is the sports editor for The Prospector. He is a junior multimedia journalism major with a minor in political science.



Adrian...