Harris will lead Miners in 2017-18 with high expectations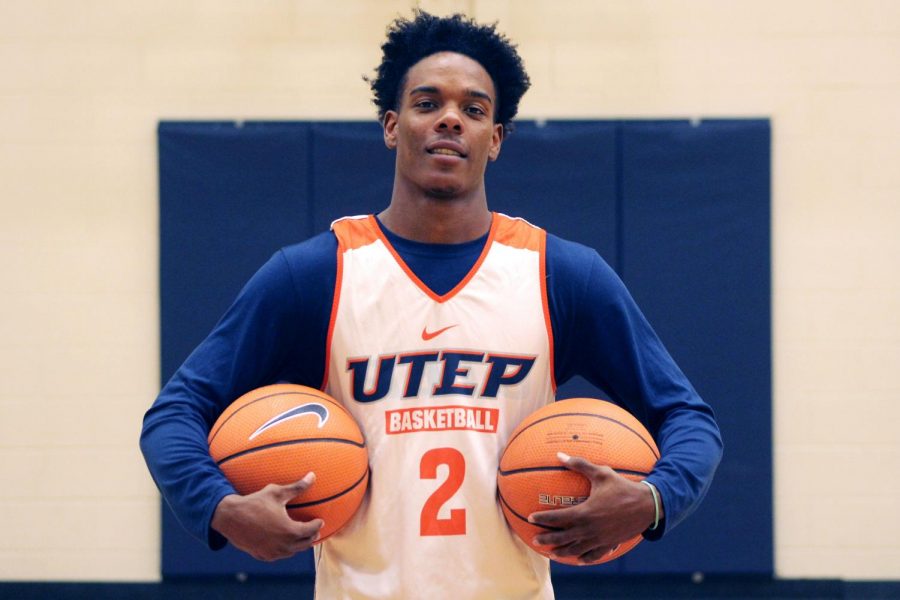 Mike Flores, Staff Reporter
November 6, 2017
With eight newcomers (five of them being freshmen), the departures of Kelvin Jones and Joey St. Pierre and the loss of All-Conference second teamer in Dominic Artis from last year, the Miners will be looking at one basketball player that has brought consistency and much-needed leadership for the Miners—senior guard and captain Omega Harris.
In his time with UTEP, Harris has scored a total of 1,041 points (11.8 points per game), has made the seventh-most 3-pointers in school history (128 3-point field goals), and has 96 total steals, needing only five more to push him into top 15 in program history.
Last season as a junior, Harris led the Miners in scoring (17 points per game), led them with 29 double-figure scoring games, had nine 20-point games and led UTEP in scoring in 14 games. Due to his reliable scoring, Harris was named to Conference USA's Third team.
But this year, not only will the 6-foot-3 guard from Bethany, Okla., be UTEP's go-to scorer, but will also need to run the offense at the point guard position— at least until his young teammates are ready and lead by example on the defensive end as well.
Harris said that it's really clear what is being asked of him this year on the defensive side of the ball and that he is going for the Defensive Player of the Year award.
With a lot of added pressure on Harris' shoulders for his final season with the Miners, he has never been more ready to lead a group than he is now.
"You're going to see a more composed guard, see more assists and less turnovers. Of course, everyone is still going to see the scoring from me, too. But the fans are really going to see the leader I can be," Harris said. "Being more vocal, taking over and helping my team to do what it takes to win. All the coaches have been in my ear so I know what they want from me."
If anyone knows what it takes to succeed with the Miners and to help carry on their rich program history, it's Harris. He said he's had multiple conversations with players from the 1966 Texas Western national championship team on what it takes to lead a winning team on the court, it all starts with practicing winning ways, he says.
"I want to represent the people that were here before me. The '66 team told me how their practices were and how they got ready for the games. They would have blood, sweat and tears in their practices, so by the time they got to the game it was fun for them," Harris said. "That's where I'm trying to get this team this year. We have a lot of freshmen, but what they'll find out soon is that the two to three hours we're in practice every day, it's going to pay off during the season."
In fact, the ceiling and expectations are so high for Harris that he was named one of the 10 players to Conference USA Men's Basketball Preseason Team—the only UTEP player with the honor.
"I know everybody is going to come at me, but I have to ready for that," Harris said. "I have to go out there this season and destroy it. Everybody knows I was picked for a reason. I think what stands out about my game is my IQ. I like to know all the positions on there as a combo guard. When we run a play, I know what one through five has to do."
Although Harris was the two-guard for the majority of his career at UTEP, with Artis manning the one-guard position, the point guard position is nothing new for Harris. When he was first recruited to UTEP, he came in playing point.
In UTEP's first exhibition game this year against Sul Ross State, Harris had a team-high 10 assists, while the next closest teammate, Trey Touchet, only had three assists.
"I came in as a point guard, so you could say it was my first position. That's what I know best. But being the combo guard is where I score at best," Harris said. "I'm still only 6-foot-3, so I have to play point guard at the next level."
What Harris really wants to improve on is getting his teammates the right shots and putting them in positions they can succeed in by showing that in his assists this year.
"I have to average way more assists than last year. For me to only average one assist last year is just unacceptable for me. I also have to cut down on my turnovers," Harris said.
As stated earlier, UTEP has gone through a number of player departures through Harris' career at UTEP, but as a leader, Harris tells his team to keep on going. And although their departures are difficult to forget, Harris sees the silver lining in the recent players deciding to leave the program.
"A lot of players have left since I've been here. They could probably make their own basketball team with the number of players who left so far," he said. "But other players have stepped up and got bigger roles. With Terry Winn leaving last year that helped Paul Thomas grow his game. Kelvin Jones and Joey St. Pierre leaving this year leaving is going to allow Tirus (Smith) as a freshman to come in and play a lot. Him and Trey (Wade) will expand their games now."
In the preseason polls, UTEP was picked to finish fifth out of 14 teams in C-USA. However, Harris has other plans when the end of the season comes around.
"All I can say is at the end of the season, when the conference tournament comes, we will not be fifth," he said.
Harris' main goal for his final collegiate season is to end UTEP's March Madness drought of seven years.
"There is no ceiling for this team. I feel like we have all the talent and the right pieces. We added a senior transfer guard who's a vet with a very high IQ in Keith Frazier, we also have Matt (Willms) down low and Paul Thomas back," Harris said. "I want to win conference and take UTEP back to the NCAA tournament to finish my senior year right."
Follow Mike Flores on Twitter @MikeyTheReal