Miners hope for efficiency improvement against Blue Raiders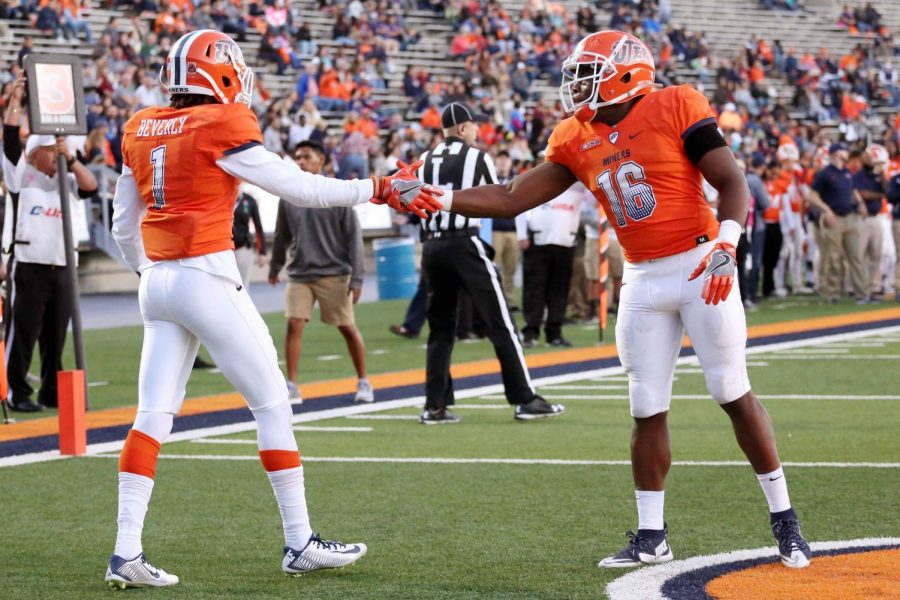 The UTEP Miners (0-8, 0-4 C-USA) are entering their ninth game of the season with hopes to complete four quarters of football, as they travel to Murfreesboro, Tennessee, on Saturday, Nov. 2, to take on the Middle Tennessee Blue Raiders.
Coming off a 31-14 loss to UTSA, interim head coach Mike Price is calling for his team to try and execute a complete game on all sides of the ball.
"We're trying to put together a game of four quarters," Price said. "I thought our defense played good enough to win (against UTSA). On offense, we're playing a little better each game. This team is getting better each week."
Throwing optimism aside, Price emphasized the words "A little"when talking about his offense's improvement.
The Miners coaching staff chose Zack Greenlee to start the game last Saturday, but he struggled through the air, only completing eight-of-29 passes for 133 yards. However, Price said that this week's quarterback decision is still up in the air.
Ryan Metz, the team's starter at the start of the season, was benched against UTSA because Price believed he didn't have a good week of practice.
"Zack had a rough night at the beginning (against UTSA)," he said. "They're going to have to put more work on their part to prepare. I like to have one guy at quarterback and stick with him. One guy (should) get 75 percent of the reps at practice. That's my thinking. We haven't been doing that. It's a yo-yo combo right now."
Price's description was spot on since the offense started the season with Metz, but he got hurt midway into the season, leaving Greenlee to go in. When Greenlee was hurt in the Southern Miss game, Metz came back in. The coaching staff in return decided to go with Greenlee for UTSA after he got healthy again.
Similarly, the running back situation is still going to be evaluated throughout practice as the usual starting running back Quadraiz Wadley is still battling a leg injury. Price said he wouldn't bet on Wadley returning for Saturday's game against MTSU.
However, Price did not seem entirely fixated on worrying about a player's status. He is more focused on the production they bring to the game.
"Been through a lot of adversity, overcame a lot and everyone here is giving their best," Price said. "Effort is not the problem. We're not executing things that need executing."
In terms of preparation, Price talked about the changes the program has made during practices, but he wants to implement more four-quarter drills that place both sides of the ball in real-game scenarios.
One of the hardest adjustments, where he sympathizes with the players, is the offensive changes the team has had to adapt to. They have dealt with offensive coaching from former head coach Sean Kugler, former offensive coordinator Brent Pease, current offensive coordinator Brian Natkin and himself.
Among the team's efforts in progressing offensively, true freshman running back Joshua Fields had a nice outing against UTSA, with 41 yards and a touchdown off 11 carries.
"I like Josh Fields," Price said. "Biggest problem freshman have is blocking for passes. He did well and he's not real huge. He comes into the game and I'm really pleased with his progression."
Even though Middle Tennessee is 3-5 (1-3 C-USA), they are still looking to close the season with bowl hopes in mind. Along with the Miners, the Blue Raiders will face Old Dominion and Charlotte in the coming weeks, which are two of the three worst teams in the conference.
They are coming off a bye week and are also coming off a big 38-10 loss to Marshall. Although they've been struggling at the quarterback position, the team is looking to possibly get back standout quarterback Brent Stockstill for this week's matchup.
Stockstill is actually head coach Rick Stockstill's son and is one of the program's all-time leading passers. His 12,461 career passing yards are also on pace to put him in the top 25 all-time passing yards in NCAA history.
The Miners will prepare for backup quarterback John Urzua until MTSU announces whether or not Stockstill will play, according to Price.
Middle Tennessee is not just an air-raid team, however. They've been very efficient on the ground, averaging 200.9 yards a game. They are led by true freshman running back Brad Anderson, who leads the team with 418 rushing yards and three total touchdowns.
"He reminds me of Howard Jackson," Price said, comparing Anderson to his former UTEP standout running back. "This guy is real good."
Both teams have won one game against each other, but haven't met up in three seasons. The Miners won 24-21 during the last time they squared off in 2014.
Kickoff between the two is set for 5:30 p.m. MT and will be televised on beIN Sports Connect.
Follow Adrian Broaddus on Twitter @adrian_broaddus
About the Contributors
Adrian Broaddus, Sports Editor
Adrian Broaddus is the sports editor for The Prospector. He is a junior multimedia journalism major with a minor in political science.



Adrian...