Miners hot second half leads to victory over Sul Ross State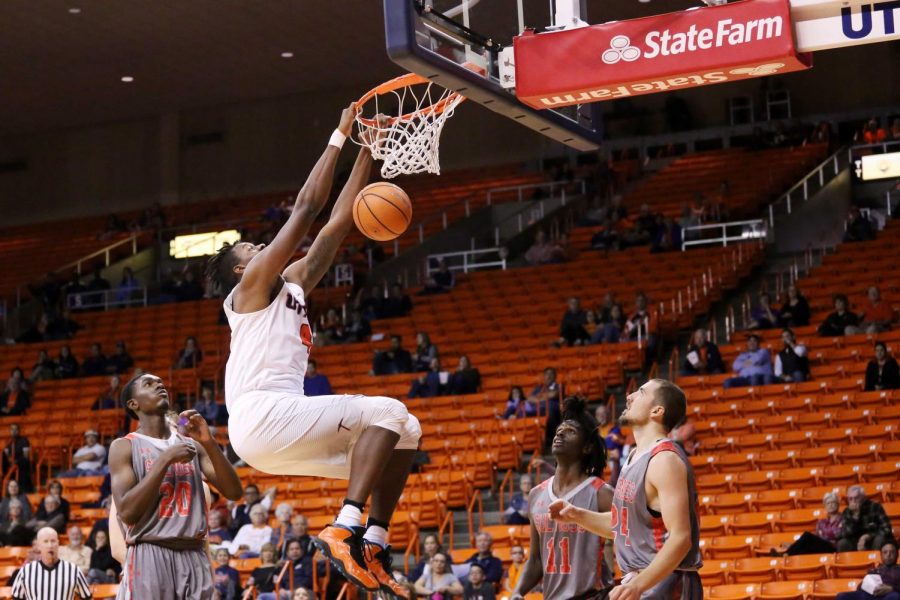 Mike Flores, Reporter
October 28, 2017
Head coach Tim Floyd created a spark for his Miners—a spark that eventually led the Miners to their first exhibition win of the season over Sul Ross State, 78-70 at the Don Haskins Center on Saturday afternoon.
The spark that Floyd lit was a buildup of the referee's choices of foul calls. In the first half, UTEP got called for 18 fouls (34 total fouls on UTEP) and found themselves tied with SRSU at 34 at the half.
UTEP's transfer guard Keith Frazier electrified the crowd with a putback dunk but was called for a technical foul right after for slapping the backboard and holding on to the rim for too long in the opening minutes of the second half.
That's when Floyd decided enough was enough. Floyd had no hesitation to eject himself from the game and watch the rest of the contest from the stands. Assistant coach Phil Johnson took over for the rest of the game.
"I got sick and I had to go in and throw up," Floyd said jokingly about the foul calls. "I was not ejected. There was no rhythm to this game for the first 22 minutes."
The game was tied at 38 after Frazier's dunk and Floyd's departure, and that's when the Miners went on a streak that the Lobos couldn't come back from. UTEP went on a 20-3 run right after to grab the lead, 58-41. There was no looking back for the Miners.
In large part, the run the Miners enjoyed was due to spectacular shooting from their freshman guard Evan Gilyard, who scored 15 of his total 19 points in the second half.
"On offense, I believe I can bring a spark to the team. And I think I can bring a spark on the defensive end too because I'm a defensive person. I love getting after it. Defense is what starts sparks on the offensive end. I just did my job," Gilyard said.
The size mismatch was a problem the Miners presented to the Lobos. In total, UTEP outscored SRSU 34-16 in points in the paint. UTEP's Matt Willms added 19 points and nine rebounds, while Paul Thomas was in and out of the game due to foul trouble the whole time and didn't score a single point.
UTEP's leading scorer last year, Omega Harris was dealing with back problems, but he still managed to contribute in other ways than his usual scoring ways; he was the only player from both sides to record doubles digit assists (10 assists for Omega).
The closest Miner to Omega's 10 assists was Trey Touchet, who ended up with three assists.
"We need more assists from our points guards. We need them to get us more post touches. We need better execution," Floyd said. "There's some decision making that could have been better. There was a little too much dribbling out there today."
The Miners held the Lobos to a 35.2 shooting percentage in the game, but keeping the Lobos off the free throw line was a struggle. In total, SRSU made 25 of their 31 free throw attempts. Also, UTEP had their difficulties guarding SRSU's starting forward Caleb Thomasson, who scored 20 points on 5-of-10 from the field.
One of the Miners weaknesses last year was their 3-point shooting, as they only averaged 5.2 three-pointers a game. But today, with the newcomers, UTEP nailed eight 3-pointers, including some that helped put the Miners on top for good.
Also, UTEP showed improved depth from a year before. The Miners' bench scored more than half of their total points, 48 of the 78 points. Last season, UTEP had no answers coming off the bench.
Another aspect in which UTEP struggled with last year was taking care of the basketball. However, that same struggle was still present with the Miners today; they turned it over 20 times but also forced the Lobos to 19 turnovers of their own.
"We have a long way to go. A lot of drive-bys, a lot of turnovers a lot of fouls. It's early," Floyd said. "We have to guard the dribble better, we did very, very poor with that. But we're learning, it's a work in progress. I saw some food things. We'll be okay."
The Miners will host Western New Mexico on Friday, Nov. 3, at 7 p.m. in their final exhibition contest before welcoming Louisiana College to the Don Haskins Center for their season opener on Friday, Nov. 10 at 7 p.m.