Miners faced with questions going into UTSA game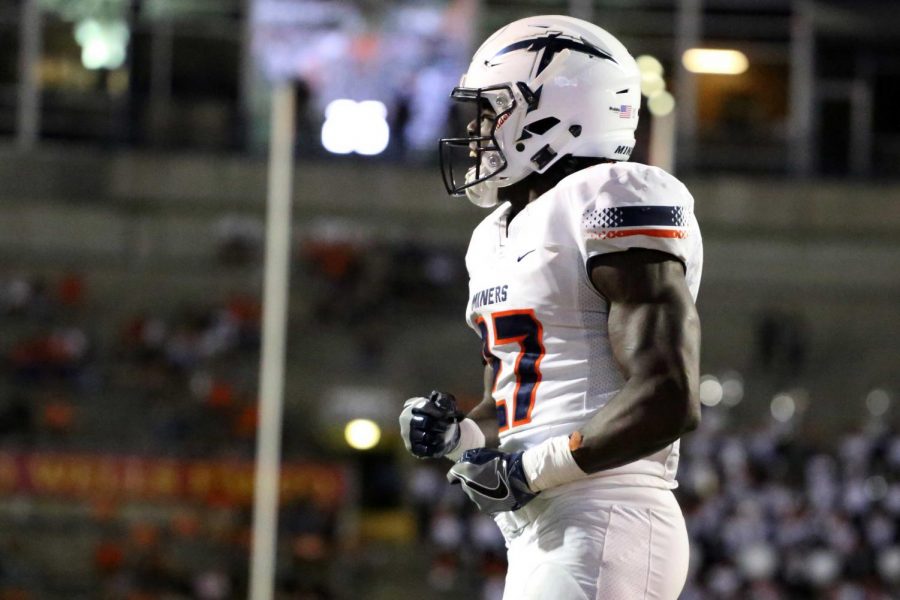 With a devastating 0-7 record, the Miners came off their bye week with even more questions that need to be answered before they host UTSA on Saturday, Oct. 28.
The team is still unsure about who will start as quarterback on Saturday, as both Ryan Metz and Zach Greenlee are recovering from their respective injuries sustained in the past three weeks.
They don't know the status of starting running back Quadraiz Wadley, who suffered a knee injury during the Western Kentucky game three weeks ago.
Most importantly, they are still trying to find some sort of identity on offense.
The Miners sit as the worst team in college football, with the lowest offensive yards per play, averaging just 3.9 yards from scrimmage. They are also the worst team in the country for total offense, averaging 219.6 yards per game.
In their last game, the Miners were shut out by Southern Miss, 24-0, and had only 147 yards of total offense.
"Offense was very poor," interim head coach Mike Price said. "I don't know if we know who we are (offensively), or if we know who we are and don't like it. I don't like that kind—no one does."
Price has pointed out the main flaw of the offense as poor efficiency.
"(Offensive coordinator Brian), Natkin's working real hard," Price said. "Every play is drawn up for a touchdown. Every play should be a good play. Don't think it's play calling, but execution."
Defensively, the Miners have been making strides. The team allowed 47.8 points per game in the first four games of the season, and now has allowed just 24.7 points per game through the last three games. They went from allowing 519 yards of total offense per game to 373.3 per game.
"Our defense played well two weeks in a row," Price said, reflecting on the Western Kentucky and Southern Miss games.
Now the key is to keep spirits high and continue to fight, according to Price.
"Thought we had high energy (against Western Kentucky) and energy at Southern Miss," he said. "We're going to have to bring it again."
Ultimately what the team wants is their first win this weekend.
"They want to win more than anyone," Price said. "Their heads are up, not down."
Scouting UTSA
In the words of Price, "a roadrunner is hard to kill if you've seen any cartoons."
Under head coach Frank Wilson, UTSA (4-2, 1-2 C-USA) is still fighting for contention in the conference championship and has made significant strides this season.
They are coming off a 20-7 win over Rice at home. They started the season 3-0 with a big win over Baylor, but lost their first two C-USA games to Southern Miss and North Texas.
The Roadrunners rank third in scoring offense with 31.2 points per game and second in scoring defense, allowing teams just 18 points per game. They rank third in total offense with 458.7 yards per game and first in total defense with 303.3 yards allowed.
Statistically, this is not the team that the Miners' struggling offense and growing defense wants to face.
The man Price and the Miners will key on when they go against UTSA's defense is defensive end Marcus Davenport. He ranks second in the conference with 12.0 tackles for loss and second in sacks (6.5).
"He (Davenport) looks the part, plays the part, is the part," Price said. "He's the guy to worry about. One of the best defensive ends we'll play in conference."
The Roadrunners will also come into Saturday's game with the bitterness of losing their last game against UTEP in a five-overtime thriller last year. The game finished when Metz hit receiver Warren Redix for a six-yard touchdown pass in the fifth overtime and won the game 52-49.
Throughout the four times these two Texas foes have met, the visiting team has won every time.
"We're gonna have to change that even if we have to have six overtimes," Price said.
In-game features
Saturday's game will mark Legends Night for the Sun Bowl, as the program will celebrate the 2017 UTEP Athletics Hall of Fame Class.
The athletics department will recognize Antonio Davis (basketball, 1986-90), Seth Joyner (football, 1982-85), Blessing Okagbare (track and field, 2008-10), Cynthia Ruelas (volleyball, 1993-97) and Paul Stankowski (golf, 1987-91) for the 15th induction class.
They will also celebrate former Miner and Green Bay running back Aaron Jones by giving away 1,000 bobble heads of the program's all-time leading rusher.
"If Aaron's listening, we'd love to have you speak to the team," Price said.
Kickoff between the two teams is slated for 6 p.m. at the Sun Bowl.
About the Contributors
Adrian Broaddus, Sports Editor
Adrian Broaddus is the sports editor for The Prospector. He is a junior multimedia journalism major with a minor in political science.



Adrian...