Men's soccer club builds winning tradition as a close-knit group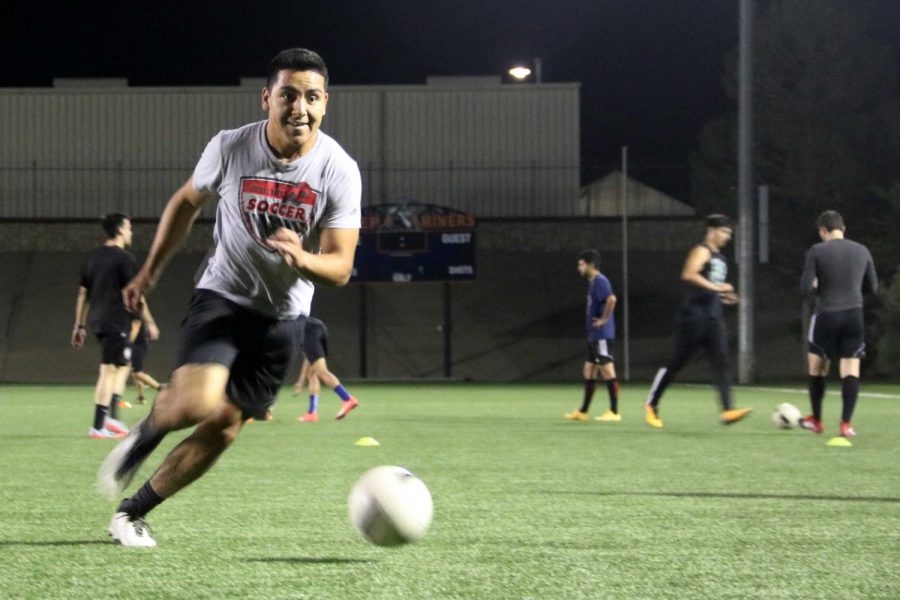 Although UTEP doesn't offer an official athletic men's soccer team, the men's soccer club, a close-knit group, offers an opportunity for male students to play organized soccer competitively.
The club has also built itself a dynasty in the Recreational Sports Department.
They compete in the sixth region of the National Intramural Recreational Sports Association tournament each year. The club competes against the likes of Arizona State University, University of Arizona, Grand Canyon University, Northern Arizona University and New Mexico Tech.
After dropping their only home game of the season on Oct. 1 to Arizona State (2-0), the Miners hosted the best and worst team in the league this past weekend.
On Saturday, Oct. 14, the Miners hosted league leader Grand Canyon. The match consisted of the top two clubs in the league against each other and it was the Miners who came out on top with a 4-1 victory. Yousef Alenzi scored his first goal of the season in the win.
On Sunday, Oct. 15, the Miners faced off against last-place Northern Arizona, but the Miners were unable to put together a strong two days, falling 2-1 in a surprise loss to the last-place Lumberjacks. Despite this loss, the Miners were able to tally a total of six points over the weekend.
The club's winning tradition  is based on their coach, Gustavo Ponce. He is a 2014 UTEP graduate and former player of the club. Ponce will use his semiprofessional background as the foundation to continue to push his club into championship form after not coaching in 2016.
"I was a player for four years," Ponce said. "Two years ago, I was helping coach here, but last year I wasn't, the coach from last year, he had to go out, so I came back for this year. So, it's my first experience as coach, but I play semiprofessional soccer."
Nathan Luke, senior psychology major and vice president of the club, had a decision to make two years ago, when he was going to transfer out of Houston Community College. Luke was looking for something that satisfied him not only academically, but on the pitch as well. It was between two universities that had respectable soccer programs, but when he got on the line with Ponce, he knew he would be going into a winning and competing culture that would make him grow as a player.
"So, I was in contact with both coaches. But then Ponce, whenever he called me, he was saying that they were champions in the district for five straight times," he said. "That talent was welcomed, so once I got here, I tried out and I think I've really grown as a player under him."
Luke is a Trinidad native, but is not the only Miner to represent a different nationality and race.
As a matter of fact, the club is very diverse, ranging from all parts of the world and cultures such as Congo, Saudi Arabia and more. You can hear different languages being spoken, but the one thing they all universally speak is their love of the game.
"So, I think football (soccer) represents society in many levels," Luke said.  "I think it shows that we can all be one unit. To go further with all the drama going on right now with different religious views, political views, national views. You have me from Trinidad, we have teammates from Saudi Araba, we have a Moroccan teammate, who has a Belgium passport, so he's says his from Belgium not Morocco. Little things like that. You find all that type of mix in only one sport. And that's the world's game."
In addition, the club has become its own family. They travel together, come up with ideas to fund-raise for the club, as well as make sure that the UTEP men's soccer club continues to thrive.
President of the club, Alejandro Marquez, a senior and mechanical engineering major, said the club has become a close-knit group throughout the years.
"Besides the team, I've got to say that it becomes a family, pretty much," Marquez said. "We get really involved with each other. We get to know each other, we get to travel and since we're all students, we all have something in common."
Any male can try out for the team as long as they are a UTEP student.
"I think UTEP soccer gives us a good football (soccer) background, gives us good life lessons that we can carry on with us in life, especially being on a team that has teammates with different opinions," Luke said.
The men's soccer club are students who decided to join for the love of the game. The love of the game is what drives and fuels them to continue to get better at this higher level of competition.
"A lot of these guys, they play because they love the game. No one on this team has a scholarship, so it's for the love of the game, which is better," Marquez said. "I feel like players have heart for the game, which is something I admire. I myself do have heart for the game."