Austin leads women's volleyball through a tough season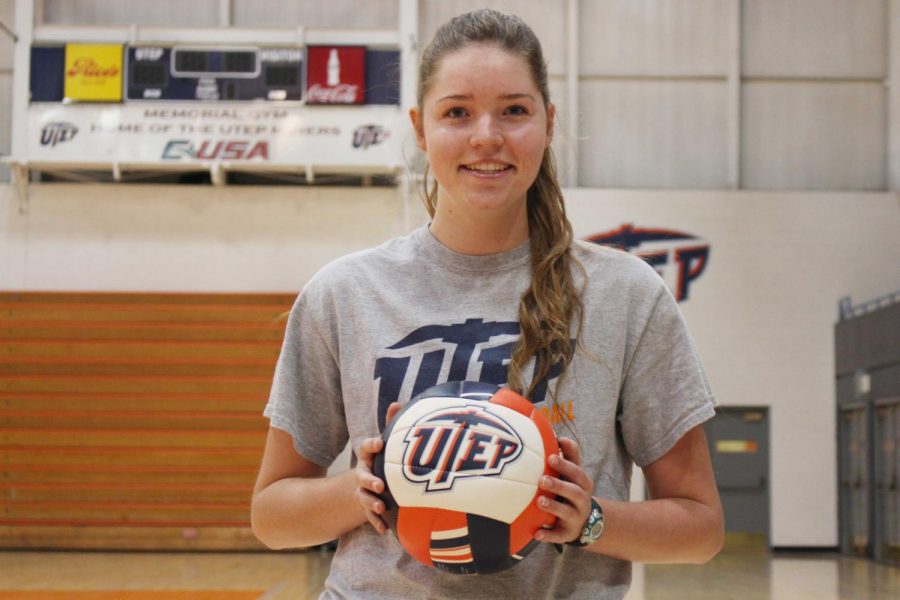 The UTEP women's volleyball team has struggled the last two seasons of play. Since the start of the 2016 season, the Miners have gone a combined 12-35.
This season, the Miners are just 4-13, 1-3 C-USA, which ranks the team 264th out of 334 NCAA division I teams.
Despite the struggles they've had as a team, there have been individual players who have stood out the past two seasons.
Senior team captain Amanda King earned 371 assists a year ago to lead the team and continues to lead in that category this season with 417, already eclipsing her total from a year ago with at least 10 more games to go in 2017.
As the Miners' lead setter and lone senior, King became the most obvious leader after the graduation of Lindsey Larson, who led UTEP with five triple-doubles in 2016, which ranked seventh in the nation.
However, it has been a sophomore who has taken the spotlight thus far in 2017.
It wasn't an easy decision for the young woman from Keller, Texas. Sophomore outside hitter Macey Austin had to battle through a difficult start to her volleyball career, playing a sport for the first time in middle school.
"I had never played volleyball before and the day before tryouts I told my parents I wanted to play and they were like 'Okay, you've never played, but go for it and give it a try,'" Austin said. "I made the C-team so I was really bad, but as time went on I got better and I really started to love the game."
Jumping into high school, Austin's hard work opened the door to a varsity position in her freshman year.
"It was completely unexpected (playing varsity as a freshman) because I didn't think I was good enough," Austin said.
Austin played high school volleyball in North Texas at Fort Worth Christian School. She quickly realized that her opportunity to play at the varsity level in high school only pushed her to get better and challenge herself even more.
As an outside hitter in high school competition, Austin was named to the District 1-4A All-District First Team from 2013-14 and was a member of the TAPPS Class 4A All-State first team in 2014. She concluded her senior season leading the region in kills (739) and service aces (91), while finishing third in digs (397), fourth in hitting percentage (.287) and fifth in blocks (44).
"As high school went on, I started playing club, which is extremely competitive in the North Texas area," Austin said. "There's a lot of really good volleyball players in North Texas so it's hard to stand out, but I guess I did because now I'm here (UTEP) and coach (Holly) Watts saw that."
Austin had never heard of UTEP before getting the opportunity to play here, but she is glad she did because she always dreamed of playing at the Division 1 level.
"I had the goal in high school, when I was going through the recruitment process, to play Division 1 at the highest competitive level," Austin said. "I always had an open mind and never wanted to burn any bridges and keep all the doors open because I didn't know where I wanted to play. I just wanted to play and when I found out UTEP was Division 1, I knew this would be a great opportunity so I made the decision."
Since arriving in El Paso in 2016, Austin has made some changes personally, which has helped her even more as a person.
"Moving here really forced me to come out of my comfort zone and to grow as a person," Austin said. "I've become a lot more independent, I've acclimated to the culture and people and I've dedicated to volleyball like it's a full-time job with school. Once I got the hang of it all, it became a rhythm and ever since then I have been able to grow."
Austin has even grown to love the El Paso area and culture.
"I love the food, I love Mexican food and the people are so friendly," she said. "The food is very authentic and real and the people have made me feel like this is my second home, so I love that. I love the mountains, it's my favorite thing here because I didn't have mountains back home, it's a complete change of scenery, I even went hiking a few times back in the spring so that was nice."
As a freshman in 2016, the 6-foot sophomore led the team in kills (280) and points (302), earning her a spot on the 2016 Conference USA All-Freshman team. Like King, Austin leads in her categories at an even quicker pace in 2017, with 216 kills and 229 points through 17 games.
Austin earned a career-high in kills (27) and points (28.5) in the Miners' best win of the season thus far, a 3-2 upset win over Rice. The Owls entered the match back on Sept. 22 with 10 wins, the most wins of any opponent the Miners' have faced this season.
While Austin feels like she isn't the strongest vocal communicator on the court, her ability to earn a kill and point during a match–whether it's at a crucial part of the game or not–is one way she leads the team in the right direction.
"I didn't really picture myself as a leader because I'm not the loudest person on the court, but I see my leadership now through example," she said. "Whenever I get a big kill shot, I can tell that when I get really excited about it, I turn around and the rest of my teammates are jumping up and down and they're screaming, and I think that's our strength, that energy and that momentum."
Austin also leads the team in sets played (64), kills per set (3.38) and points per set (3.58), while starting in 16 of a total 17 matches in 2017 thus far.
Sitting at 4-13 and 1-3 in conference play, Austin is now taking it game by game and believes that it is the most positive thing to do the rest of the season.
"For me, it doesn't matter how the team was like last year or even how we did in our past games this year, it's about focusing on one game at a time and I'm going to take it one point at a time and not worry about what we've seen by scouting, but what we know how to do as a team and focus around that, that's how we'll get better," she said.
Austin and the Miners will be at home in Memorial Gym for two tough matches this weekend. The Miners will battle with second-place North Texas (17-2, 4-1 C-USA) at 6 p.m. on Friday, Oct. 13, and fourth-place UTSA (5-11, 3-1 C-USA) at noon on Sunday, Oct. 15.