Ability Awareness Week brings wheelchair basketball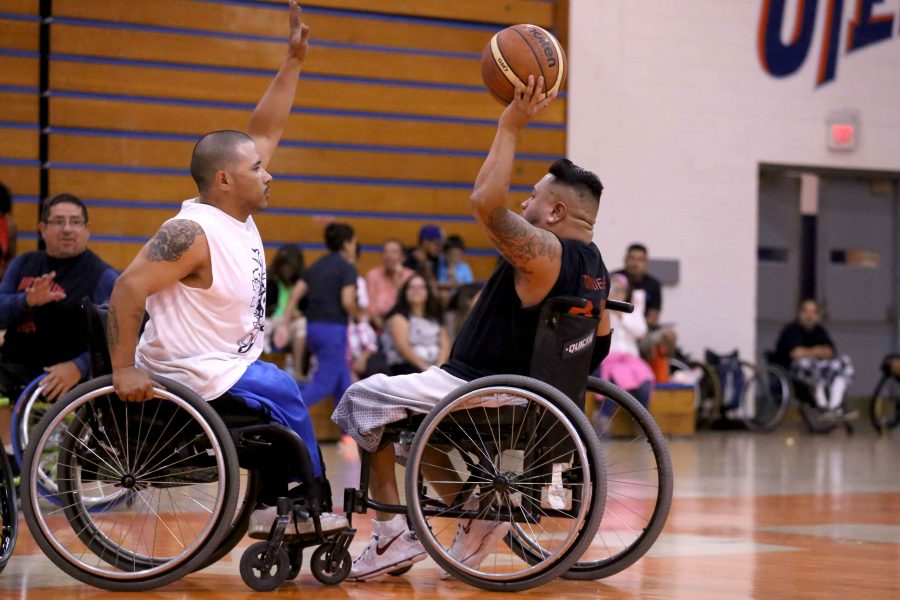 To celebrate Ability Awareness Week (Oct. 16-20), the UTEP Center for Accommodations and Support Services (CASS), along with the Division of Student Affairs, will be hosting the El Paso Air Wheelers vs. Ft. Bliss Wounded Warriors wheelchair basketball game on Monday, Oct. 16, from 6-8 p.m. at the Don Haskins Center.
The El Paso Air Wheelers will face off against the Ft. Bliss Wounded Warriors for the first time at the Don Haskins Center. In the two years prior, the athletes faced off at Memorial Gym and played half court. This time around, the players will play in a bigger arena and battle it out on the full court.
"People should be aware, that there are many abilities within our disabled community and UTEP as a whole," said Manelic Alcala, disability services coordinator for CASS. "We want to make students more adaptive to their environment with an opportunity to enjoy entertainment in all aspects of the university."
Alcala says that this year's event could not have happened without Cruz Gutierrez, who is an advocate for people with disabilities, especially in sports.  Gutierrez is involved with the planning committee for the wheelchair basketball event at UTEP.
"Because the university doesn't have a (disabled) sports team right now, he wants to advocate for it in the future, maybe hosting tournaments or something that will emphasize the abilities that people with disabilities may have in any aspect in the university life," Alcala said.
Gutierrez is also a member of one of the teams that will be competing on Monday–serving as the captain of the Air Wheelers. Along with the other athletes competing, they are all veterans, who became disabled in combat while serving on active duty. These athletes found comfort in playing wheelchair basketball as a hobby and it took off from there.
"He's very involved with the occupational therapy program on campus. So, he does work with them (players) a lot," Alcala said. "That's how he heard of our event, and we've been working with him ever since, it's been three years already that we've been working with him."
In addition to the many firsts for this event, the Hillside Elementary School for the Deaf Singing Choir will sing the national anthem, along with a former UTEP graduate Alina Arredondo. The choir is under direction of Gabriela Gamez, Veronica Martinez and Dee Minton.
This will be the first time the national anthem will be sung at this event. Monica Castillo, from the El Paso Chihuahuas, will be the announcer.
Since the event is being held at the Haskins Center, there will be vendors all around the concourse, with each vendor representing a different sponsorship for stores or shedding light on disability awareness. The sponsors are Highlands Rehab Center, BMS Fitness, BEK, United Access and many more.
There will also be live entertainment provided by the UTEP cheerleaders as well as mascot Paydirt Pete. The event is free to the general public and sponsored by Goodwill.
"Sports can be adapted with people or students with disabilities as well," Alcala said.
Other events during Ability Awareness Week will feature educational and social justice seminars, a resource and career fair and a special program that will focus on engaging students with disabilities in talks and activities.
A full list of the activities during the week can be found on the UTEP CASS website with times, locations and descriptions of each event.