UTEP partners with Maquiladora Association to create opportunities for students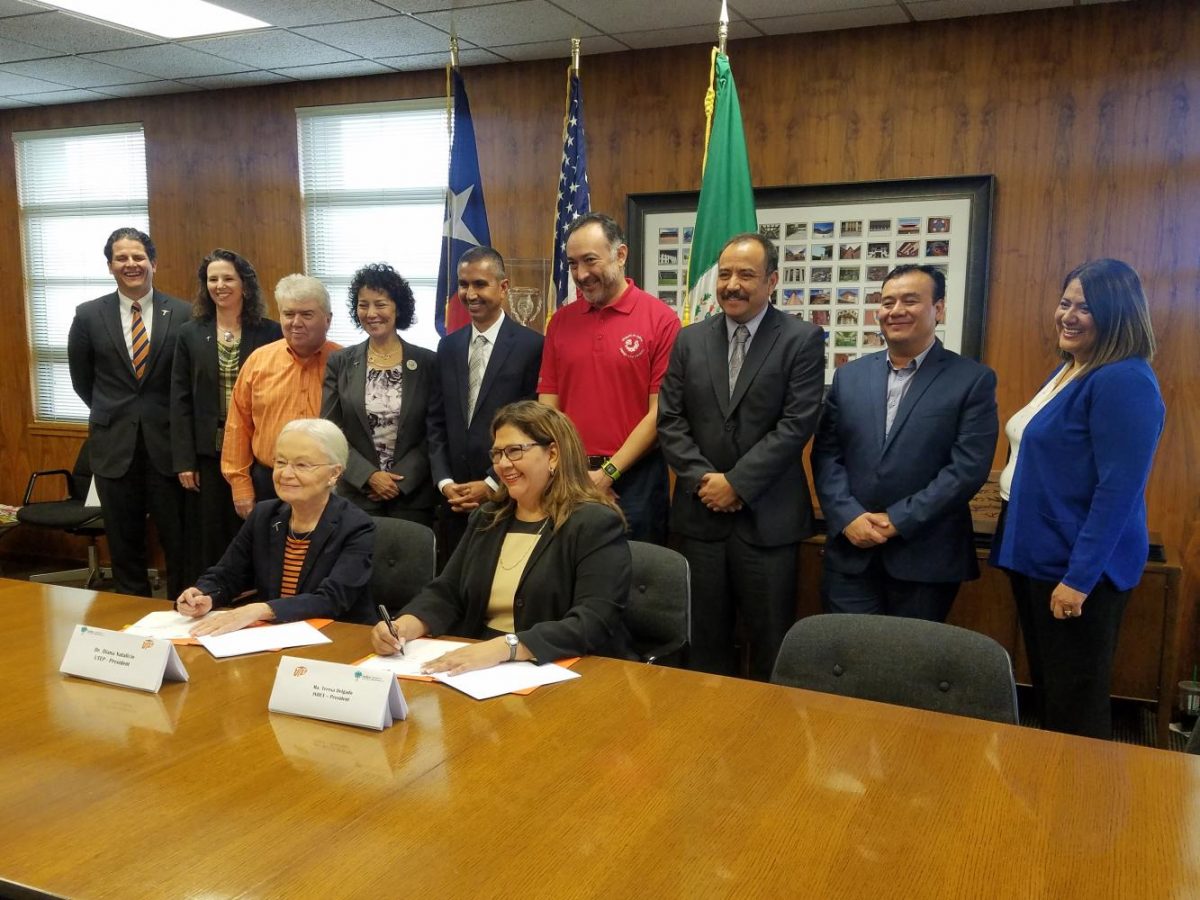 UTEP President Diana Natalicio and Maria Teresa Delgado, president of the Juarez Maquiladora Association (INDEX Juarez), came together to sign a Letter of Intent signifying a partnership that will help provide internships for UTEP students from the College of Business Administration and College of Engineering at various maquiladoras in Juarez.
"This was a wonderful opportunity for us to work with a group in Juarez on a project that will help benefit everybody," Natalicio said. "There is an investment on the part of the maquiladoras, on the part of UTEP, and the part of the association to be able to do this kind of project which has great potential to grow and to last over a long period of time."
The Letter of Intent is an agreement from both UTEP and the Maquiladora Association (INDEX) to help build a program to help UTEP students gain internship opportunities with global companies who have maquiladoras in Juarez.
UTEP international students from Mexico will benefit the most from this project.
"We have a large number of Mexican students enrolled here in UTEP, more than 1,000, and those students need internship opportunities too, and sometimes they cannot do it with the visas that they have," Natalicio said.
The president of the INDEX Juarez, Maria Teresa Delgado, sat next to Dr. Natalicio as they each signed the letter together.
Delgado is an alumnus of UTEP having graduated with a bachelor's degree from the College of Business Administration. Having had her own experience with UTEP and being familiar with the programs in place, she helped bridge the project between INDEX and the university.
She feels this is a great opportunity for students at UTEP to be able to obtain internships with maquiladoras in Juarez to build their resumes and be workforce ready after graduation.
"It's important to get the internship program going so students can gain experience to be able to go out into the real work and get a job," Delgado said. "It is hard to get a job sometimes when you lack the experience of an internship, as many of us did before programs like this were around."
For now, the project will focus on students who are studying business, computer science, engineering and other related fields due to the interest that will serve the maquiladoras.
The hope for the future is that this will serve as a model to inspire similar partnerships with other businesses and associations to benefit students in other fields of study.
"As we discuss a variety of enhancement opportunities of the UTEP Edge, we're talking more about creating special experiences for our students and internships are certainly high on that list," Natalicio said. "They create opportunities for students to earn, learn, and become much more professionally oriented through work."