Interim head coach Mike Price returns to UTEP and promises effort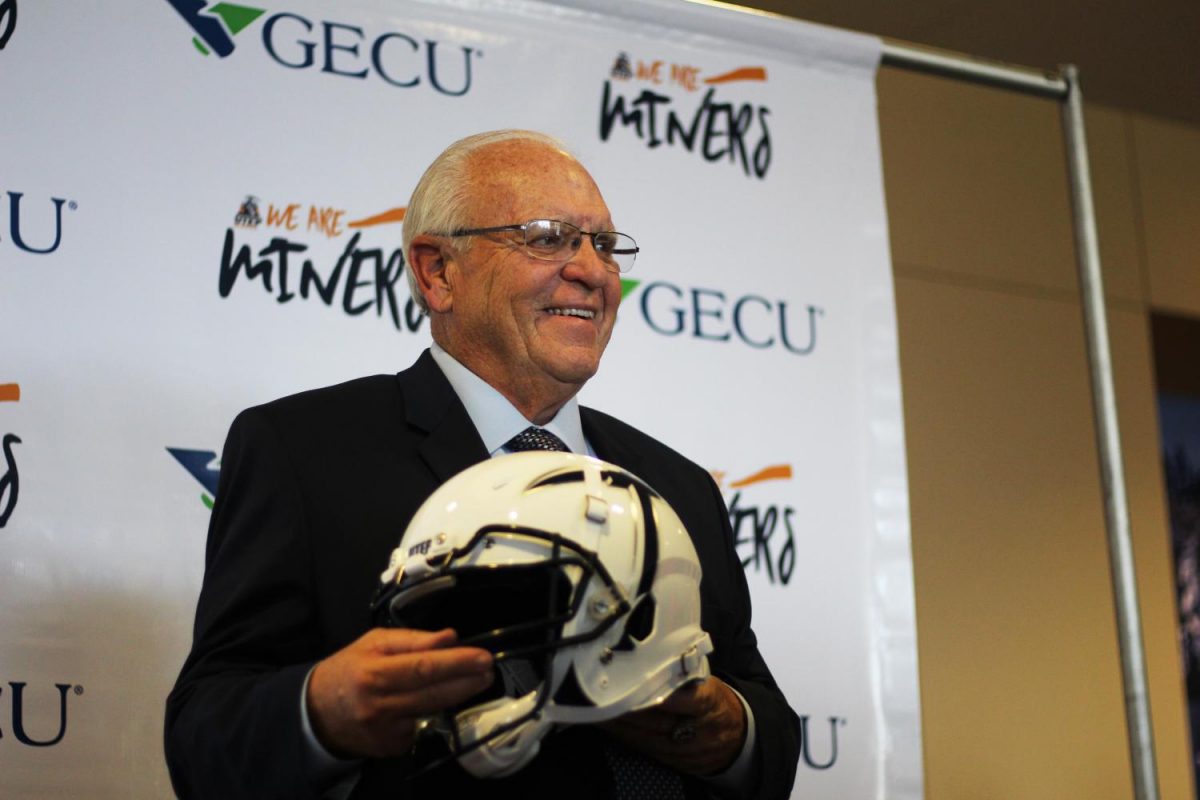 After getting the call on Monday to take the reigns of interim head coach for the UTEP football team, Mike Price had less than 24 hours to pack all his belongings from his lake house in Idaho to travel to the Sun City and get back to business.
As he kissed his wife goodbye, he had a sudden realization—"what am I doing?"
Following his early flight, he would be addressing a room full of media members and then tasked to meet with the team that he was suddenly entrusted to coach.
Overwhelming? Not for Price.
"It's a great opportunity," he eagerly said to a room full of media members. "I'll do my best, have some fun. This is a great coaching staff. I've kept track of every game since I left. I'm not a magician. I'll help manage and I'm here to help."
One would think that when an interim head coach from the outside gets hired they would immediately take control over the team. Price, on the other hand, wants to help more by advising the team and helping in areas where they need it through his philosophy of coaching instead of a proactive approach.
"In 2012, I was more hands-on," he said. "Now I'm not going to do as much as that. I don't want to change things. Inside those kids is a winner. We have to reach inside and pull them out."
The 0-5 start is worse than any team Price has ever dealt with at the program and it's something that he believes can be changed.
"We're 0-0 now. We're starting over," he said.
It was an unexpected call for Price when athletic director Bob Stull inquired about his interest for the team, being that he was one of the most successful UTEP coaches during his time from 2004-12.
"I love this place," Price said. "This place gave me a job when no one did. These fans have been hanging in there all along."
However, some of the players on the team thought otherwise, as it was shown on the individual player's social media. They voiced their displeasure with the new hire and some expected either offensive coordinator Brian Natkin or defensive coordinator Tom Mason to be named interim head coach.
"Feelings are split," Natkin said. "Price gave me a starting job. Coach Mason and I made it clear that we wanted (someone internally), but we gotta move forward. It's not a slap in the face, but we know our team better than everyone on campus."
After Tuesday's practice, some players were very quiet about the change and were hesitant when asked about how they felt about the team. However, there were some who were optimistic about Price.
"I'm excited for Price," receiver Tyler Batson said, who was recruited by Price in 2011. "Excited to see what I get to learn from him."
Still, some players lingered on the thoughts of recently losing Sean Kugler to resignation.
"I was hurt," defensive back Devin Cockrell said. "That was the guy who brought me in and gave me an opportunity when no one else did. I know for a fact he didn't quit on us."
Price understands the players' frustration and actually commended the fact that the players wanted to see an assistant at the interim spot.
"I think that's good they want their assistant coaches to be the (interim head coach)," he said. "That's called loyalty. It's not the best thing to do—change everything. I know the coaches, know the scheme and it's a good scheme."
On Wednesday, Price will run practice for the first time as the interim head coach and prepare for Western Kentucky on Saturday.
"Never thought this would've happened and I'm thrilled it did," he said. "There's still a lot of games left, a lot more chances."
About the Contributors
Adrian Broaddus, Sports Editor
Adrian Broaddus is the sports editor for The Prospector. He is a junior multimedia journalism major with a minor in political science.



Adrian...