UTEP basketball starts first practice on Monday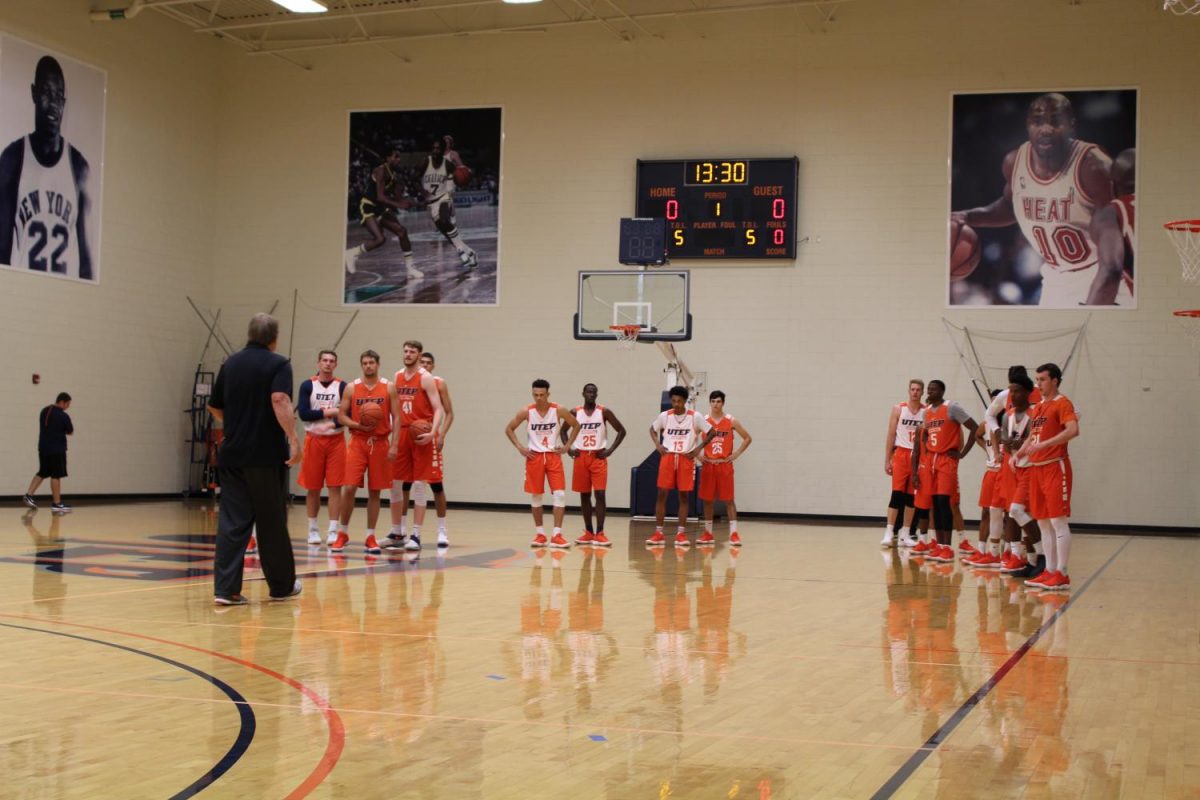 Mike Flores, Reporter
October 2, 2017
Nobody ever really looks forward to Mondays, but today, Oct. 2, there was something different in the air. That something was the official start of the UTEP basketball season. A mix of experience, talented youth, much-needed depth, hungry newcomers, and a fully healthy team opened up the first practice of the 2017-18 season.
"Today has a better feeling than last year's opening for a multitude of reasons—a better understanding of our rebounding situation, an advancement of talent, and a team that is better prepared to win based on the talent level we brought in and some key guys returning," said head coach Tim Floyd.
Senior guard Omega Harris, senior center Matt Willms, junior forward Paul Thomas are the three biggest names returning for a UTEP team that clinched the third seed in the Conference USA tournament with their 15-17 overall record (12-6 C-USA), rebounding from a 2-13 start to the season.
The biggest loss UTEP will have to fill is Dominic Artis, who was honored Second Team All-Conference USA last year.
Harris will take some responsibilities playing point guard this year, but with two gifted freshman point guards, Chicago's Evan Gilyard and San Antonio's Kobe Magee, battling it out—Miners fans can expect Harris back at the shooting guard position in no time, with either Gilyard or Magee manning the other starting guard spot.
"I'm going to be a combo guard this year until the freshman are fully ready. And once they're ready—everybody knows what I can do at the two position," Harris said. "We have all the right pieces this year."
The other newcomers to look forward to is forward Tirus Smith, who was recognized as one of Mississippi's top 12 players coming out of Petal high school in The Clarion-Ledger's "Dandy Dozen", and guard Isiah Osborne, who was in El Paso last year but had to sit out after transferring from the University of Windsor—where he won Rookie of the Year.
A total of eight newcomers are ready to see action on the court this season.
Smith, along with 6-foot-10 freshman center Joey St. Pierre will add depth for the UTEP's frontcourt—an aspect that the Miners struggled to find last season.
"When we look at our team this year, we are much deeper. All the guys returning are going to be challenged for playing time and their roles. We feel like added guys at every position that are qualified to push the guys in front of them," Floyd said. "No one is solidified because of what we've brought in."
This added depth will allow the Miners to play more full court defense, allowing Floyd's squad to do things defensively that they couldn't do last year, not limit themselves and play to their strengths, according to Floyd.
"Since I've been here, I can say there is so much talent here this year," Willms said. "I feel like the expectations for ourselves are really high. I think we're going to be a better team than last year. We're young, but they all work hard and I have no complaints about them."
The difference from years prior is that this UTEP team was given the opportunity to figure out how to play with one another and build chemistry before the season even started, as the Miners traveled to Costa Rica from Aug. 15 to Aug. 20 for a preseason tournament—UTEP's first foreign trip in 12 years.
UTEP got 16 extra practices prepping for Costa Rica that not every team can say going into the year. What Floyd learned from the extra three games and practices:
"We're more athletic and have a chance to be better defensively," Floyd said. "I haven't been pleased with our defense the last two years, the emphasis will start today."
UTEP will hold the Orange and White scrimmage on Oct. 21 at 5 p.m. at the Don Haskins Center before two exhibition games against Sul Ross and Western New Mexico. The Miners first official game will be Nov. 10 at home against Louisiana Tech.