Student section attendance put on notice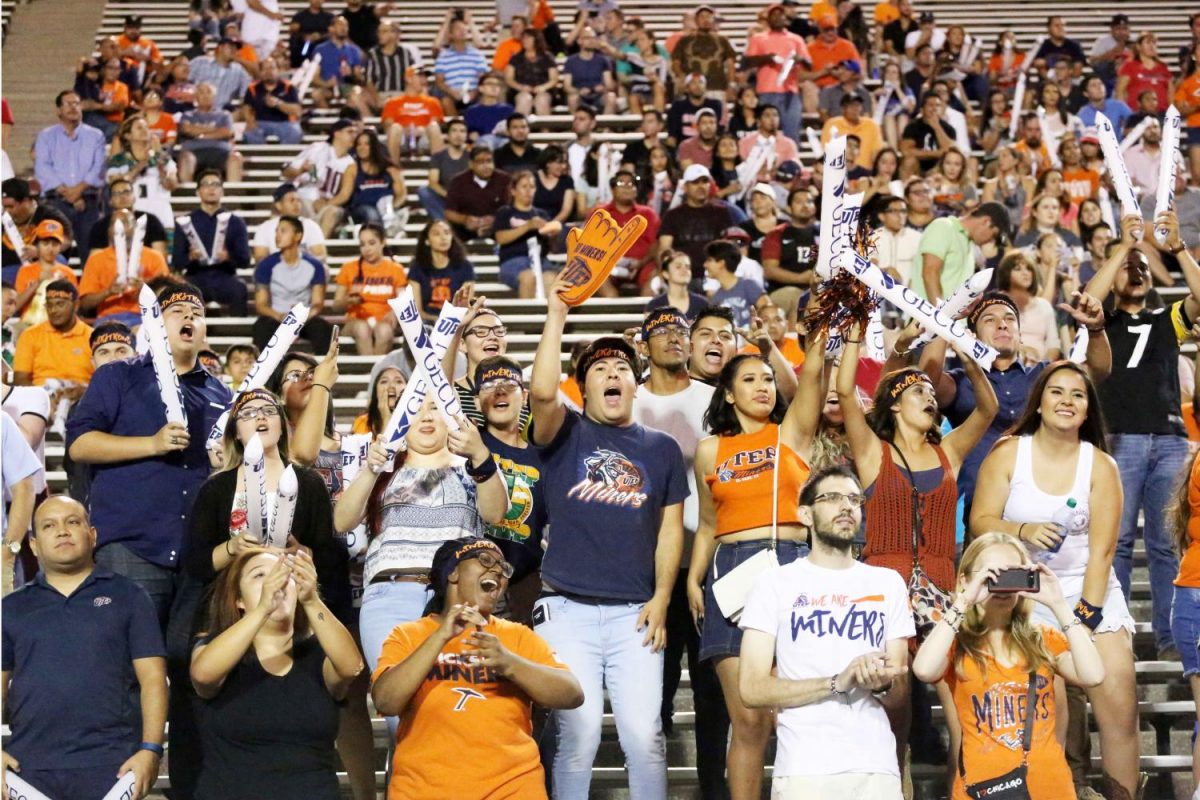 Student sections are supposed to bring the noise and intimidate the visiting team in order to give the home team an advantage.
Some universities go all in on their student sections, but at UTEP for the past two home games of the football season, there hasn't been much of an advantage.
Hank De La Cruz, a senior kinesiology major and proud UTEP fan, has gone out of his way to show his support. For game days, De La Cruz dons an all-orange jumpsuit, to help him transform to his alter ego, the Orangeman. He was in disbelief at the home opener against Rice on Sept. 9.
"It's bad man, first game I went to there was probably only 10 students at the student section," De La Cruz said. "Usually for all the first games, people tend to care a little bit and show up."
Alumni and current professor of criminology, Egbert Zavala, said he has noticed the decline in the student section from the years when he was a student and the year he came back to El Paso in 2010.
"Over the years, I've seen somewhat of a drop in attendance by students," he said.  "It's almost non-existent, so every time I go to the games and I look over to the student section, there's basically no students out there."
Despite the lack of student attendance, marketing does its best to bring out some student life. Marketing has offered incentives and benefits to students who do show up, such as headbands, shirts and noise-makers to make it a great experience for the student.
"We are always looking for ways to improve the student section no matter what. With incentives and benefits to the students who do show up.  The students that do show up they have a great time," Director of Marketing Aileen Martinez said.
In previous seasons, the UTEP marching band would sit right next to the student section. Meanwhile, the student section consists of four sections, something that many other universities don't have. But for some reason this season, the band was moved to be directly behind the field goal post, opposite the video screen.
"The band moving doesn't help, but I don't think it matters in these situations, I think it has more to do with a winning team than the band," Zavala said.
Another issue in regards to the student section is the fact that UTEP has four sections dedicated to their students. In addition, they have a general admission seating accessible to students and guests.  Students could feel free to sit wherever they want, either in the student section or general admission. Other universities condense their student section to usually just one section. But UTEP offers it more for accommodation for the fans.
"Some don't want to be part of the rowdiness, some want to sit back and enjoy the game from wherever they choose to," Martinez said.
For the Arizona game, 1,400 students registered for the sports lottery, the Sun Bowl can fit 51,500 screaming fans, but had only 37 percent of that showed up in attendance for that night at 19,136.
To help kick-start the student section, De La Cruz offered two different solutions, one was to be more lenient towards the tailgating rules. Since his freshman year, he has noticed the decline in the atmosphere for game days.
"I remember the first one I went to, it was a huge party atmosphere and it was fun," he said. "With a huge party atmosphere, there are going to be more students coming to tailgate and with more students tailgating, the likelihood of more students actually going to the game. You (students) get a free ticket so they might as well show up."
Alex Nicolas, UTEP sports writer for Miner Rush, said the issue mainly stems from students being uninterested in head coach Sean Kugler's play calling, consistency and failure to secure a big win during his five-year tenure.
"Lack of consistent wins, lack of student interest, lack of an exciting offense. No signature win in the Kugler era," he said.
Before Kugler taking the charge in 2013, Mike Price led the Miners for the previous nine seasons (2004-2012). In Price's early years (2004-2007), the Miners averaged around 40,000 in attendance per game at the Sun Bowl and were ranked No. 24 in the nation in November of 2005. Since then, attendance and wins have been hard to come by for the program.
"To me, it's very logical; El Paso tends to follow winning teams. That has been traditional, been the history here in El Paso. So in my opinion, to increase student participation at football games we would definitely have to improve our football team," said Zavala.
As for the Miner football team in 2017, they have yet to secure a victory and are sitting at 0-5 to start the season. UTEP will welcome Western Kentucky to the Sun Bowl this Saturday, Oct. 7 in hopes of avoiding a 0-6 start and more students withdrawing from attending Miner football games.