Kugler's craving for local talent sank him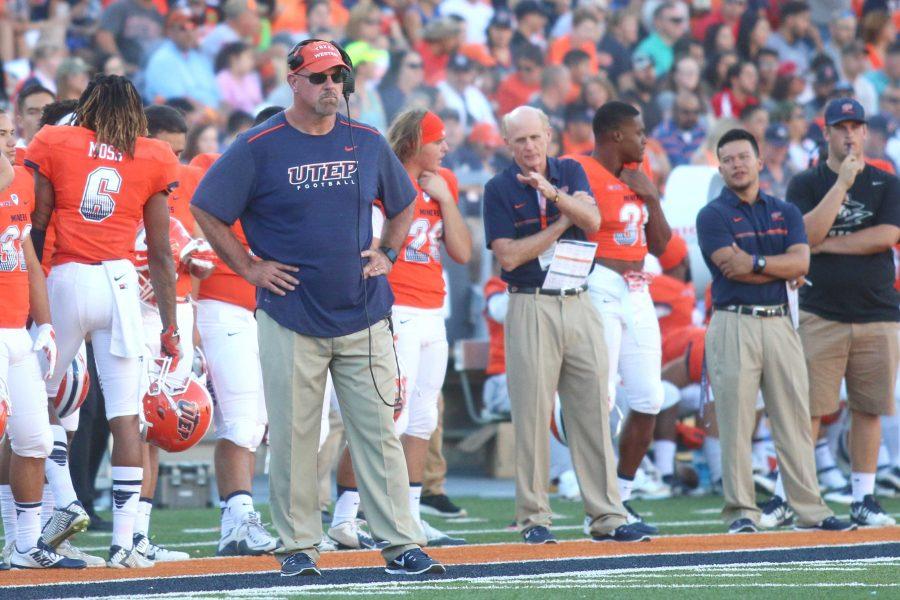 Mike Flores, Staff Reporter
October 2, 2017
During Sean Kugler's time as head coach of the UTEP football team, he made it a point to recruit and build his teams with many local talent from the El Paso and Las Cruces area.
There is no doubt that's a good idea, but the way Kugler went about it, was excessive, to say the least.
This year, almost half of the team was from either El Paso or Las Cruces, with 30 total from the area.
Some of the local talents are some of the biggest names for the Miners, such as defensive captain Alvin Jones, wide receivers Kavika Johnson, Warren Redix and Eddie Sinegal. But with that being said, that might point to one of the biggest problems that the Kugler era possessed.
UTEP's passing attack has been ailing this season. The Miners are only ahead of Charlotte and Rice in Conference USA for passing yards per game (145. 8).
UTEP's defense, which also includes many local players, is giving up 40.3 points per game (last in C-USA), last in rushing defense (giving up 226 yards per game) and, quite frankly, a defense that struggles to get stops, period.
There's no question that there's some quality talent that comes from the local areas, but there's so much more to be explored outside the city.
I love El Paso more than anything, it's home. But there's a reason El Paso schools aren't a familiar face when it comes to the deeper rounds in state playoffs. It does happen, but rarely.
On the other hand, though, Las Cruces schools do get far in their playoffs, but that's only because of the lack of competition in the state.
Bottom line is that recruiting locally may not have been the best decision. It worked far less times than the amount and depth that was affected.
Kugler hit the jackpot with Aaron Jones, but like I've said before, Jones could only do so much. A talented running back like Jones was told by members of Arkansas, Texas and other big schools that he belonged with the big boys, unlike the rest of his team.
Plus, Jones is an outlier. Guys like him that have NFL talent aren't going to come often from El Paso. Kuddos to Kugler for snatching him, but that can't mask all the other so-so players he got.
There's a reason UTEP is 0-5 and among one of the worst college football programs in the nation, a year after  Jones' departure to the NFL.
Speaking of masking, Kugler isn't known as a great recruiter. In fact, it's no secret he struggled with that part of coaching while at UTEP. Getting all these local kids could point to how bad Kugler really was at getting the right players to commit to being a Miner.
It's not difficult to get El Paso kids, who want to go to UTEP and suit up to play for the Miners, it's their hometown. They would be playing in their own backyard and their families could attend the majority of the games.
However, it still doesn't excuse the fact that Kugler never put the right product out on the field. His teams lacked excitement, lacked the ability to compete with C-USA's elite, lacked a lot of star players (the Jones brothers are exceptions) and overall lacked the most important thing—talent.
Since Kugler banked on putting local talent on the field, he wasn't even very good at getting the key student-athletes from El Paso.
Kugler missed out on these former El Paso stars:
Steven Montez—former star quarterback for Del Valle—who decided to take his talents to Colorado University.
Tristan Cooper—former Andress Eagles safety—who picked Arizona for college.
Tyquez Hampton—former El Dorado star—who plays for Utah.
Rashad Still—former wide receiver for Andress—who picked Minnesota over UTEP.
Cedarious Barfield—current standout quarterback for El Dorado—who picked San Diego State over UTEP.
The list doesn't end there, but those are just some of El Paso's biggest names that Kugler couldn't convince to stay home.
Recruiting is hard.
In fact, it could be the hardest thing about college football. But I think Kugler truly muffed on his recruiting history with UTEP.
He's a big name for UTEP. Kugler was once the Detroit Lions' offensive line and tight ends coach, the Buffalo Bills' offensive line and tight ends coach, and also the Pittsburgh Steelers' offensive line coach before he accepted the UTEP job.
The connection he had to the NFL should have lured in more quality players, it's a great pitch that not all college coaches have, especially not many mid-major universities.
Like I said before, I love El Paso and I hope all the local football players prove me wrong. I've never wanted to be more wrong on anything actually, but I'm just being realistic on how Kugler could have done much better in the recruitment process during his time with the Miners.