'Tittie Talk' discusses local and state politics through a Latina's perspective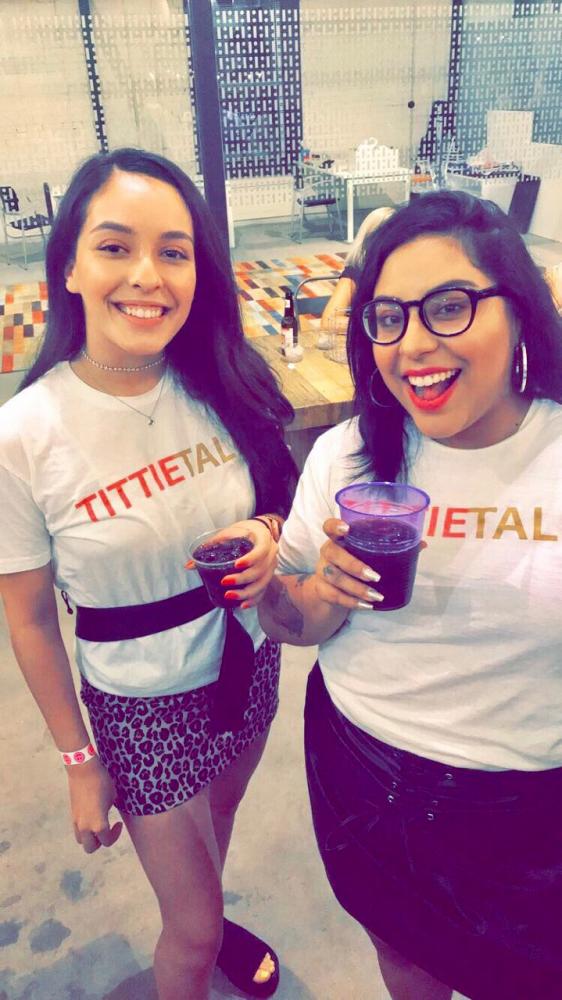 It started off with an idea which sprang to life with a podcast. The "Tittie Talk Pod" podcast dares to push the Mexican American culture forward, by expressing all points of views through a Latina's perspective
The "Tittie Talk" is a podcast for millennials, by millennials, that involves topics such as politics, news, pop culture and whatever else is going on in the world.
Carla Fernanda Lozano and Lola Vaughn, both 24, were born and raised in El Paso. They met in high school when they both attended Loretto Academy, and developed a friendship that changed due to some life obstacles.
Vaughn left to another school, they both attended different universities and graduated with degrees in liberal arts. It wasn't until seven months ago that the two rekindled their friendship.
Now Vaughn a married mother of one, and Lozano, who lives in Austin, are the duo behind "Tittie Talk Pod."
The origins of "Tittie Talk Pod" are simple, The duo started recording when Vaughn approached Lozano about being part of a podcast, and she was instantly in.
"I'm a stay-at-home mom, besides taking care of my baby, I don't do much, so I needed something to do and I knew my husband would back me up because he does podcasting," Vaughn said. "I knew I had to reach out to someone who I was really good friends, who was creative and had a background in branding and that's what she (Lozano) does."
Lozano described the weekly audio show as a variety show with news both state and local.
"Our discourse has kind of turned into this really digestible form of like news, that ranges through politics, local news from El Paso and local news in Austin, and then we end up focusing on female-centered views," Lozano said.
The idea for the name came after brainstorming ideas related to the female gender.
"We were honestly just chatting on Gchat and were just spitting out names and was like obviously were thinking like chat, talk, conversation and then I was like 'what if we do tête-à-tête,' you know in French that means chat, but I was like we got to insert some type of female innuendo and we were like 'boobs, butts and then we were like titties,'" Lozano said. "Then I was like tête-à-tit, that really didn't flow that well, then she was like tittie talk. 'Tittie Talk,' it just kind of like clicked."
Throughout the podcast's current run, Lozano and Vaughn created, "Latinas in the digital space" a segment dedicated to having young Latina creatives be guests on the show and discuss their lives, what they do and how they've used social media as a tool. So far the guests have been from El Paso and Austin, with possibly their first male guest on the way.
"When we started the podcast, we didn't have a direction of what we wanted to do, but slowly our conversation was very focused on both of us being female and both of us being Mexican," Vaughn said. "It was important for us to, I think, recognize Latinas, just like us, who are doing amazing and creative things in their field, and I think sometimes it goes very unnoticed, so Carla was like, 'dude let's use our platform to highlight these women.'"
On Friday, Sept. 22, Lozano and Vaughn hosted a networking event in El Paso. The goal was to introduce El Paso to something that doesn't often happen here.
"It was important for us because we are both from here and it was important to touch base with our local community before we touch base outside. Carla has been to a lot of network events in Austin. It's common over there, and here in El Paso, it's not common at all. I've been living here three or four years," Vaughn said. "There's nothing that's really interactive for young creative people, which I think sometimes is easy to stray away from and focus on people with business degrees, people who want to be nurses, all that is cool. But what happens to the people that studied graphic design and sometimes I feel like it's easy to lose focus on those types of people."
The goal was to take away social media and interact with everybody and get introduced to creative people.
"This event was catered to let's take away all social media outside, like get together in one room and just like meet and chat and have the liberty to," Vaughn said.  "Once this event is over you guys can connect outside of this event, know who you guys are and create collaborations. That really is the thing that make things happen. Carla and I collaborated to make a podcast. We hoped that from this event there are tens of thousands of collaborations that happen," Vaughn said.
Some criticism states that Vaughn and Lozano have pigeonholed themselves by catering to one specific audience, but that doesn't faze the creators at all.
"Listen, right now with the way things are with our political climate amongst society, the only thing that matters is representation and whether you think we've pigeonholed ourselves or not, we don't care," Lozano said. "We don't see this as being pigeonholed, we see this as amazing visibility that is to relevant right now and has been relevant forever. But it's now on a platform and we're going to keep that momentum going. Even though if were not reaching all females, which we'd love to, but it's important for us and to represent the community."
The podcast can be found on the podcast app on iOS devices, SoundCloud and tittietalkpodcast.wordpress.com.