Miners searching for first win against Army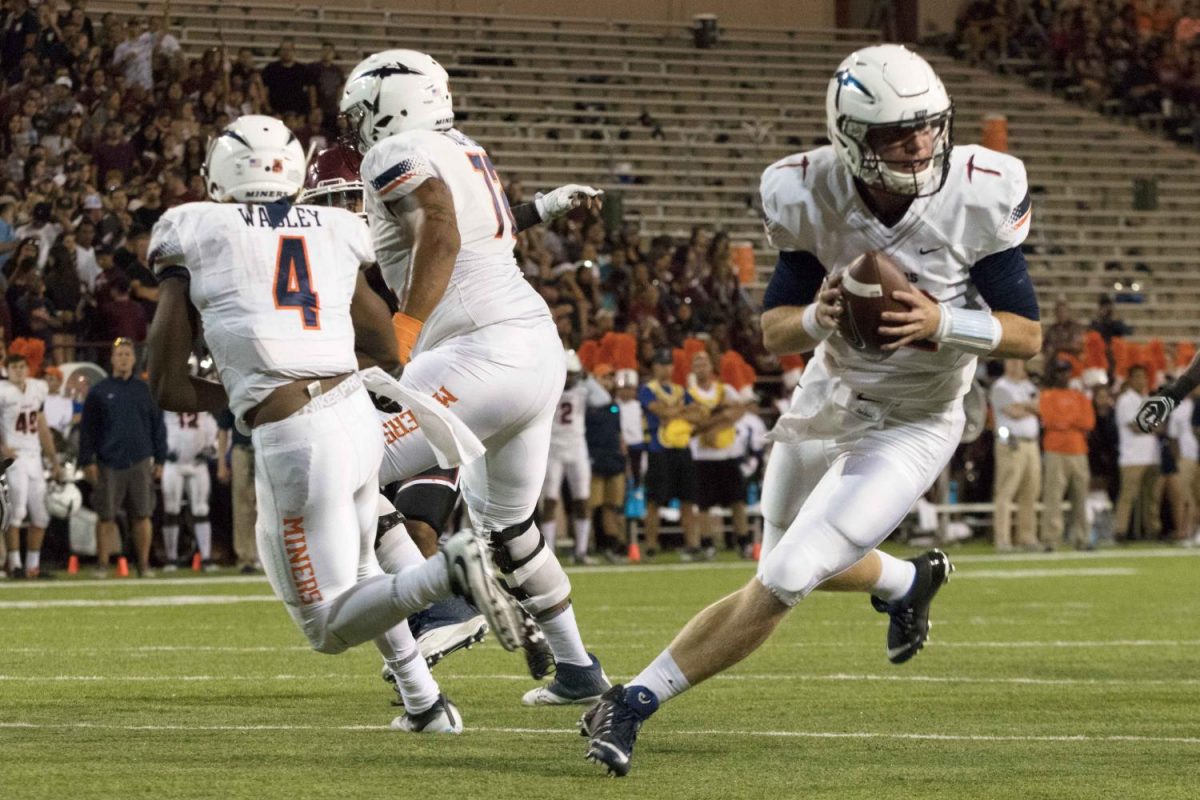 Head coach Sean Kugler and his squad are back again in a similar situation as last week—another must-win game this Saturday against Army—coming off, yet again, another tough loss.
The Miners were hammered by rival NMSU, 41-14, in Las Cruces on Sept. 22—their first loss to the Aggies since 2008.
This Saturday is also another chance for the Miners to finally break their all-time losing record in the Eastern Time Zone, as they are 0-21-1.
This week is another week where the Miners are battling injuries, with 11 players who are out against Army, according to Kugler.
"It sounds like a broken record, but it was a really disappointing loss (against NMSU)," Kugler said. "(Army) will be a challenge for us. Right now we're a wounded animal. We can either give up or fight back and our mentality is to fight back."
The "wounded animal" Kugler talks about usually translates to his regard for the team's efficiency on both ends of the ball.
Currently the Miners are last (no. 129) in all of FBS in total offense, averaging 210.3 total yards of offense per game. They are also last among all teams in rushing offense with just 62.8 yards per game.
Last week was the coaching debut of new offensive coordinator Brian Natkin, who replaced Brent Pease for the coaching job. Despite the Miners giving up five interceptions from the quarterbacks, Kugler believed Natkin had a promising debut.
"He called a good game," Kugler said. "He called a great first quarter. We ran the ball more effectively. For his first game, he did an outstanding job."
In fact, being last in rushing yards among all other FBS teams might change now that Quadraiz Wadley will return to the running back mix after missing the first three games due to an injury.
Wadley debuted last Saturday with 18 carries for 81 yards. It was an impressive start for a much-needed rushing attack. Walter Dawn, the team's former starting running back, will now switch over to the receiver spot on the team.
Against NMSU, the Miners quarterback core threw five interceptions—three by Ryan Metz and two by Mark Torrez. At the half, the Miners benched Metz for Torrez, trying to find a "spark," according to Kugler. But he assured that Metz will be the only quarterback moving forward.
"Ryan isn't going to make an excuse about his performance," Kugler said. "We pulled him to the side at the end of the game and said you're our guy. We have confidence in him moving forward. We need exceptional play from that position."
Defensively, the Miners are the third worst (no. 126) in most points allowed, as they average giving away 47.8 points per game.
However, for this game, Kugler believes that defensive coordinator Tom Mason and the staff have been keying on Army's triple option to stop their game.
This is a team who came in last year to the Sun Bowl and embarrassed the Miners on the triple option, totaling 424 yards of rushing and beating the Miners 66-14.
"Coach Mason and the staff spent more time than ever on it," Kugler said. "More time invested than ever, and now we have to go in on Saturday and execute."
Army returns junior running back Andy Davidson, who combined with former Black Knights quarterback Chris Carter for 200 yards of rushing against UTEP last year. This year he looks as pristine as ever, already totaling 207 yards of rushing and a touchdown.
The Black Knights also have quarterback Ahmad Bradshaw, who leads their team with 439 yards on 63 attempts, averaging 7.0 yards per carry.
The team itself currently ranks third in the nation for rushing yards. They average an impressive 366.3 rushing yards per game.
This is going to be trouble for the Miners, who just so happen to be the 10th-worst team in FBS in rushing defense. This will be one of the fiercest rushing teams Kugler and his team will face this season.
"They're an outstanding football team," Kugler said. "Very disciplined team. The triple option offense—with the fullback and the quarterback—you also have to keep your eyes focused because at any time they can pass."
The Miners really need their best defensive game Saturday.
Although he agreed this is a low-point in his tenure as head coach for the Miners last Saturday, Kugler justified this experience with those he's been through before.
"I've been in several situations like this. You keep fighting and you can't fold," he said.
With a new athletic director likely to be hired soon, Kugler was questioned about his about the possibility that his job status is nearing an end with the program.
"If it is, I'm going to continue to work," he said. "I don't care about what the outside has to say. All I care about is the 105 players in that locker room. But I'm a grown man, so I know the consequences. It's not in the back of my mind though."
Kickoff in West Point, New York, is slated for 1:30 p.m. MT.
About the Contributor
Adrian Broaddus, Sports Editor
Adrian Broaddus is the sports editor for The Prospector. He is a junior multimedia journalism major with a minor in political science.



Adrian...