Women's volleyball drops final three sets in loss to UAB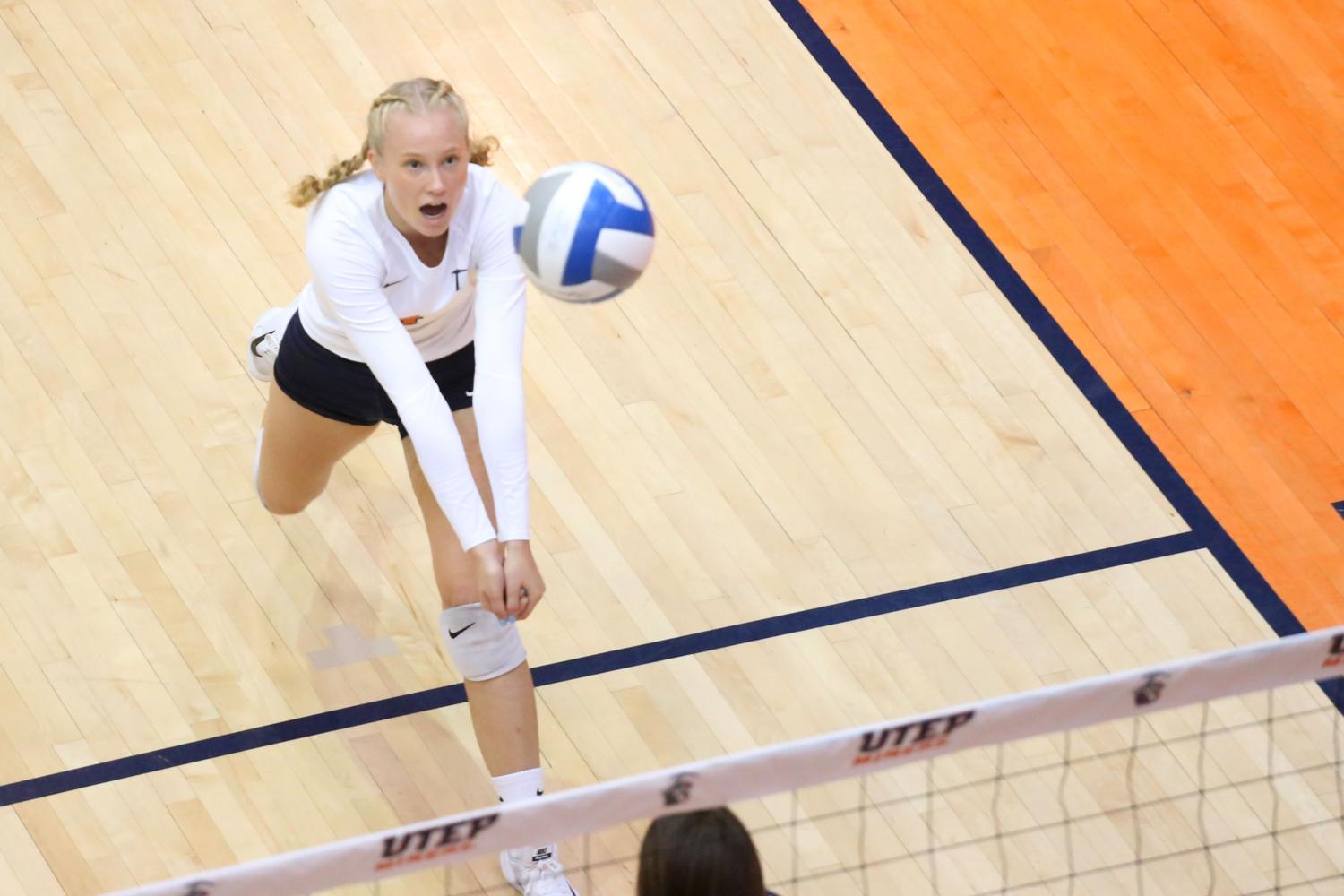 The Miner volleyball team fell to UAB, 3-1 in their second Conference USA match of the season on Sunday at Memorial Gym. The Miners took set one 27-25 but dropped the last three sets 25-21, 25-20, 25-20, to fall to 1-1 in conference play while the Blazers improved to 2-0.
The Blazers (8-9, 2-0 C-USA) put up a total 22 blocks in the win, 18 of which were block assists.
"It was definitely frustrating we weren't able to play as well as we did on Friday," head coach Holly Watts said in a press release. "I made a few adjustments that we didn't respond to so I'll take responsibility for that. We still have the same people out there and we still need to play our best. We didn't put ourselves in the best spot to win during the course of the game, they [UAB] had a lot of blocks so credit to UAB for that."
UTEP (4-11, 1-1 C-USA) got double-digit kills from Macey Austin, who finished the match with 10, while Briana Arellano notched eight of her own. The UTEP defense earned 53 digs, with Niki Cebak tallying 18 and Ali Vidali recording 12, and the Miners teamed up for 18 block assists, with Kylie Baumgartner leading the effort with six block assists and three solo blocks. Amanda King dished out 32 assists and the Miners recorded six total service aces, with Yost and Cebak each recording two in the loss.
"We just couldn't execute like we normally do," Arellano said in a press release. "There were some critical situations that we didn't capitalize on and that hurt us in the end. We beat ourselves today and we just need to correct our mistakes going into the next game"
As a team, UTEP had 44 kills, 38 assists, 53 digs, and 12 total team blocks while the Blazers recorded 50 kills, 48 assists, 61 digs, eight service aces, and 13 total blocks.
Despite being seven games under .500, Watts still has aspiration in her squad for the rest of the season.
"I'm still excitied about this team, I think we can do a lot of good things this year," she said. "Our goal is to win all the games at home and hope to pick up a few on the road. We dropped this game but I still see a lot of bright spots coming from this team. We just need to come out and play each game."
Watts knows this because before falling to the Blazers on Sunday, the Miners had just upset a 10-win Rice team on Friday, Sept. 22 in five sets (3-2).
The Miners will look to bounce back when they continue conference play against UTSA on Oct. 1 in San Antonio. First serve against the Roadrunners (3-10, 1-0 C-USA) is set for 11 a.m. MT