Sean Kugler's time with UTEP is running out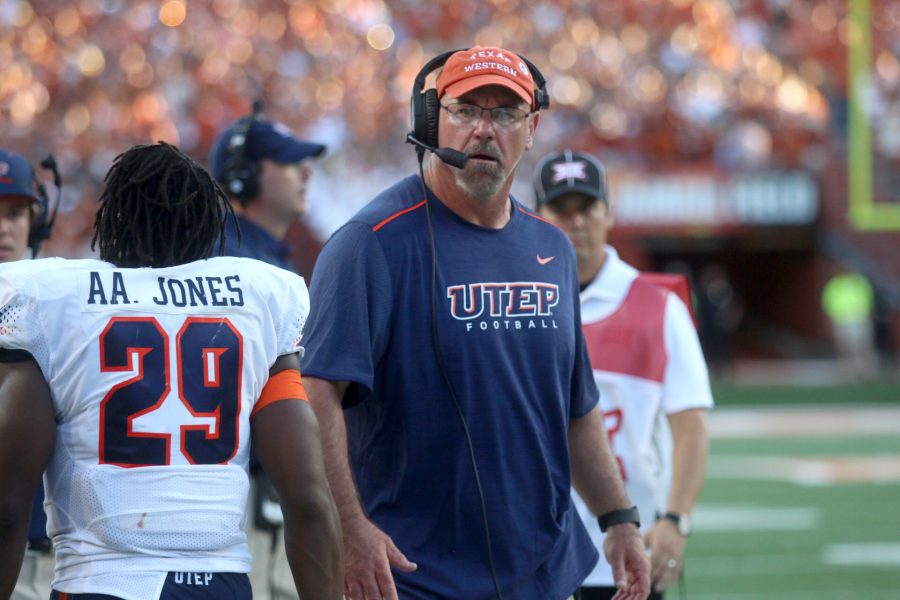 Mike Flores, Staff Reporter
September 18, 2017
Before the 2017 college football season began, Athlon Sports ranked their top–10 head coaches on the hot seat which is another  way to say it's a make-or-break year for coaches who are fighting for their job. On the list was none other than UTEP's head coach Sean Kugler.
And, boy, were they right on the money with this one.
In the complete preview for Conference-USA football, every single expert on Athlon Sports chose Kugler as the coach on the hot seat in Conference-USA.
UTEP had the worst odds to win C-USA this year at 200-1, according to Bovada Sportsbook. So far in three games this season, the Miners (0-3) look like they don't belong on the same field as their opponents.
It's not crazy to say that UTEP is among the worst programs in all of college football so far this year. In fact, CBS Sports has the Miners ranked 129 out of 130 division one teams.
Don't give me that excuse that UTEP played Oklahoma, so take it easy. The Miners looked just as bad, maybe even worse against a very sorry Rice squad, given the competition and for being the first home game of the year.
Kugler insists on keeping his same boring offensive game plan—run down his opponents' throat. But what Kugler seems to forget is that he's getting embarrassed at his own game. In the first three games, UTEP has been outrushed by 696 yards. Let me emphasize it for the people in the back—696 yards! Running can't be a team's forte if they only have 116 total rushing yards in three games. It just can't.
So what does he do? He fires offensive coordinator Brent Pease, who seemed to have conflicts with playcalling.
They have to open up the offense. If anything, it's apparent Walter Dawn Jr. isn't the answer at running back.
Scoring 12 points per game isn't going to win any games. Especially when UTEP's defense is giving up 50 points.
Speaking of the defense—rushing on their side of the ball is atrocious as well, it might even be worse. In total yards, UTEP's opponents are outgaining the Miners by 1,000 yards on the season. Not to mention, UTEP's competition has earned 86 first downs, while the Miners have only earned 35 first downs. UTEP has scored five times, but their defense has allowed 21 touchdowns.
A lot of the struggle on defense comes from the inability to wrap up and make a sound tackle. Makes one wonder if they even practice tackling drills.
It's not just this year that warrants a hot seat mention for Kugler—it's his entire five years at the helm.
Kugler had the best running back in school history in Aaron Jones, who took his talents to the NFL with the Green Bay Packers, choosing to forgo his senior season. And what Kugler had to show for with one of the most talented players to ever come across UTEP was a 2-10 season, a 5-7 season, a 4-8 year and one decent year, with a record of 7-6 in 2014.
Jones deserved better.
He gave everything to UTEP and deserved at least one bowl victory on his impressive resume. All he needed was a somewhat respectable passing game to complement his heroics on the field—something Kugler never provided. Kugler could have done so much more with what he was given. Imagine putting in all the hours in the weight room, watching film and working on your game just to expect another dead-end season. It's a long road to nowhere if your name isn't Aaron Jones.
As great as Jones is as an individual player, football is a team sport and he could only do so much. In other words, if a coach like Kugler who had a program-changing player like Jones, but didn't do anything to actually improve the program in his time with the team, they would be under a lot more scrutiny at any other university.
As a coach, they need to put the right pieces around a player like Jones. A superstar doesn't come often. A coach is supposed to win and grow the culture of his program when a star like Jones suits up.
It's not a great look for future recruits if they are eyeing UTEP.
UTEP can't keep lowering their standards. This season is rightfully so a make-or-break one for Kugler. This year is going to allow fans to see what Kugler can do without a talent like Jones.
Another reason I agree with Kugler being on the hot seat is his inability to adapt with the times. The new era of football revolves around the passing game more than ever, and teams are putting up inflated numbers and stats because of it. But UTEP under Kugler is constantly lacking in that area of the game.
Last season, the Miners went through quarterback changes, and the moves still didn't get UTEP out of the basement in the conference for passing. Out of 13 teams in C-USA, UTEP ranked 13th in passing yards per game (183.7 yards per game), ranked last in total yards through the air (2,204 yards), and they could only produce those numbers with a good offensive line to give the quarterbacks time.
Yes, earlier I said "air it out," but that doesn't mean I have any trust in the passing game. It's just this year, UTEP's running game is even worse than their passing game in recent years. Might as well give it a shot even without a reliable quarterback.
There have been times where I feel as if fans go to the games just because it's something to do, something to get them out on a Saturday night. On the road, it's even worse. I mean, there are many games where everyone knows UTEP has no chance whatsoever.
Over Kugler's years as head coach, some of the worst losses include a 41-7 loss to North Texas, a 45-3 loss to Tulane, a 55-3 loss to La Tech, a 66-14 loss to Army and ,you get the point.
I'm not expecting UTEP to win every game or to not have a bad day here and there, but there's evidence that it's a common thing with the Miners—everyone can expect a handful of games like that from UTEP every season.
Fans want and expect to see progression every year, and if Kugler can't turn the tide this season, a lot of questions are going to arise. Texas is crazy for football, and El Paso needs their football team to produce on the field and be competitive even in a subpar conference.