Protestors rise up against demolition of Duranguito
Protesters and local activists for the Duranguito neighborhood woke up Tuesday morning to news that demolition crews had begun the destruction of five buildings in the neighborhood, despite the fact that the 8th Court of Appeals granted an emergency cease and desist order postponing demolition efforts on Monday.
The neighborhood is in the footprint of the area being proposed for a new $180 million multipurpose downtown arena.
Dozens of protesters gathered at the scene to stop demolition efforts only to find that at least of the five buildings, including the former Flor de Luna art gallery had already sustained damage to the walls, resulting in large holes.
Protestors then formed a human chain along with chaining  themselves to a building to try and prevent more demolition work.
UTEP student Roberto Valadez was at the scene Tuesday morning as the protest unfolded.
"I saw buildings that were being torn down and people that were very upset about it, including myself," he said. "There were also other people that were out here showing their solidarity and their opposition to what they're doing to our barrios."
On Monday evening, historian Dr. Max Grossman, who is leading the effort to protect the area, announced that a judge with the 8th Court of Appeals granted an emergency injunction, filed by his legal team, to halt the demolition of the Duranguito neighborhood. This morning, his lawyer Lisa Hobbs learned of the of the demolition as she arrived at the scene and called 911 to have police stop demolition crews.
Hours later, workers with a fencing company began placing fencing around the property that was to be torn down. Protestors reacted by attempting to stop the workers, resulting in a scuffle among the two parties.
Police intervened and three people were arrested including member of the Paso del Sur coalition group, Victoria Quevedo.
As information of the clash spread to the Facebook group Save the Union Plaza Neighborhood, one lawyer stepped up by going to police headquarters to represent those arrested.
State Senator Jose Rodriguez and Grossman arrived to read a Second Amended Emergency Order filed Tuesday, which stated that demolition efforts were in violation of Court's first order to police on site.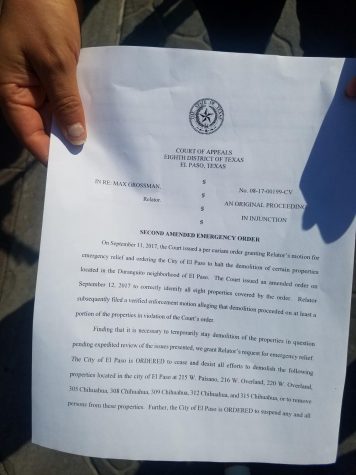 Photo by Elenie Gonzalez
The order, signed by Circuit Judge Ann C. McClure of the 8th Court of Appeals, included the addition of other properties not listed in the initial injunction, as well as suspension of any and all demolition permits issued by the City of El Paso.
Police officers speaking to Senator Rodriguez and Grossman were heard saying that this situation was designated a "situation of safety."
The officers went inside the fenced area to speak to protestors, as Rodriguez and Grossman stood outside the fence surrounded by supporters on the outside.
As tensions settled and those around waited for police to take action on the order, Sen. Rodriguez and Grossman took time to speak to supporters.
"What's happening today is what's been happening for quite some time," Rodriguez said. "The city is using every possible technique that they can use, including disregarding the court of appeals injunction orders, and they're using the power of police to intimidate people and trying to prevent them from expressing their First Amendment rights. This should be instructive to our college students at UTEP. The democratic process as a study is one thing, the application and implementation is another. I think students at UTEP should use this as a case study in how democracy really works and why it's important for people to be engaged."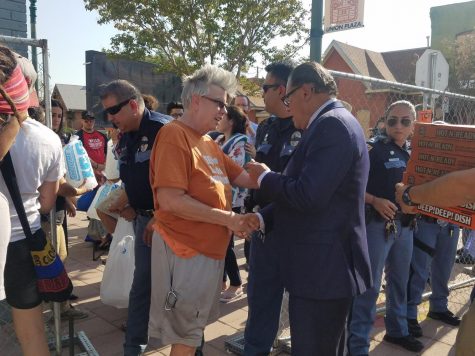 Photo by Elenie Gonzalez
Theresa Caballero, the lawyer who will be representing Victoria Quevedo, said, "If you look around, you actually see more police than protestors, and why are they here? They're protecting somebody's investment."
About the arrests she said, "Somebody got arrested, I'm going to do my job and help her get out on a very low bond."
Meanwhile, dozens of police were at the scene suited up in riot gear as supporters of the Duranguito neighborhood continued their protest. They could be heard chanting, "Take down fences."
One supporter, who wished to remain anonymous, said, "I've lived in this community for over 40 years now, on this street and this is wrong what the city is doing, coming in and taking people's property."
He also said that the worst thing he witnessed today was the police overstepping their power.
"What I've witnessed is the police coming in, putting on riot gear and barricading our community inside," he said.
Police surrounded the fenced area, allowing for those inside to step out through a small opening if they wished. The same opening was blocked as police also prevented anyone else from going inside.
Supporters of the protestors rallied to bring supplies to those inside the fenced area, as others helped them unload the items from their vehicles. Items such as water, Gatorade and ice were brought to the people.
"I know some of them personally, they are friends and coworkers and allies of the cause," said Andrea Reyes, a supporter of the protest.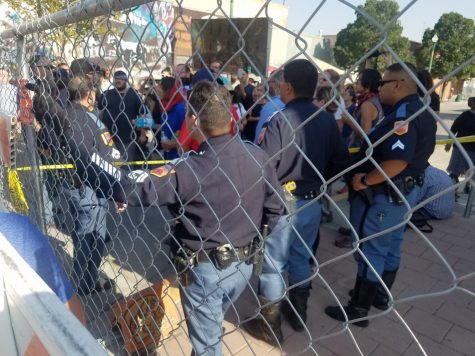 Photo by Elenie Gonzalez
She also said that police were complying with most of the protestor's requests.
"They've been pretty understanding, but there are a few things we're not allowed to bring," she said. "Ice and water and things they need to survive are fine."
Food was one of the items that was not allowed in. One supporter brought seven pizza boxes, and others brought chips and other snacks as well as McDonalds, however police turned them away stating that no food was allowed inside due to an order given to them.
Reyes said that she did not know how long protestors and police would stay.
"What I noticed is that more cops are showing up, maybe trying to wrap this up," she said. "As far as my friends and coworkers go, they're not going to give up until this is settled."
According to reports by the Save the Union Facebook group on Tuesday evening, the fences will remain around buildings for pubic safety, but the streets will reopen.
At a press conference Tuesday afternoon, city leaders stated they had no part in the demolition done to the five buildings. Mayor Dee Margo said the demolition was initiated by private property owners, who said they were not bound by the court ruling Issued Monday. He also said the city does not own or control the properties that were damaged in Tuesday's demolition efforts on Chihuahua Street.